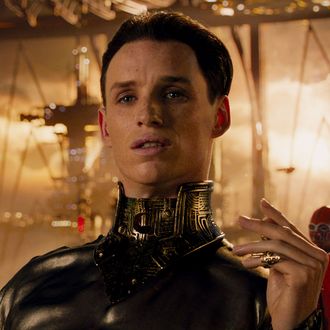 Eddie Redmayne, space villain.
Photo: Warner Brothers
The auditions for Star Wars: The Force Awakens were, as it turns out, a pretty terrible experience. At least according to Oscar-winner and silly-voice enthusiast Eddie Redmayne, who spoke with Uproxx about how he auditioned for the role of Kylo Ren, the film's villain, who ended up being played by Adam Driver. In the audition, Redmayne didn't get any lines from the film, given how top secret it was, and instead had to work with some sides from Star Trek and, for some absurd reason, Pride and Prejudice. "So they give you a scene from Pride and Prejudice, but then they tell you you're auditioning for the baddie," Redmayne said. "If you're me, you then put some ridiculous voice on." That was his first mistake. He continued:
That was really a hilarious moment. Because it was Nina Gold, who I have to thank a lot because she's cast me in several films. And she was just sitting there and I was trying again and again with different versions of my kind of "koohh paaaah" [Darth Vader breathing sound] voice. And after like ten shots she's like, "You got anything else?" I was like, "No."
First off: We need to know what scene from Pride and Prejudice Redmayne read at the audition, because it better have been the marriage proposal. Secondly: We already know what Eddie Redmayne's ridiculous space-villain voice sounds like, as he used it to great effect while playing the villainous Balem Abrasax in the masterpiece that is Jupiter Ascending. Thirdly: How soon can we get a remake of Pride and Prejudice where Eddie Redmayne plays Mr. Darcy while using his space-villain voice? [In the voice of Eddie Redmayne playing a space villain]: NOT SOON ENOUGH!