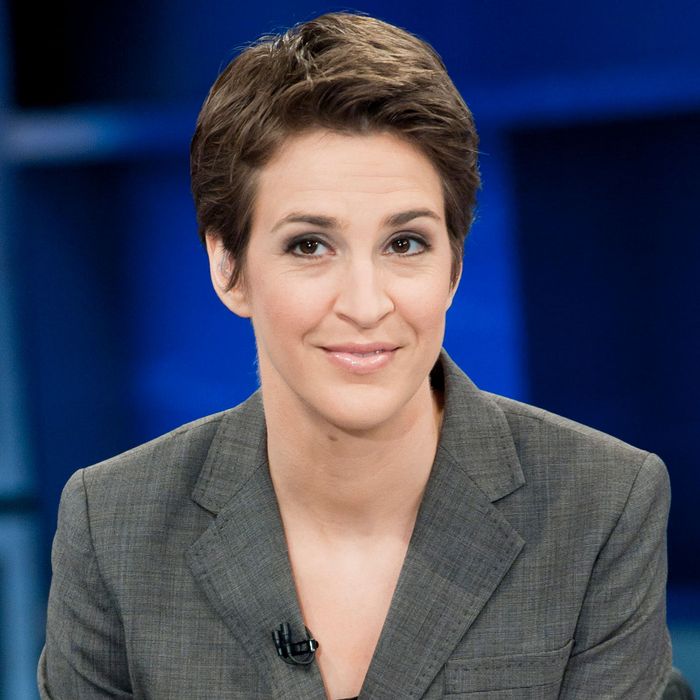 Rachel Maddow.
Photo: Virginia Sherwood/MSNBC
Election Day is finally upon us, and tonight, every major network will be focused on calling the results, with each one offering a different sort of viewing experience. If you're unsure which one is right for you, we've put together this guide on what to watch for every type, whether you're a talking-head junkie or you're looking to cut out all the noise. And if you just want to channel hop to something less stressful, we've got you covered.
If you like to kick it old school on Election Night …
NBC and ABC. Lester Holt and George Stephanopoulos will both be making their debuts solo anchoring their respective networks' presidential election-night coverage, but it's the veterans that will be surrounding them that make the broadcast networks a worthwhile option. The Peacock network will feature regular commentary from TV news icon Tom Brokaw, who's been covering election night since 1968. And over at ABC, former Good Morning America duo Charles Gibson and Diane Sawyer will both be back in prime time to offer insights and analysis, as will the even more senior Cokie Roberts. These broadcast dinosaurs bring context the talking heads on cable generally lack. Sadly, CBS News continues its informal ban on former anchor Dan Rather, meaning you'll have to hop on Twitter to find his Election Night "Ratherisms."
If you check FiveThirtyEight.com three times per day and your politics lean left …
MSNBC. Progressive icon Rachel Maddow will helm the network's evening coverage starting at 6 p.m. ET, flanked by the dry-witted Brian Williams and ever-hyper Chris Matthews. It's worth enduring Matthews's Drunk Uncle ramblings in order to get Maddow's always smarter-than-the-average-bear take on the bigger picture, not to mention MSNBC's deep and diverse bench of anchors and analysts (particularly the super-wonky Joy Reid, Christopher Hayes, and Lawrence O'Donnell). The other upside of choosing MSNBC: The network will have access to the resources of NBC News, including TV's best campaign correspondents of the 2016 cycle.
If you're on the Trump Train …
Fox News. Duh. (Though fair warning: Megyn Kelly is set to anchor Fox's coverage. Ironic, don't ya think?)
If you want the best, most bigly talking heads on cable…
CNN. No network offers a bigger assortment of partisan surrogates yammering at, and often over, one another. This has sometimes been a bad thing, particularly when CNN has let some of Trump's most ardent supporters dominate on-air conversations. But the network's willingness to pack as many as eight talking heads on one set has also allowed for some truly interesting and smart voices to emerge, many of them female and non-white. The upside of watching CNN tonight also extends to the network's best-in-the-business team of international correspondents, who'll no doubt be well-utilized to gauge the world's reaction to the results (and any possible panic should Trump score a victory).
If you want to monitor a possible Latinx Wave sinking Trump, in the best possible way …
Univision. Jorge Ramos and María Elena Salinas anchor for the nation's biggest Spanish-language network, with coverage scheduled to include reports from Florida, where the Hispanic vote could be decisive. Another Hispanic-centric network, Fusion, is scheduled to air at least three hours of reaction to the results, starting at 11 p.m. ET.
If you want a global perspective …
BBC World News. Available on various cable and satellite systems, the U.K.-based outlet will have non-stop coverage from studios in Times Square, including reports from BBC correspondents stationed in various swing states.
If you want no commercials and an overall minimalist approach …
PBS and C-Span. The former will sign on at 8 p.m. ET, with Gwen Ifill and Judy Woodruff anchoring alongside the public broadcaster's usual assortment of Very Serious Commentators. C-Span will have results and its always entertaining viewer calls.
If you're a Joy Behar superfan …
Lifetime. The network will air a special two-and-a-half hour live edition of ABC's The View at 9 p.m. ET, with Behar and the other women of the daytime chat show serving up results and comedy.
If you suffer from Election Night FOMO…
DirecTV's Election HQ (Channel 347). The AT&T-owned satellite system has squeezed feeds from six different networks — CNN, Fox News, MSNBC, BBC World News, Bloomberg, and Comedy Central — on to one channel, with election results set to begin scrolling down the side once they start rolling in. You can only listen to audio from one network at a time, for but political junkies who need to monitor multiple networks at once, this is a dream.