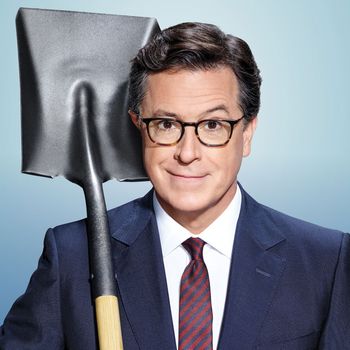 Colbert's got you.
Photo: Courtesy of SHOWTIME
It's the moment Americans have been anticipating/dreading/outright fearing for months: Election Day.
All the major networks, as well as PBS, Bloomberg, the cable news channels, and even Lifetime in the form of The View Election Night Special, will be calling the results and engaging in endless talking-head analysis for the duration of the evening. Most of us will probably tune in for at least some of that coverage, even if we're watching with our eyes partially covered while rocking gently back and forth as an IV pumps Cabernet directly into our veins.
That said, some viewers may crave at least an occasional break from all the touchscreen red state–blue state maps to engage with something that has nothing at all to do with Clinton, Trump, or the 2016 campaign. Obviously, there are endless streaming and DVR options that can provide an assist. But with many of us watching live television for the first time since … well, since Chicago beat Cleveland in that nail-biter of a World Series last week, we at Vulture thought it would be helpful to provide a guide to some of the best non-election coverage that will be broadcast Tuesday night.
Enjoy it in the name of self-care. (Note: All broadcast times listed are ET.)
For a meteorological escape: Escape the Election on the Weather Channel
The Weather Channel totally feels your election pain, which is why it has programmed eight non-stop hours of sunsets, rainbows, and other pretty meteorological images, all set to the tune of smooth jazz, from 4 p.m. to midnight. It's basically the the Yule Log of avoiding the presidential race, and it's a brilliant idea. Who needs to know the weather forecast on Election Night anyway? I can tell you what it is right now: cloudy with a chance of raining locusts.
For an adorable, cuddly escape: Too Cute marathon on Animal Planet
Okay, we might have a tie between the Weather Channel and Animal Planet for smartest piece of election night counterprogramming. If there is one thing that we, as Americans, can all agree on, it's that tiny, fuzzy animals are cute and comforting as hell. That's why the network that annually brings us the Puppy Bowl has scheduled 14 straight hours, from 3 p.m. to 5 a.m., of Too Cute, a program that celebrates fluffy kittens, itty-bitty baby goats, and, yes, cutie-patootie puppies.
For election night laughs (as opposed to crying and yelling): Go to Comedy Central or Showtime's Colbert Special
The following viewing options won't enable you to forget the election, but they will inject more (intentional) humor into it. Let's start with Comedy Central, which goes all in with regard to politics. At 10, Daniel Tosh hosts the Tosh.0-lection Special, followed at 10:30 by the Drunk History Election Special, and then an hour-plus installment of The Daily Show titled, more than appropriately, "Democalypse 2016 Live." Meanwhile, at the same time, former Daily Show correspondent and current host of The Late Show, Stephen Colbert will host the equally appropriately titled Stephen Colbert's Live Election Night Democracy's Series Finale: Who's Going to Clean Up This S…? on Showtime; presumably he will be joined by some special guests like, maybe, perhaps, former Daily Show host Jon Stewart?
For a football-related escape: Turn to college games, Showtime, and the NFL Network
Football: That's a sport that isn't problematic and can take our minds off of anything unpleasant, right? Sigh. Look, just work with me, okay? If you'd prefer to watch a contest of a different sort on election night, there are a couple of college football games: CBS Sports will show the Eastern Michigan vs. Ball State game at 7 p.m. ET, while ESPN 2 has the other side of that battleground state covered with the Western Michigan vs. Kent State game starting at 7:30. Before Colbert takes over, Showtime will air the latest episode of Inside the NFL at 9, followed by the latest episode of A Season With Florida State Football at 10, while the NFL Network will break out its Replay Game of the Week at 10.
For an escape that involve the use of knives (for food prep, not anything violent): Chopped Junior and Chopped
For still another contest of a nonpolitical sort, thank God we always have our cooking competition shows. Food Network serves up two fresh episodes from its Chopped franchise, exactly when we need them most, with the second episode of season four of Chopped Junior at 8 and a new Chopped at 10.
To scare yourself in ways unrelated to our nation's future: Channel Zero: Candle Cove on SyFy
The penultimate episode in this six-part horror series — about an '80s children show's lasting ability to inflict horror on a small town — airs tonight at 9, for those who find that anxiety caused by fiction is a solid cure for legitimate anxiety caused by actual presidential candidates.
For an escape to the 1970s: Antenna sitcoms and That '70s Show marathon on IFC
Sure, the '70s gave us continued controversy over the Vietnam War, the defeat of the Equal Rights Amendment, and Watergate. But … disco and Star Wars were fun, right? The point is, the '70s are then, and not now, which makes them a perfect respite from current politics. To head back to the bell-bottom era, you can either enjoy hours of '70s sitcoms on Antenna TV, starting at 5 with back-to-back episodes of Maude, followed by an hour each of Sanford & Son, Good Times, The Jeffersons, and All in the Family. (There's an hour of Barney Miller after that, but technically, the scheduled episodes aired in the '80s.) Or if you prefer your '70s in the form of a 2000s flashback, IFC is airing a That '70s Show marathon starting at 6 p.m. ET.
For a Hollywood-related escape: Norman Lloyd's 102nd Birthday Live From TCM Classic Film Festival
At 8 p.m., Turner Classic Movies will broadcast this celebration of the legendary Lloyd, who turns 102 on November 8. The man's been in show business since the 1930s, appearing in everything from Hitchcock films to St. Elsewhere to Dead Poets Society to Trainwreck. Norman Lloyd is 102 and he's got more great stories, and quite possibly, more energy than any of the rest of us.
To pull the ol' "Let's just pretend it's Christmas" routine: Report to the Hallmark Channel
The Hallmark Channel is deeply committed to the idea of avoiding reality and providing mindless, middle-American comfort. It's basically a Yankee Candle in network form. Hence, even though Thanksgiving is still two weeks away, its programming is already enabling viewers to stick their fingers in their ears and go "Fa la la" almost 24/7, something  you can do on election night by watching such movies as A Cookie Cutter Christmas (starring, among others, Alan Thicke) and Just in Time for Christmas, featuring the work of Eloise Mumford (Fifty Shades of Grey) and William Shatner.
Finally, for the "Gin and Juice" fail-safe option, watch Martha and Snoop's Potluck Dinner Party on VH-1
If you missed the first episode of the most unlikely cooking show in television history when it aired on Monday, VH-1 will re-air it at 8 on election night. For those in need of an absurd yet oddly sweet uplift, seriously: This might do the trick. After all, nothing sends a clearer signal that we can all come together again, as a nation, than the sight of Snoop Dogg and Martha Stewart making fried chicken together.