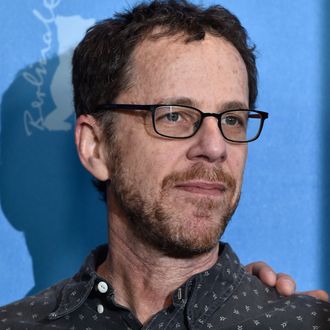 What's the latest name you can add to the growing amount of celebrities voicing their anger over Donald Trump being elected president? None other than one half of the Coen Brothers, Ethan Coen himself. The writer and director penned a critical essay in the New York Times to ridicule the various parties who contributed to Trump's presidential victory, taking the style of Jimmy Fallon's popular "Thank You Notes" segment from The Tonight Show. And, oh yeah, you better believe he did a takedown of Fallon in the piece. (For a heightened reading experience, please imagine the Roots gently playing music in the background):
How did you manage to shine a nonthreatening light on someone who alarms so many women, frightens so many undocumented families and slurs so many minorities? Can't have been easy! Thanks! Maybe now you could have the Grand Wizard on your show: He leans his head to you, you slip his hood off and ruffle his hair. Could be a cute bit!
He also directed a good deal of loathing to "all our media friends":
Thank you for preserving reportorial balance. You balanced Donald Trump's proposal that the military execute the innocent families of terrorists, against Hillary's emails. You balanced pot-stirring racist lies about President Obama's birth, against Hillary's emails. You balanced a religious test at our borders, torture by our military, jokes about assassination, unfounded claims of a rigged election, boasts about groping and paradoxical threats to sue anyone who confirmed the boasts, against Hillary's emails. You balanced endorsement of nuclear proliferation, against Hillary's emails. You balanced tirelessly, indefatigably; you balanced, you balanced, and then you balanced some more. And for that — we thank you. And thank you all for following Les Moonves's principled lead when he said Donald Trump "may not be good for America, but he's damn good for CBS."
Coen continued to throw some additional punches at Jill Stein and Gary Johnson voters, the Electoral College, and, of course, Anthony Weiner. Because Anthony Weiner always manages to find his way into everything.