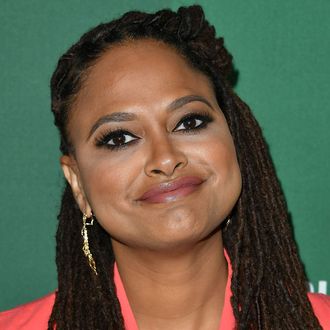 Photo: Steve Granitz/WireImage
When Willy Wonka sang the words "There is no life I know that compares with pure imagination," it was because he couldn't even have dared to dream about the casting news for Ava DuVernay's adaptation of A Wrinkle in Time. Remember how excited you were when you heard about Oprah Winfrey, Reese Witherspoon, Mindy Kaling, Chris Pine, Gugu Mbatha-Raw, and precious little Storm Reid joining DuVernay's screen utopia? Well, sit down and grab a glass of water, because after a wave of casting announcements today, we can now look forward to Zach Galifianakis, André Holland, and Rowan Blanchard, too, along with Bellamy Young, Will McCormack, Deric McCabe, and Levi Miller.
For those keeping score at home, here's the character lineup so far:
Reid as Meg Murry
Winfrey as Mrs. Which
Witherspoon as Mrs. Whatsit
Kaling as Mrs. Who
Pine as Mr. Murry
Mbatha-Raw as Mrs. Murry
Galifianakis as The Happy Medium
Holland as Principal Jenkins
Miller as Calvin
McCabe as Charles Wallace
So for those living east of California, if you look to the west tomorrow and notice a warm glowing aura radiating from the horizon, it's because production for A Wrinkle in Time is scheduled to start in Los Angeles.