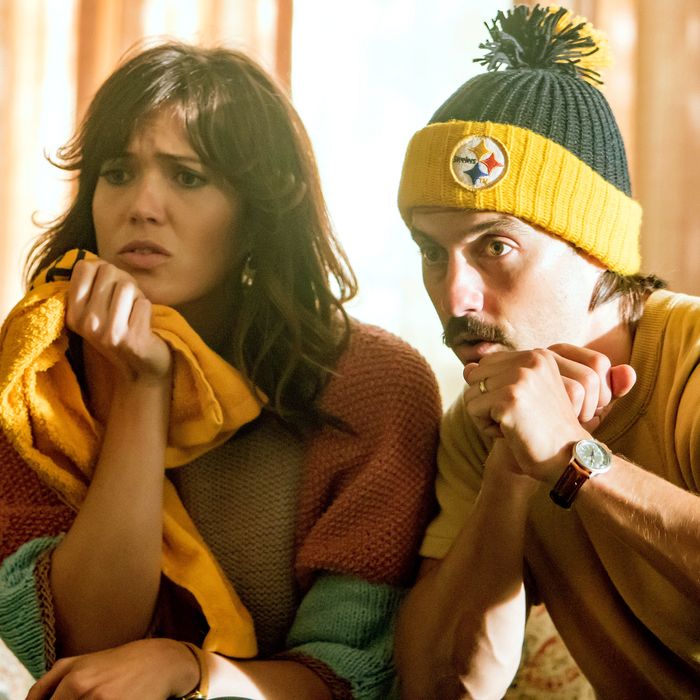 L-R: Mandy Moore and Milo Ventimiglia in This Is Us.
Photo: Ron Batzdorff/NBC
Traditional TV viewership has been trending (way) down in recent years — and two months into the 2016–17 season, there's little evidence to suggest a halt to the networks' Nielsen nosedive is in sight. Leaving out sports and special events, all five of the major broadcast networks are suffering year-to-year viewership drop-offs among adults under 50, the demographic group most attractive to advertisers. And save for NBC, which is down a modest 5 percent, the declines are all in the double digits, with ABC alone losing a stunning 22 percent of its young-adult viewership compared to last fall. (Not having Scandal on the air this quarter certainly didn't help.) Even cable isn't immune: Big shows such as FX's American Horror Story and AMC's The Walking Dead have also seen same-day ratings declines (though some of the audience is being made up via DVR replays). Still, while ratings erosion is the big overall theme, several other story lines have emerged early in the new season. Vulture dove deep into the Nielsen weeds and called up our best industry sources to find out what else merits attention this fall:
NBC's This Is Us is the season's runaway hit ….
Last May, NBC's (very good) PR machine went into overdrive getting out word that online viewership of the first extended preview for the Peacock's soapy, twisty fall drama This Is Us was setting all sorts of records. Industry trade Deadline started comparing the show to feature blockbusters such as Star Wars: The Force Awakens or the new Ghostbusters. At the time, NBC's obsession with letting the world know just how popular this trailer was seemed a bit, well, desperate. In fact, like the crowds at a Donald Trump rally, the 127 million online views for the preview turned out to be predictive. Not only is TIU far and away the season's No. 1 new show among the key advertiser demographic of adults under 50, it's currently the No. 3 show on all of broadcast TV, behind only Empire and The Big Bang Theory. And while being positioned behind NBC's big unscripted hit The Voice surely helped boost early tune-in, the show now regularly outperforms its lead-in, marking the first time a scripted series has ever accomplished such a feat.
… but the other networks have reasons to smile, too.
Poor Fox: The network dutifully gave Kiefer Sutherland carte blanche to do whatever show he wanted after 24, and the actor attached himself to Touch, the poorly reviewed and little-seen thriller that lasted just 26 episodes between January 2012 and May 2013. Rather than reward the network for indulging his creative instincts, Sutherland ended up jumping to ABC, where his new drama Designated Survivor has become one of the fall's most successful launches. While same-day viewership has slipped notably since its September premiere, DS is getting an incredible lift from DVR replays, more than doubling its audience within a week of each episode's initial telecast. Because of the show's high concept— low-level cabinet official ends up as president— there's a big risk DS could quickly see ratings collapse if viewers feel the series isn't delivering on the promise of the pilot. But for now, Sutherland has given ABC's already strong Wednesday lineup a significant ratings jolt
Another newbie doing well — really well — on Wednesdays is Fox's small-screen adaptation of Lethal Weapon. Critics generally liked the pilot, but there was plenty of industry skepticism about whether the decades-old film franchise still had enough juice left in it to work as a TV show. So far, the answer is a resounding yes: While not a monster hit, Lethal has already become Fox's second-biggest show among adults under 50, drawing more young viewers than any other program on the network save for its Wednesday companion Empire. It's also dramatically boosted Fox's 8 p.m. Wednesday performance versus last fall's first season of Rosewood, even as Empire has lost one-third of its under-50 viewership compared to the first six weeks of last season.
Meanwhile, smart scheduling by CBS has allowed fall freshmen Kevin Can Wait (which began the season behind Monday-night episodes of The Big Bang Theory) and Bull (slotted behind NCIS) to get off to good starts as well. ABC also has to be delighted by how well new comedies American Housewife and Speechless have paired up with The Middle and The Goldbergs on Tuesday and Wednesday night, respectively. And while NBC Thursday comedy The Good Place and CBS Friday-night action hour MacGyver aren't drawing particularly huge audiences, both shows have found a footing on nights where expectations are relatively low for both networks.
HBO's big bet on Westworld looks like it has paid off.
After a series of Sunday-night flops (Vinyl) and disappointments (The Leftovers, The Newsroom, True Detective season two), HBO went into the fall praying viewers would embrace its most ambitious series since Game of Thrones. So far, all evidence suggests viewers are doing just that. After launching with HBO's best same-day tune-in for a new show in nearly three years, viewership has actually ticked up in subsequent weeks. Plus, the show is doing very well on non-linear platforms: HBO says a quarter of Westworld's overall average audience of 11.7 million weekly viewers is coming from streaming on HBO GO and HBO NOW, while video-on-demand views account for 17 percent of the show's audience.  Just as important, the buzz around Westworld is quite loud, with the show's intricate plots and mythology provoking heated online debate and inviting comparisons (both good and bad to ABC's Lost). HBO ordered a second season of Westworld this week, putting aside concerns over its huge price tag (one insider estimates it'll cost the network around $100 million for another batch of episodes) and worries about whether the series can maintain creative momentum. The decision suggests HBO executives are optimistic about having found a potential new signature drama.
ABC is paying a price for ripping off Shonda Rhimes too many times.
Ever since the Rhimes-produced Scandal grew into a monster hit circa 2013, the Alphabet network has been working overtime to load up its schedule with as many Shonda-esque dramas as it can find. This isn't surprising, given network TV's historic tendency to fire up the clone machine the moment a series (or type of series) breaks out as a hit. The strategy sometimes works, as evidenced by NBC's endless Chicago Whatever hours and, in past years, multiple offshoots of CSI and Law & Order. But over the past year or so, ABC has discovered, painfully, that Rhimes's brand of noisy, twisty, and female-forward entertainment isn't easily duplicated. Shonda-lite fall freshman Notorious and Conviction have both been massive flops, while last season's FBI thriller Quantico — nicknamed Grey's Academy by TV-industry insiders because its pilot seemed such an obvious attempt to crib from the Rhimes playbook — has seen its Nielsen ratings plummet during its second season.
Even Rhimes's own involvement in a project is no guarantee of success, as evidenced by the meh performance of last spring's The Catch. (It's still scheduled to return for a second season next year.) The good news for ABC is that the network maybe sorta knows it needs to diversify its drama development. As noted earlier, its third new fall hour, the Kiefer Sutherland thriller Designated Survivor, has definitely clicked with audiences and has brought male viewers back into the ABC fold. And Rhimes's next new show for the network will mark a big departure from her past shows: Still Star-Crossed is a period twist on Romeo & Juliet. ABC also seems to be ready to add some more non-serialized procedurals to its lineup, as evidenced by its recent decision to develop a reboot of the 1980s cop show Magnum, P.I.

Diversity works.
This fall brought a flood of new shows — most on cable, a few on the broadcast networks — featuring people of color in leading or prominent roles. While none has been the sort of overnight sensation Fox's Empire was two years ago, most seem to have found an audience, and in some cases, critical acclaim. OWN's Queen Sugar, from Ava DuVernay, generated some of the season's best reviews, and it has consistently been one of the most-watched dramas on cable since its September premiere. (The Oprah Winfrey–run network ordered a second season of the show before it premiered.) Over at FX, Donald Glover's Atlanta is already an Emmy-season front-runner and was a strong ratings performer during its ten-episode run, particularly among millennial audiences. And while the aforementioned Fox success Lethal Weapon is more an attempt to capitalize on a well-known film franchise than a bid to open up the airwaves to creative diversity, the series does feature an African-American co-lead (Damon Wayans) and several significant characters played by non-white actors. Ratings for a couple of other series with non-white leads haven't been as impressive: Fox's Pitch has struggled on Thursdays, while HBO's Insecure — picked up this week for a second season —  is drawing a modest same-day audience (even by HBO standards) on Sunday nights. But both have generated strong buzz and seem to have found a consistent core audience.