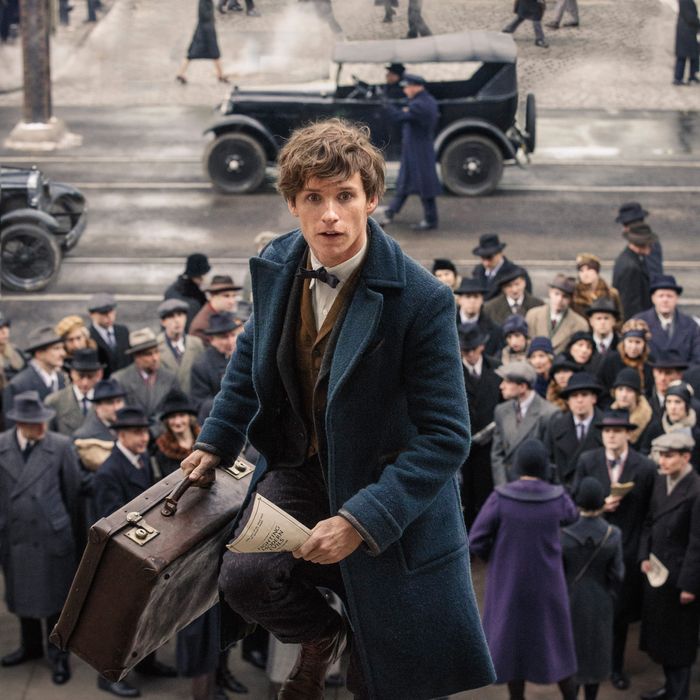 Eddie Redmayne in Fantastic Beasts and Where to Find Them.
Photo: Jaap Buitendijk/Warner Bros. Pictures
The Main Story
2016 is the year of the Cinematic Universe: As dreams of Marvel money dance in executives' heads, Disney will try to double down on the success of the MCU by expanding the Star Wars universe with Rogue One. Not to be outdone, Warner Bros. is in the process of delivering its own one-two punch, rolling out its DC Extended Universe with Batman v. Superman and Suicide Squad, and resurrecting the Harry Potter franchise with Fantastic Beasts and Where to Find Them.
But in its first weekend of release, Fantastic Beasts raised a few concerns about the wisdom of the whole idea. While the movie's $75 million debut looks pretty good in a vacuum, movies aren't released into vacuums: They're released into marketplaces and expectations. And in that context, Fantastic Beasts has to be considered a disappointment, though not an outright disaster.
The first point of concern is how its opening compares to the proper Harry Potter movies, and the answer is: not well. The eight book-based films ranged in their openings from finale Harry Potter and the Deathly Hallows Part 2 on the high end — its $169.2 million opening is the seventh-highest of all time — to a relative tie on the low, with Order of the Phoenix and Half-Blood Prince — books number five and six — both coming in around $77 million.
Although some allowance can and should be made for the fact that Fantastic Beasts is, at least to some extent, building a new (and reportedly five-film) franchise, not based on any books and not sharing, at the moment, any significant characters with its magical cousin, it was also released into a blockbuster marketplace that has grown considerably since 2007 and 2009, when the two low-grossing HP movies came out. In their respective years, Order of the Phoenix and Half-Blood Prince had the fifth- and fourth-best opening weekends, respectively; Fantastic Beasts is currently this year's tenth-best, and should get bumped down by Rogue One at the very least, as well as, possibly, Moana, Assassin's Creed, and Sing. Fantastic Beasts also came out on a weekend with relatively little competition, Doctor Strange and Trolls having already spent two weeks hoovering up money. An interesting comparison is the first Hobbit movie, which similarly spun off a preexisting franchise with a new adventure in the same world — that film out-opened Fantastic Beasts by $10 million.
Now, it isn't hard to put a positive spin on the release: Worldwide, Beasts earned $218 million, which recoups its $180 million budget, and considering the nine-figure flops Warner Bros. has seen in the last few years, that number looks pretty good. But Suicide Squad made $133 million in its debut, and Batman v. Superman did $166 million; compared to those performances, $75 million is a pittance, and it should raise real concerns about whether five films at nearly $200 million each is a sensible plan for Warner Bros. to follow. Meanwhile, Disney must be watching this and wondering whether Rogue One will fare better. Based on the reception that The Force Awakens received last year, the answer is probably yes, but who knows — maybe the Hobbit trilogy deserves a little more credit.
What Else Happened?
Nothing good, at least as far as the wide releases are concerned. While the success of Fantastic Beasts' opening can be debated, less controversial are the other debuts. Coming in at No. 7, The Edge of Seventeen couldn't reinvigorate the teen-movie genre despite great reviews, earning a mediocre $4.8 million from a robust 1,945 theaters. Miles Teller's Bleed for This did even worse, managing only $2.4 million from 1,549 locations, a $1,522 per-theater average; that's the second boxing movie to struggle in 2016, following the Roberto Duran biopic Hands of Stone. And most notably, Billy Lynn's Long Halftime Walk became one of the biggest flops of the year, returning just $930,000 from 1,176 theaters and confirming concerns that its strong limited-opening mostly had to do with curiosity about its high-tech visuals, which it did not make the jump its into the film's wide release prints. Among films that opened wide in 2016 without a protracted roll-out, Billy Lynn's $791 per-theater average ranks fourth-worst, ahead of only The Bronze, Jane Got a Gun, and The Neon Demon. That's a startling number for a movie that originally had Oscar hopes, and it follows rumors that director Ang Lee and Sony Pictures head Tom Rothman clashed over the film's release.
In better news, the awards favorites continue to do well. Barry Jenkins' Moonlight finally went wide and reaped the benefits, adding $1.58 million from 650 theaters; it should continue to earn more as A24 delicately expands it toward eventual Oscar nominations. Kenneth Lonergan's Manchester by the Sea made $241,000 from four theaters, good for a $60,308 per-theater average. And Tom Ford's Nocturnal Animals did well in 37 theaters, earning almost half a million dollars. Elsewhere, Doctor Strange and Trolls held steady, both making in the neighborhood of $17 million; Arrival had a respectable second weekend with $11.8 million; and Mel Gibson's Hacksaw Ridge continues to be a strong performer, falling only 36.5 percent, good for $6.8 million, in its third weekend.