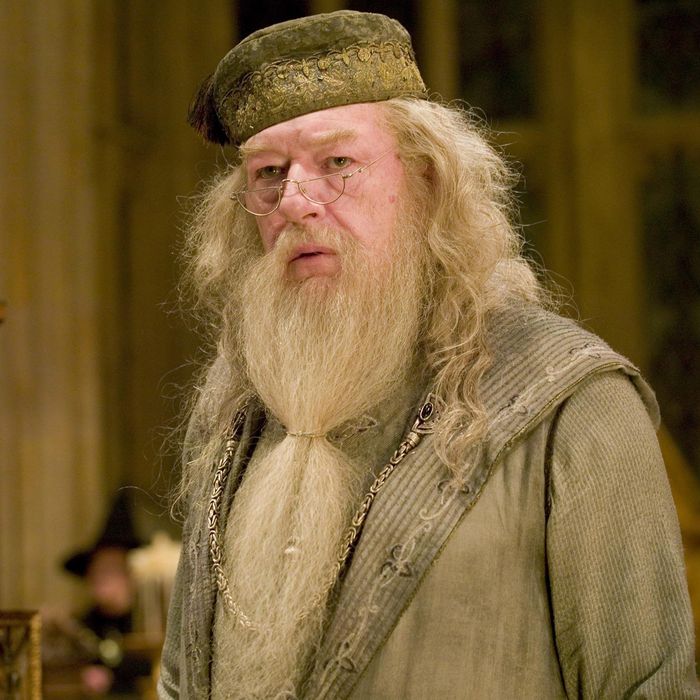 Michael Gambon as Albus Dumbledore.
Photo: Warner Brothers
Vulture has always had a special interest in the Fantastic Beasts franchise. Not content to be mere observers, we like to poke our heads under the hood (or into Newt's suitcase, as it were), and offer unsolicited advice. Lucky for us, Harry Potter and Fantastic Beasts producer David Heyman has been willing to entertain our suggestions and gamely play along. He's already encouraged our pitches for who should direct and who should play the lead character Newt Scamander, and now he's opening the door for Dumbledore — who should play the future head of Hogwarts in these prequel films? (He's only mentioned in the first film, but the name-drop sets the stage for an appearance in the films to come).
This particular bit of casting is a little tricky, and not just because the character is such a fan favorite. Two separate actors have already played Dumbledore in the Harry Potter film series: Richard Harris in the first two films, and Michael Gambon after Harris's death in 2002. (Three, if you count Toby Regbo, who played a teenage Dumbledore for a few photographs.) 
But this Dumbledore is considerably younger, given that he would be in his mid-40s during the time Newt Scamander is finding his fantastic beasts. "I don't necessarily want him to look like Michael Gambon or Richard Harris," Heyman told us at the Fantastic Beasts world premiere on Thursday. "The two of them didn't really look that much alike, but you want to capture the twinkle. You want to capture the wisdom, and the experience. But you also want to capture the mischief. Also, the man has demons. He's not the same person we might imagine him to be. There are a lot of other sides to him. What we want is to find someone who is a great actor, who will be a worthy adversary. Do you have some possibilities for me?"
We had three. First up, Hugh Laurie. "Interesting," Heyman considered, while director David Yates — who had worked with Laurie on the BBC adaptation of The Young Visiters, chimed in. "I love Hugh Laurie. He's such a fine actor, and he's a lovely guy. That's not a bad idea."
Second option, Damian Lewis. "Hmmm," Heyman mulled. "He might be too young, even though I love Damian," Yates said. (If age is the issue, Lewis, 45, is closer to Dumbledore's age at this point in the story than the 57-year-old Laurie.)
And third option, pulling from the Harry Potter film universe, could be Ciarán Hinds, who played Albus's younger brother Aberforth in The Deathly Hallows. The films had already established a resemblance between the two, and Hinds is a youthful 63-year-old who might be able to play a bit younger. (Indeed, if Albus and Aberforth were closer to 150 years old at the time of the original Potter stories, they might not always appear close to their physical age as it is). But Heyman shot it down: "Too old. He might be too old. Ciarán's lovely, but Dumbledore's got to look a little younger."
So 45 might be too young, 63 too old — we need a great British actor who probably hasn't already taken a role in this universe, which rules out a lot of qualified folks. It's a quandary, all right, and the producers and director are trying to sort out it out before shooting for the next Fantastic Beasts film starts in July. "So think about it," Heyman urged. "Pitch me." Any suggestions?