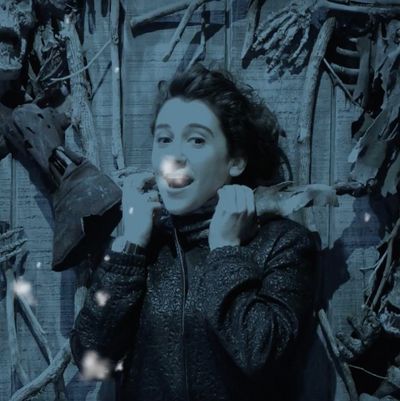 Ellie Kendrick holds the door for Hodor.
"I have to touch this, sorry." Ellie Kendrick puts her hand on the weirwood tree, closes her eyes, and concentrates. "Sorry, no. No visions yet," she laughs. The actress who plays Meera Reed on Game of Thrones is visiting the show's behind-the-scenes tour in New York's Astor Place, and she's standing in a space meant to recreate part of the Three-Eyed Raven's cave. On the walls around us are White Walker ice swords and dragonglass spears, next to the twisting branches of the tree. Red weirwood leaves crunch underfoot. "Wait, no," she pauses. "Let me see. A vision … I see … that season seven is going to be really great! I think that's what the tree is telling me!"
It's not every day you can touch a weirwood tree face, burn down a Dothraki temple, or emerge gasping from a pile of bodies at the Battle of the Bastards. But starting last weekend in New York, and coming up in Chicago and Los Angeles, you can feel a little bit of what it might be like to live in Westeros (or Essos). Enter a cave above the Wall, as Kendrick did, or a thatched hut standing in for the Temple of the Dosh Khaleen, or other spaces that house virtual-reality games or practical sets and props where you can become part of the action (and get photo and video selfies to boot). You can sit on the Iron Throne (with your choice of crowns or dragons), step in front of a green screen to burn down the Dothraki temple, or take part in the Battle of the Bastards. One virtual-reality game transports you to a 360-degree recreation of Castle Black while it's under siege — you aim and shoot arrows with a virtual crossbow, while dodging boulders catapulted at you. And to provide ample encouragement (or distraction) is a voice resembling Kit Harington's, urging you on.
For her part, Kendrick chooses to assuage Meera's guilt for telling Hodor to "hold the door" by taking his place in that pivotal moment in a recreated cave, carefully arranging prop wight skeleton hands on her body for a photo opp. "I should have done this for Halloween!" she laughs. "This is so cool!"
Looking at the weapons on display, Kendrick laments that we can't take them off the walls and spar. "It's a shame you can't wield that," she says, touching the tip of a White Walker blade. "I'd love to take a swing with that. They don't let the actors use the proper blades, obviously. Our amazing props department makes different versions for us, to rehearse with and to use on the show, and sometimes they're real but with blunted blades. You only get something sharp if you need to cut something." She jokes that with all the obsidian dragonglass on the wall in this recreated cave, she could take it and turn this reporter into a White Walker. "That's a peril, isn't it?" she laughs. "Hazards of the workplace. But it would be so badass."
The Game of Thrones behind the scenes tour, celebrating the season six blu-ray/DVD, will stop by Chicago's Grant Park on November 26 and 27, and Los Angeles' Hollywood and Highland on December 9 and 10. All events are open from 12:30 p.m. to 8 p.m., with early access granted to the first 20 fans who buy season six before the event and bring it with them. (Register for a fast pass at gotbehindthescenes.com.)