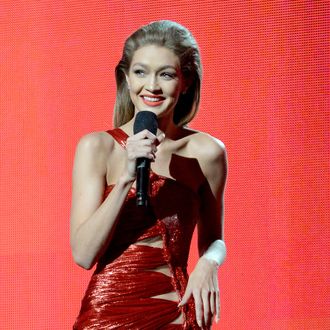 Photo: Kevin Mazur/AMA2016/WireImage
Supermodel Gigi Hadid surprised everyone with her comedy chops when she unleashed her pretty accurate Melania Trump impersonation during her hosting gig at the American Music Awards on Sunday night. Unfortunately, her foray into impressions was not appreciated by some viewers. After 24 hours of backlash, Hadid snapped a photo on Twitter of a handwritten letter apologizing to anybody offended by the skit, while affirming her belief that Melania Trump, a fellow model, could probably take the joke, just as Hadid has accepted skits that poke fun at her. The skit involved Hadid's Melania referring to her husband as "President Obama," a reference to the future FLOTUS's plagiarized Michelle Obama speech at the Republican National Convention. She wrote:
I was honored to host the AMAs last night and to work with some of the most respected writers in the business. I removed or changed anything in the script that I felt took the joke too far, and whether or not you choose to see it, what remained was done in good humor and with no bad intent. I too have been the center of a nationally televised comedy skit that poked fun at my actions and was able to find the humor in it. I believe Melania understands show business and the way shows are written and run. I apologize to anyone that I offended and have only the best wishes for our country.
It should be noted that Hadid shared the stage with former Saturday Night Live cast member and impersonator extraordinaire Jay Pharoah — noteworthy in this case for both the vast number of famous and political figures he was able to accurately portray and for the lack of public apologies he felt he had to make (except for the one time when he, as Kanye West, rapped a public apology to Beck — that was gold). See the tweet below.