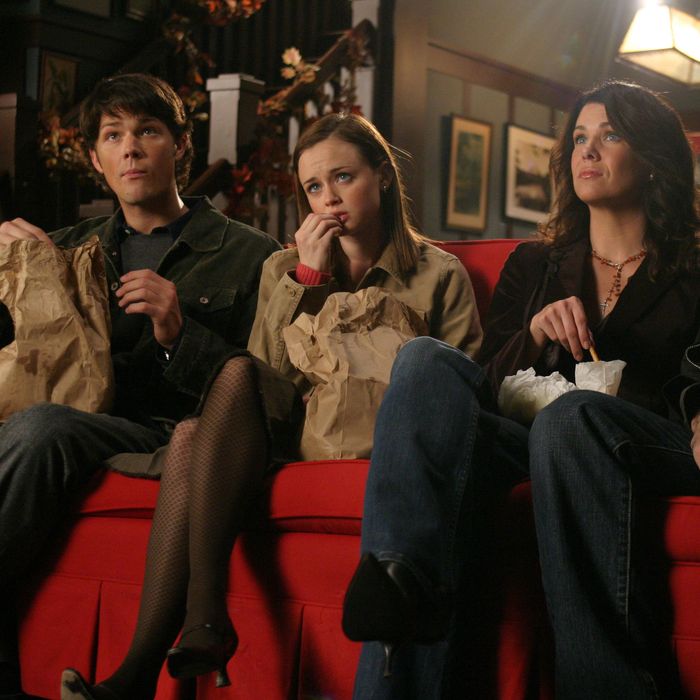 It's been nearly a decade since we said good-bye to the eccentric townsfolk of Stars Hollow, and the slightly off-center mother-daughter duo at its core. While roles on Gilmore Girls propelled many of the show's actors onto bigger things, predicting the cast's career trajectories would've been a fool's game. Could you have guessed the woman who played sweet, unassuming chef Sookie St. James would become a box-office powerhouse and an Emmy-winning TV star; or the guy who played nebbishy Yale newspaper editor, Doyle McMaster, would become an Emmy Award–winning TV writer, co-create a smash TV show, all while continuing to act? Ahead of Netflix's Gilmore Girls: A Year in the Life reboot this week, we've reviewed the post-Gilmore resumes of many cast members, and ranked them based on their impressive output.
1. Melissa McCarthy (Sookie)
She went from sitcom sidekick to leading lady on Mike & Molly, and won a lead-actress Emmy in 2011. But it was her balls-out performance in Bridesmaids — for which she was Oscar nominated — that propelled McCarthy's film career into the stratosphere and roles in Identity Thief, The Heat, Tammy, St. Vincent, Spy, The Boss, and the Ghostbusters reboot. In 2015, she started a plus-size clothing line, Seven7, and this year, Forbes named her the world's second highest-paid actress behind Jennifer Lawrence. Though there was some Sturm und Drang about whether she was too big for the GG revival, the Dragonfly Inn co-owner ultimately did check in.
2. Danny Strong (Doyle)
In addition to notable TV roles (Mad Men, Girls, Justified), the Hollywood multi-hyphenate has written TV scripts (Recount, Game Change, for which he won two Emmys as writer and producer), and features (Lee Daniels' The Butler, Hunger Games: Mockingjay I, II). He co-created and produces 2015's breakout hit Empire, for which he's also written and directed, and just directed his first feature, Rebel in the Rye, starring Sarah Paulson and Kevin Spacey. Next, he'll go up against Damian Lewis as a rich hedge-funder on Billions.
3. Lauren Graham (Lorelai)
When GG ended, Graham headed to the big screen, starring opposite Steve Carell (Evan Almighty), Matthew Perry (Birds of America), and Greg Kenner (Flash of Genius). In addition to a seven-figure network development deal, she made her Broadway debut as Miss Adelaide in a Guys and Dolls revival, did a TV pilot, and voiced Fran Lockwood in Cloudy With a Chance of Meatballs. When cancer forced Maura Tierney to pull out of Parenthood, Graham signed on to play single mom Sarah Braverman on the hit show for six seasons. In 2013, she became a best-selling author with a novel based on her scuffling days in New York City, and has teamed with Ellen DeGeneres to adapt it for TV. Talking As Fast As I Can: From Gilmore Girls to Gilmore Girls, her book of personal essays, will be released later this month.
4. Jared Padalecki (Dean)
Sorry Team Jess, but there's something to be said for steady work and the hefty paycheck that comes with demon-hunting on one of TV's longest-running sci-fi series, Supernatural. In 2008, Padalecki also starred in The Christmas Cottage and a Friday the 13th remake. Most recently, he's gone into the wine business with Arrow's Stephen Amell.
5. Matt Czuchry (Logan)
Logan lovers likely know there've been a few hiccups in Czuchry's career since leaving that character behind. Though he quickly segued to Friday Night Lights as Christian radio host Chris Kennedy, the 2009 feature "fratire" he starred in, I Hope They Serve Beer in Hell, fell flat. Luckily, by the time he did a 2010 Lifetime movie, he'd also joined The Good Wife's Stern, Lockhart & Gardner as first year associate, Cary Agos. So far, no word if he'll be offering up his legal services on The Good Fight spinoff.
6. Milo Ventimiglia (Jess)
Ventimiglia went straight from Stars Hollow to The Bedford Diaries in 2006. He went on to develop superpowers for Heroes and broke into movies as Sylvester Stallone's son in Rocky Balboa. Some unremarkable films (Pathology, Gamer, Armored) followed. When Heroes fizzled out in 2010, there were more movies (Order of Chaos, The Divide), episodic TV (Suite 7, The Temp Life), and he voiced Wolverine in the 2011 animated series. After more films, including Adam Sander's That's My Boy, and unsuccessful TV projects (Mob City, Chosen, The Whispers), he's now back on top in this fall's breakout hit, This Is Us.
7. Liza Weil (Paris)
After a role in a 2008 Neal Cassady biopic, Weil headed back to TV, guest starring on Eleventh Hour, CSI, In Plain Sight, and, in her first trips to Shondaland, Grey's Anatomy and Private Practice. She appeared on an LGBT-themed web series, Anyone But Me, before she went to work in the Scandal White House in 2012. A turn as imperious Milly Stone on Bunheads in 2013 was followed by a return to Shondaland in 2014 as a series regular: Annalise Keating's tough-as-nails wingwoman, Bonnie Winterbottom, on How to Get Away With Murder.
8. Alexis Bledel (Rory)
Bledel went straight to The Sisterhood of the Traveling Pants 2 post-GG. She then picked up a stethoscope for the ER series finale in 2009, and did a couple of rom-coms: The Good Guy and Post Grad. Robert Redford directed her in 2010's The Conspirator, and she played the lead role in a Canadian thriller The Kate Logan Affair. More movies followed, including one alongside James Gandolfini. Perhaps her most talked-about role since Sisterhood was when she showed up as a dissatisfied housewife on Mad Men, especially when we later learned she and Vincent Kartheiser weren't just going through the motions. After an Off Broadway appearance, she and Jason Ritter starred in Us & Them, the 2013 adaptation of the British sitcom Gavin & Stacey. More recently, there was a little-seen Katherine Heigl film, and this year's romantic drama Emily & Tim opposite Kal Penn.
9. Kelly Bishop (Emily)
After some Law and Order: SVU and Army Wives episodes in 2008–09, Bishop headed back to the theater. Over on film and TV, she played a patient in the Taylor Schilling–led 2010 series Mercy and Adam Scott's mom in Friends With Kids in 2011. Working with Sutton Foster in a 2011 Broadway revival of Anything Goes came in handy when Amy Sherman-Palladino cast her as Foster's mother-in-law in Bunheads. She starred in a 2014 TV-movie adaptation of Dangerous Liaisons with Katie Holmes, and made appearances on Sex&Drugs&Rock&Roll and Flesh and Bone in 2015. Most recently, she was momentarily reunited with Matt Czuchry on The Good Wife as a pro-choice client.
10. Keiko Agena (Lane)
She continued voicing York on Kim Possible, along with scattered TV parts (Private Practice, ER), and films with Jessica Simpson and Lindsay Lohan. More TV (Castle, House) followed in 2011, and she was Frances McDormand's aide in Transformer: Dark of the Moon.  After appearing in the 2012 Scandal episode in which Fitz was shot, she had a recurring role as a child-care worker on Shameless in 2013. Several web series (Learning Town, Super(Fluous), and Ex Best), commercials, and a podcast, in which she and comedian Will Choi recapped every episode of Monk while drinking, followed. Earlier this month, it was reported that she'll recur in the upcoming season of USA's dystopian drama Colony.
11. Rose Abdoo (Gypsy)
Stars Hollow's resident car mechanic Gypsy has been steadily employed since packing up her toolkit in 2007. She's had parts on TV shows (Brothers & Sisters, Wizards of Waverly Place, 2 Broke Girls) and films (I Hate Valentines Day). In 2012, she showed up on Bunheads. After the series was canceled, Abdoo did more TV one-shots (The Mentalist, Happy Endings, Psych, The Millers, Pretty Little Liars), until being reunited with Lauren Graham on Parenthood, where she occasionally played Kristina Braverman's chemo buddy and fellow charter-school advocate. Since then, a mix of TV (Garfunkel and Oates, Castle, Grey's Anatomy, The Comeback) and movies (Welcome to Me, Cake) have kept her busy. In 2015, she got judge-y on The Grinder, Scandal, and Veep. Most recently, she guest starred and was directed by Melissa McCarthy on Mike & Molly.
12. David Sutcliffe (Christopher)
He played a cop crushing on Addison Montgomery in Private Practice for two seasons, did a TV movie, and went home to Canada for a feature. In 2009, he starred in a romantic comedy with Jennifer Westfeldt, and a couple of episodes of a short-lived Jenna Elfman sitcom. Some more TV movies followed, and in 2013, he repatriated for two seasons of a Canadian police drama. This year, he was on ABC's Mistresses, and the first episode of the new NBC time-travel drama, Timeless. He also popped up on Degrassi.
13. Scott Patterson (Luke)
Playing agent Peter Strahm in Saw IV (2008), V, and VI (2009) are Patterson's biggest post-GG claims to fame. In 2010, he played an ex-con in the second season of 90210, and appeared in the Jason Ritter government-conspiracy drama The Event, from 2010–2011, until he was killed off. There were a bunch of B-movies (A Beer Tale, Love at the Christmas Table, Meth Head, Boys of Abu Ghraib), a 2015 TV movie (Kidnapped: The Hannah Anderson Story), and a Chad Michael Murray feature (Other People's Children). He has several more movies in the pipeline, and a single from his rock band, Smithradio, is out this week.
14. Sean Gunn (Kirk)
A recurring role on October Road in 2008 was followed by pilots, short series, and a season on the Bryan Singer–produced sci-fi show H+, in 2012. After an appearance on Glee, Gunn showed up on Bunheads. In 2013, he was Kraglin in his brother James's Guardians of the Galaxy, also doing stand-in work as Rocket. Recently, he's been a secret shopper on Superstore, and next, he'll reprise his role as Kraglin in Guardians of the Galaxy 2.
15. Yanic Truesdale (Michel)
The Canada native has been steadily employed back home on TV shows like Rumeurs, Mauvais Karma, Mohawk Girls, La Théorie du K.O., The Fixer, and Sing It. But his biggest accomplishment may be his SoulCycle knockoff, SpinEnergie, a spin gym he opened in his Montréal hometown in 2011.
16. Sally Struthers (Babette)
Her post-GG career has been pretty eclectic: a 2010 indie comedy, a 2011 episode of American Dad, a 2014 role in a movie musical as a sperm-bank receptionist, followed by another movie musical. This year, she showed up as Marc Maron's landlady on Maron. But her heart seems to be in musical theater, having appeared regularly at a Maine playhouse in Always … Patsy Cline, 9 to 5: The Musical, and Hello, Dolly.
17. Liz Torres (Miss Patty)
The veteran actress made appearances on Private Practice (2008), Desperate Housewives (2009), Scandal (2012), and Devious Maids (2013) post-GG.
18. Michael Winters (Taylor)
According to IMDb, the Gilmore Girls revival is Winters's only gig since the original show ended. In keeping with his role in the Stars Hollow musical in the reboot, Winters has similarly kept busy with regional theater work.