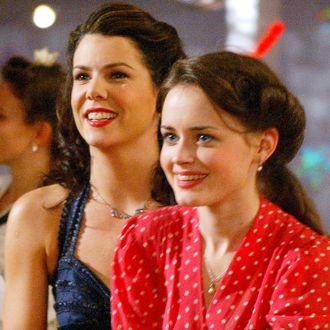 Photo: Mitchell Haddad/The WB
Spoiler Warning: If you didn't stay up all night the day after Thanksgiving bingeing the entirety of Gilmore Girls: A Year in the Life and do not want to know the series' final four words, do not read this post. 
Gilmore Girls creator Amy Sherman-Palladino knew how she wanted to end the series for over a decade, and now you do too: with the words "Mom?" "Yeah?" "I'm pregnant." Hopefully, you, like the show's cast, see it as an ending befitting a cult series: funny, emotional, and inevitable. According to The Hollywood Reporter, Alexis Bledel definitely felt the weight of your expectations. According to the actress, she experienced "a lot of pressure to get it right, to make it awesome. More than anything, I was just trying to be really focused and really present just to make sure that whatever I did in the scene felt rooted in my experience of the character and I was communicating something that felt real to me." Unbelievably, her co-star/fictional mom Lauren Graham didn't get the memo that the legendary four words even existed until she had returned to Stars Hollow for the show's Netflix revival. "I didn't know it was a thing actually," Graham explained to THR. "I didn't know until halfway through filming this that those existed and then Amy told them to me on the set. I was surprised for a minute and then it made complete sense."
While you're free to weep from the safety of your couch to your heart's content, Sherman-Palladino said the rigors of shooting were the only thing keeping everyone from dissolving into tears during filming. "It was emotional for like Lauren, Alexis, [executive producer] Dan [Palladino] and me, but you're surrounded by a giant crew that only care about lunch and they want to move on and the [director of photography]'s losing the light, the [production assistants] are all talking to each other or on their headphones and we're trying to get the extras to shut up," she explained. In the end, those practical production concerns were a godsend. Joked Sherman-Palladino, "Otherwise it would just be a sob fest and we'd all be like lying on the ground waiting until the Valium arrived." All of which begs the question: So what did Kelly Bishop think the last four words were this whole time?