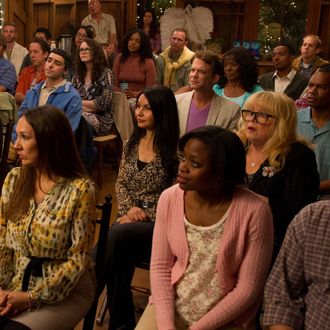 The Tumblr you didn't know you needed.
Photo: Saeed Adyani/Netflix
How unbearable is the whiteness of Gilmore Girls? Just ask Michel, Lane, Mrs. Kim, or Gypsy — practically all the color Stars Hollow has seen in 15 years … until now. During your Thanksgiving binge-watch of the revival, you may have noticed something different about this beloved Connecticut suburb, and we're not talking about the secret bar. All of a sudden Stars Hollow appears to have upped its diversity quota on the census overnight. In the past eight years, it seems there's been a boom in people of color moving to Lorelai and Rory's turf. Who are these people, where did they come from, and how in the hell did they end up in Stars Hollow? Did Taylor kidnap them for his musical?! We may never know because, unsurprisingly, hardly any of these new nameless nonwhite townies get a word in edgewise.
Lack of representation on Gilmore Girls is nothing new, but the curious decision to throw people of color into the background like set pieces certainly is — it's also the inspiration for Gilmore Blacks, a genius new Tumblr dedicated to every black person who's now been forced to endure life in Stars Hollow, scene by painful scene. They cringe, they eye-roll, sometimes they even simultaneously  cringe and eye-roll. But what they rarely do is talk: Writer Rahawa Haile, who created the Tumblr, has so far discovered that of all the random black people to suddenly populate the show, only six have speaking roles. One of which is, "I'm too old to be doing this." Endure!