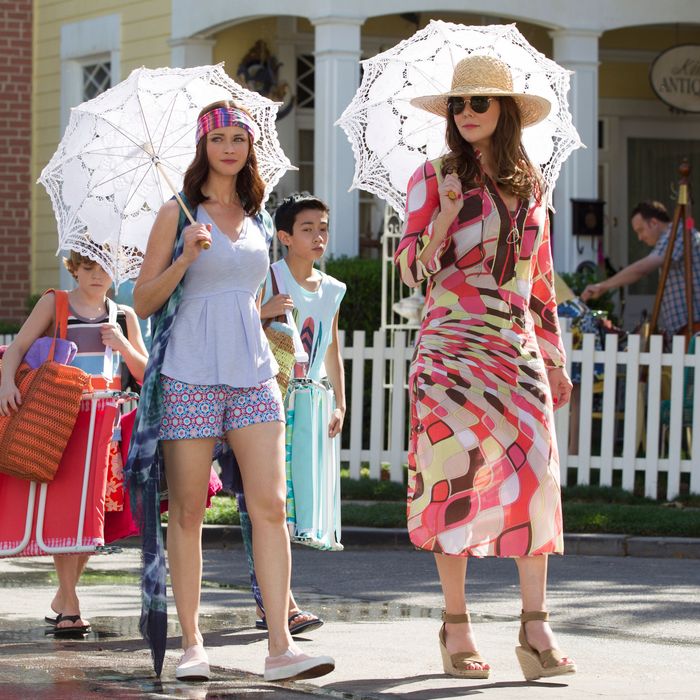 Alexis Bledel as Rory, Lauren Graham as Lorelai.
Photo: Netflix
It was hard enough when Emily Kondoized her life and Rory On the Road–ed herself. Now Lorelai has to go all Wild on the Pacific Crest Trail? She isn't even addicted to heroin! I wish we could pick better books for the Gilmore women to use as verbs. Couldn't they just do something as a fun group activity? Maybe they could Bossypants or Bad Feminist?
Before we delve into the respective journeys of the Gilmore ladies (that's what you say when you include Emily, right?), let's check back in with Rory, she who couldn't deign to prepare one fresh story pitch for her most recent job interview. No matter how many times she tries to deny that she's back, she and Lorelai seem to spend an awful lot of time during the summer at the municipal pool, playing the role of snotty ladies of leisure. They make young boys act as their servants and call Rory "Khaleesi," all while not-quite reading. (Yes, at least we have the first book appearances! Lorelai digs into Cheryl Strayed's Wild, and Rory holds something unidentifiable, but big and old.) They also fat-shame a man by calling him "Back Fat Pat" multiple times. If the eighth season of Gilmore Girls is characterized by excellent one-liners and less-than-inspiring details, this sight gag is the absolute bottom of the barrel.
Thankfully, the pool might be the apex of Rory hateability. We're finally getting signs that getting back to her Stars Hollow roots will help Rory take a teensy bit of personal responsibility for her failures, despite her claims she's been "chewed up and spit out by this thing we call life." She saves the Stars Hollow Gazette from shuttering, finding a bit of purpose when she convinces Taylor to let her take over the (unpaid) reigns. She avoids the zombielike pull of Stars Hollow's Thirty-Something Gang to get back into journalism, although it mostly involves drinking in the "bustling newsroom" and learning how to use MS-DOS. She and Lorelai even get a delightful montage when she realizes that the Gazette doesn't have paper deliverers.
And finally, finally, Rory receives a pep talk from Jess. (TEAM JESS FOREVER! Come at me in the comments!) He's working at a successful indie publishing house that "has Dave Eggers shaking in his boots" — I would contribute to that Kickstarter anytime — and it appears he still has room in his schedule to lift weights. "I coulda been a contender," Rory whines to him, in the not exactly Sorkin–esque newsroom. Jess reassures her that she's just in a rut, that she should work on something that makes her feel passionate. I love that they're friends, yet there's still the slightest bit of sexual tension in the room. He suggests she write a book about her relationship with her mom, and Rory is inspired. (I would suggest she pitch it as a collection of essays about her friendship with her mom, as seen through the lens of the pop culture they enjoy together, but we'll get back to that.) Finally, and most satisfyingly, Rory ends things with Logan. "We can't break up because we're nothing," she tells him. Score one for Team Jess.
Emily Gilmore is also figuring things out. When Rory calls at noon after a traditional breakfast of Pop Tarts with her mom, Emily is still sleeping. She's confused, out of sorts, depressed. The dutiful Rory visits her grandmother post-DAR meeting and is appalled to find a TV in the living room. She suggests that Emily get out, go to the club, have some fun. Then, a mere week later, Lorelai arrives at Emily's to find her looking like her lovely old self and sitting with a guest: Jack Smith (Ray Wise), Richard's chum from Yale. It's Lorelai's turn to be appalled. "I ain't saying he's a gold digger," she digs, questioning Jack's motives. (Was Lorelai always this mean? Maybe, but this feels egregious.) Emily's turnaround is unbelievably fast and therefore troubling, but it raises an important point: Much like her daughter, she never had a chance to live by herself. It seems she's not good at it.
In the midst of all this sadness, loneliness, and misdirection, we get a special treat from the Stars Hollow gods, a.k.a. Amy Sherman-Palladino. Stars Hollow: The Musical is in production, and it is as quirky and wacky as this little town, with its twinkle lights and friendly people and utter dysfunction. Even better, it stars Sutton Foster as Violet. ("She was Kinky Boots!" literally everyone except for Lorelai exclaims.) Let's take a brief moment to pray that a Bunheads revival is up next, because wow, Sutton is so damn charming, even when she's knee-deep in Taylor's nonsensical lyrics. All my cynicism just melted away once she showed up.
That we, along with the town's advisory committee, get to watch scene after scene of this abomination of a musical is the best part of A Year in the Life so far. It features Sutton Foster and that guy from Smash (Christian Borle) as a couple who changes (literally — so many costume changes) with Stars Hollow from the pilgrim age, to the Revolutionary War, to the Industrial Revolution, and finally to modern times. It features incest, a Hamilton rap tribute, tap dancing, a whole bunch of sex scenes, a kick line, and an encore that's very Abba. Everyone in town is wowed except for Lorelai. It's almost as if the overt zaniness and political incorrectness and insanity of the musical is a metaphor for the whole way of life in Stars Hollow, and Lorelai is no longer charmed.
With that, we realize that Lorelai has been heading toward a breakdown. Her therapist is understudying for Violet, so Lorelai is officially done with therapy. Life at the inn is impossible with Sookie gone (Sandra Lee spoke to Ina Garten, who advised her to avoid the Dragonfly because it's awful), and Michel yearning for more. Michel pleads with Lorelai to expand the inn ("A spa! I was born to run a spa!"), but both tearfully realize that he will have to accept a job at the W Hotel to further his career.
Is there life for Lorelai beyond Stars Hollow? It's all she's known for 32 years, and her life in town seems more and more unsteady. She disapproves of Rory's book idea, afraid to make public the things she did as a very young mother. Where Rory is dreaming of adoration ("It's a riches to rags story!"), Lorelai only sees shame. "This is not how we do things. We're not supposed to be passive-aggressive. That's how you and your mom are," Rory pleads. "Mom, please, give me this." Lorelai will not be swayed. This is gonna be brutal.
From there, Lorelai goes to the diner and has a very public blowout with Luke. They reveal secrets they've kept from each other, and Luke insists that he's kept his crazy family separate from hers, as per her wishes. (He's funding much of April's MIT and post-grad education and her summer trip to Germany on his own.) Even with Luke, the love of her life, the man who kept the Dragonfly kitchen going when she'd alienated all others, she's never totally let her defenses down.
Lorelai has a Moment when one more song is added to the Stars Hollow musical. Sutton Foster sings that she needs to be unbreakable, but she's actually breaking down. Dare I say this was Sondheim–esque? Everyone hates it except for Lorelai, who has a musical-theater epiphany. It's here where Chekhov's Gun, known in this instance as Cheryl Strayed's Wild, ultimately goes off. Lorelai tells a bewildered Luke she's going to hike the Pacific Crest Trail. It's now or never. Does Luke deserve better? Yes. Does Lorelai? It's hard to say. Maybe spending some quality time with herself is the least-selfish thing she can do.
Unanswered Questions:
Where can we read some of the front-page poems that make the Stars Hollow Gazette so delightful?
Astoria or Long Island City?
How is the Dragonfly able to pay celebrity chefs if even Michel is underpaid?
… Dean?
If Sophie finally gets to sing "I Feel the Earth Move," when do we get to hear Gil sing "I Remember You?"