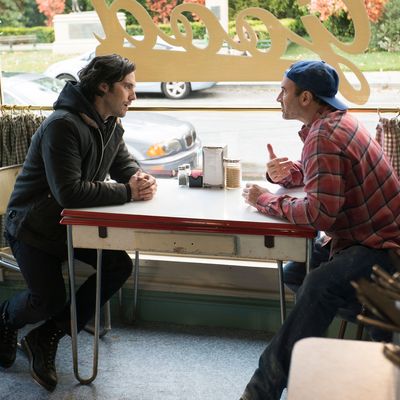 Milo Ventimiglia as Jess, Scott Patterson as Luke.
Photo: Netflix
Here is my most enduring theory about Rory Gilmore in the Gilmore Girls revival: We never see her engaged with a book, and that's how we know she's truly lost. There's no discussion of Colson Whitehead or Lauren Groff or, alas, Elena Ferrante. In a season that's about the Gilmore women figuring out who they are and what they want, a fundamental piece of Rory is missing. Books are to Rory as Sookie is to Lorelai. And no, writing her own book doesn't count.
I find it telling that we do see Jess read. He hasn't lost that part of himself: He is thriving, taking care of his crazy mom, being a confidant to his slightly less crazy uncle, and running a business. I will also read an enormous amount into his peek through the window at Rory the night before Luke and Lorelai's wedding. Swoon. He still loves her. He must. So maybe there's more than one perfect circle of life in this episode. Lorelai once again asks Emily for a loan, and Emily once again asks for visits in return, and that is wonderful. The tradition will endure. But also, perhaps Jess will help raise Rory's baby, just as his uncle helped raise Rory. (Logan always struck me as a Christopher type anyway.) It could happen. That baby would be such an avid reader. Give me this fantasy. I need it. We all do.
Otherwise, Rory's actions up until this point leave much room for doubt. That she could still let herself get swept up by the Life and Death Brigade (and one member in particular) is disappointing. Those mega-rich romantic ne'er-do-wells are fun for college, but a decade later they're just mega-rich douches. She eventually extricates herself with a cute Wizard of Oz bit, but let's be real: Dorothy never slept with anyone while following the Yellow Brick Road. Especially not an engaged ex-boyfriend. Later, during her bittersweet run-in with Dean (finally!), with its charming corn-starch callback, we remember just how bad Rory is at ending relationships.
If it seems that no recent books have made an impact on Rory, then it's funny how Cheryl Strayed's memoir (or Reese Witherspoon's movie, if you're not a purist) has affected scores of women, including Lorelai. Out on the West Coast, Lorelai and a bunch of ladies struggling with their pants want a special shortcut for finding clarity the Wild way. "I feel like I'm standing still. Like the whole world is moving and I'm standing completely still," Lorelai confesses to the other women over a box of Franzia. The Wild subplot gets beaten to death, but it is a nice idea, especially with the inclusion of Lauren Graham's Parenthood co-stars Peter Krause and Jason Ritter as skeptical park rangers.
Leave it to Lorelai to not even make it to the trail but to have her epiphany while searching for coffee and stumbling across a panoramic view. The first person she calls to deliver a lengthy monologue to is … Emily! Not whom I expected, but it's perfect. Lorelai finally tells the story that she was meant to tell after her father's funeral. It's lovely, and it's such a relief to hear Lorelai finally say something nice about Richard. Up until this point in A Year in the Life, she's made him out to be a heartless monster, which is not how I would want to remember him. Emily is equally touched. Sob.
One of the greatest joys of this season has been watching Emily find herself, figuring out who she actually is now that Richard is gone. She finally seems content in this episode, and whether or not Jack Smith stays in the picture is beside the point. Her blowup at the DAR interview is one of the best moment of the series, especially because Emily Gilmore finally gets to curse, and she is happy to call bullshit on the entire charade that is social niceties among the rich. I never thought I'd get to hear Emily say, "She comes in here with her big hair and her big tits …" but I'm glad I did. That she chooses to sell the house in Hartford and leave her entire world behind to move to Nantucket is both surprising and wonderful. That she finally makes an attempt to connect on a personal level with her staff is both long overdue and good. That she wears sneakers and happily volunteers at the whaling museum and says "Show me the money!" in appreciation of Jerry Maguire … well, huh. Didn't see those coming.
Meanwhile, Lorelai comes home from her silly trip to find Luke cooking steak and blowing on it for Paul Anka. How much more perfect could he be? And finally, she realizes it. She didn't need to hike. As much as Luke wants to plead with her to stay (and finally, finally gets a Christopher dig!), it's not necessary. She's come home with the solid belief that she and Luke should get married, and no matter how much it's absolutely valid that couples can be great partners to each other without a marriage, this clearly is positive for them. Making it official counts. I mean, Luke already has the ring from their previous engagement, and he proposes by saying, "The only way out is in a body bag." The contemplation of death has never seemed so romantic
As they plan their wedding, Lorelai goes through the process of interviewing for a new Michel, even as she wanders into an old folks' home that is absolutely perfect for a renovation and a Dragonfly expansion. Lorelai's ambitions are modest yet perfect, and we can only hope that she beats out Katy Perry for that real-estate deal. What a lovely use of Luke's diner expansion money.
In the midst of all that promising craziness, Rory, fresh from writing at her grandfather's desk at his home office in Hartford, shows up in the middle of the night with Chinese food. She presents her mom with the first three chapters of The Gilmore Girls, and thankfully, Lorelai's only note is that Rory should drop the "the." Rory has met with Christopher and warned him of Lorelai's impending wedding and her own impending book, and all he asks is that she not make him a villain. "I was stupid," he says, "But I loved her and you." Aww.
Just when things feel a little too much like a fairy tale, we finally get a fantasy wedding sequence. We get to see Luke and Lorelai (and Rory) sneak off the night before the wedding to get married before the pressure of the public ceremony. Kirk has done a magical job decorating, and Sam Phillips has never sounded so hopeful. That Luke, Lorelai, and Rory enjoy the wedding so much is truest to the greatest aspirations of this show.
Cut to Rory and Lorelai in the gazebo the next morning, slipping back into the most comfortable of old routines. After Rory unceremoniously tells her mother that she's pregnant, I couldn't help but feel optimistic. Or maybe I needed to. Either way, the Gilmores seem ready for a new phase in life. Tell me Jess is ready too. Please?
Unanswered Questions:
Logan is definitely the father, right?
Rory will raise her child in Stars Hollow with the help of her mother, right?
Jess and Rory are going to fall in love again and be happy together forever until the end of time, right?