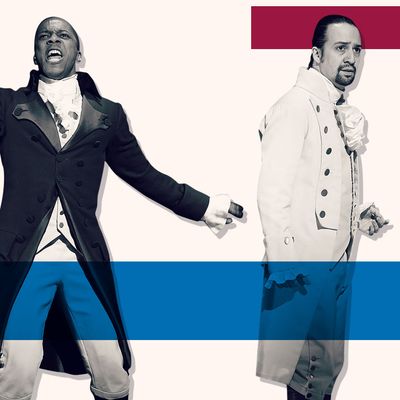 Photo-Illustration: Vulture and Getty Images
This week, Vulture is taking a look at great unproduced, unreleased, or unheralded entertainment.
Songs cut from Broadway musicals are usually cut for a valid reason: They're not very good. But sometimes it's the case that great songs simply don't fit the moment or the performer or a change in direction. These go into the composer's "trunk," whence they may eventually emerge in altered form for another purpose. ("The Man I Love," originally "The Girl I Love," was cut from three Gershwin shows before becoming a hit.) Others never get out of the trunk but deserve to. Below, in alphabetical order, are 13 of the best lost songs from Broadway — and how you can find them again.
"Boom! Crunch!" (Stephen Sondheim, Into the Woods, 1987)
Gist: The Witch, after destruction and death has overtaken the fairy-tale community, puts one final curse on the survivors.
Sample: "Just a small upheaval / Evil! Evil, evil, evil! / Want to know what's evil? / Nice people's lies."
Why cut: Sondheim decided to replace the terrifying and difficult song, heard during the San Diego tryout, with one that would better suit the vocal talents of Bernadette Peters, who originated the role of the Witch on Broadway:
Replaced with: "Last Midnight," which conveys similar ideas but has a stronger melody and indeed fit Peters's voice perfectly.
Where can I hear it? On a remastered edition of the original cast album, a demo recording featuring Maureen Moore was included as a bonus track.
"Boys and Girls Like You and Me" (Richard Rodgers and Oscar Hammerstein II, Oklahoma!, 1943)
Gist: By the middle of the second act, the lead romantic couple, Laurey and Curly, are in a more reflective mood than they were when they sang their big ballad "People Will Say We're in Love."

Sample: "Songs and kings / And many things / Have their day and are gone. / But boys and girls like you and me / We go on and on."

Why cut: Late in the show was not the right time to introduce new romantic material. Lovely as the song was, and despite expectations that it would be the show's big hit, Rodgers and Hammerstein cut it in Boston.
Replaced with: A short reprise of "People Will Say We're in Love."
Where can I hear it? Rodgers and Hammerstein sold the song to MGM for Judy Garland to sing in Meet Me in St. Louis (1944). It was cut from the movie, but not before Garland recorded it for the soundtrack.
"Come Down From the Tree" (Lynn Ahrens and Stephen Flaherty, Once on This Island, 1990)
Gist: TiMoune convinces a frightened orphan girl similar to herself to stop hiding from life and love.
Sample: "When you have something so warm and familiar to cling to, your arms won't let go / You close your eyes to the darkness, your nose to the bark and hold on / Yes, I know."
Why cut: The song, though a favorite of Ahrens and Flaherty's, was slowing down the beginning of the show.
Replaced with: Nothing. The whole scene was cut so that TiMoune's journey to find her own love could move at a brisker pace.
Where can I hear it? Audra McDonald recorded a beautiful rendition of the song on her 2000 Nonesuch album How Glory Goes.
"Happily Ever After" (Stephen Sondheim, Company, 1970)
Gist: At the end of the show, eternal bachelor Bobby is marginally more willing to consider marriage, but is not very upbeat about it.

Sample: "And why should you sweat? / What do you get? / One day of grateful / For six of regret."

Why cut: In Boston, director Hal Prince came to feel the song was too bitter a finale, reflecting insufficient change in the character.
Replaced with: Sondheim wrote a new song, "Marry Me a Little," which (as its title indicates) was still halfhearted. It, too, was cut. He then wrote "Being Alive," a more positive statement, now canonical. "Marry Me a Little" didn't disappear, though; in revivals it is performed at the end of Act One. But "Happily Ever After" is gone.
Where can I hear it? It's been recorded here and there, but this live-audience tape of Dean Jones singing it in Boston may be definitive.
"Making Good" (Stephen Schwartz, Wicked, 2003)
Gist: Getting on the train to Shiz University, the green-skinned Elphaba, future Wicked Witch of the West, contemplates a bright future.
Sample: "In my gut I know I can do something great / I don't know what yet but when I'm through, just you wait."
Why cut: The song drew positive but not thrilled responses in developmental readings. Schwartz rewrote it (twice) to shift the emphasis to Elphaba's desire to meet the Wizard and to take advantage of Idina Menzel's high belt.
Replaced with: "The Wizard and I," a classic musical-theater "I Want" song, and a better fit for Menzel.
Where can I hear it? Schwartz often performs "Making Good" at lectures and master classes.
"An Open Letter to John Adams" (Lin-Manuel Miranda, Hamilton, 2015)
Gist: Hamilton is not enamored of Adams, who succeeds George Washington as president. In this section of "The Adams Administration," based on an actual (54-page) letter Hamilton wrote in 1800, he explains why.

Sample: "They were calling you a dick back in '76 / And you haven't done anything new since / You're a nuisance with no sense / You'll die of irrelevance."

Why cut: In shaping and trimming the Off Broadway show for Broadway, something had to go.
Replaced with: Nothing. The only phrase that survives is the scatological last one.
Where can I hear it? Miranda, backed by members of the Broadway cast, performs it here.
"Pleasant Little Kingdom" (Stephen Sondheim, Follies, 1971)
Gist: Ben and Sally, once lovers but now unhappily married to other people, describe their empty lives during a theatrical reunion. The song was designed to lead into "Too Many Mornings," the culminating Act One ballad in which they renew their (imagined) love.
Sample: "An efficient little kingdom / The dominion of the queen / Where at any given moment / The ashtrays are clean."

Why cut: The conception of the characters changed, and the royal imagery no longer made sense for Sally.
Replaced with: Nothing. "Too Many Mornings" now begins without any lead-in.
Where can I hear it? It is beautifully sung on the Sondheim: A Musical Tribute album, but there's nothing quite like Sondheim's original demo (at 27:07).
"Roommates" (John Kander and Fred Ebb, Cabaret, 1966)
Gist: After meeting at the Kit Kat Klub the previous evening, chanteuse Sally Bowles comes to American novelist Cliff Bradshaw's small flat and makes a real-estate proposition.
Sample: "My roommate is scintillating, too / So helpful in everything I do / By telling some stories that she knows / She's got me writing a better brand of prose."
Why cut: To streamline the scene and number, which included a lengthy song introduction, director Hal Prince asked Kander and Ebb to come up with something quicker.
Replaced with: "Perfectly Marvelous," a perfectly charming song that sets up the Sally-Cliff situation in two and a half minutes, rather than five.
Where can I hear it? The Sony Masterworks rerelease of the original cast recording of Cabaret in the late 1990s featured a few demo recordings of Kander and Ebb performing songs cut from the show, including "Roommates."
"Say a Prayer for Me Tonight" (Alan Jay Lerner and Frederick Loewe, My Fair Lady, 1956)
Gist: Before cockney flower girl Eliza Doolittle makes her debut as an elegant lady at the Embassy Ball, she pensively sings this song.
Sample: "On to your Waterloo, whispers my heart / Pray I'll be Wellington, not Bonaparte."
Why cut: The song, which Loewe adored but Lerner could not stand — he called the melody a "cello solo" — was quickly cut, along with several other numbers that were slogging down the end of the first act.
Replaced with: A short scene in which Colonel Pickering and Professor Higgins convey their nervous anticipation, concluding with Eliza's memorable descent down Higgins's staircase in her glorious ballgown.
Where can I hear it? Lerner and Loewe's next collaboration, the splashy MGM musical film Gigi, hewed closely to the Cinderella story of My Fair Lady, so when the title character needed a song similar to the one Eliza had lost in New Haven, they dug "Say a Prayer for Me Tonight" out of the trunk. Leslie Caron (dubbed by Betty Wand) sings it, to a cat.
"The Show Biz" (Lynn Ahrens and Stephen Flaherty, Ragtime, 1998)
Gist: Harry Houdini and Evelyn Nesbit, once major stars, are reduced to performing in Atlantic City when theatergoing tastes inevitably change.
Sample: "My manager's slow / My lawyer's a twit / My agent's demanding a grand or he'll quit / My agent does shit / That's the showbiz."
Why cut: During the show's Toronto tryout, the authors felt the need to reduce and streamline the second-act Atlantic City sequence.
Replaced with: Houdini and Evelyn Nesbit were given small reprises of their earlier character numbers ("Harry Houdini, Master Escapist" and "The Crime of the Century") in the middle of a tauter "Atlantic City" sequence.
Where can I hear it? "The Show Biz" was recorded for the 1996 Songs From Ragtime concept album that producer Livent released to promote the show's Toronto debut.
"Silly People" (Stephen Sondheim, A Little Night Music, 1973)
Gist: At a country chateau, a footman and a maid make love under the summer night sky, which, according to legend and the Ingmar Bergman source, "smiles" three times.

Sample: "When now it smiles it smiles for lovers / When next it smiles it smiles for fools / The last it smiles it smiles for them / The others, the rememberers / The truly silly people."

Why cut: The footman isn't a central enough character to merit such a big number, even if it explains the central imagery of the show.

Replaced with: Nothing.

Where can I hear it? Many of Sondheim's cut songs, including this one, were cobbled together to make the 1980 Off Broadway musical Marry Me a Little. The singer is the playwright (then a performer) Craig Lucas.
"Ten Percent" (John Kander and Fred Ebb, Chicago, 1975)
Gist: Henry Glassman, the wily agent of merry murderess Velma Kelly, doesn't mind that people call him a worm and a leech as long as he collects his commission.
Sample: "Nobody ever sings me no hosanna / I've even heard me called a parasite / They say I got the soul of a piranha / But I ate Lobster Thermidor last night / And what did you have?"
Why cut: Kander, Ebb, and co-author and director Bob Fosse made the decision to cut the role of Henry the agent (played by David Rounds during the show's Philadelphia tryout) and beef up the role of Matron "Mama" Morton because too many characters were overwhelming the show.
Replaced with: "When You're Good to Mama," which establishes Morton's character.
Where can I hear it? A demo of Ebb singing the song (accompanied by Kander on piano) was released as part of a boxed set celebrating the tenth anniversary of the 1996 revival. David Hyde Pierce later performed it at a Vineyard Theater benefit.
 "Traveling Light" (Frank Loesser, Guys and Dolls, 1950)
Gist: Sky Masterson and Nathan Detroit share their philosophy of avoiding at all costs the responsibilities of family life.
Sample: "And I'm damned if your mortgage I'll carry / Though your proposition's a beaut / And damned if your sister I'll marry / Guess I left my heart in my other suit."
Why cut: Sam Levene, the actor who originated the role of Nathan Detroit, was tone-deaf and couldn't manage the musical intricacy of the song.
Replaced with: Dialogue that quickly makes the same point: "The companionship of a doll is a pleasant thing even for a period of time running into months. But for a close relationship that can last us through all the years of our life, no doll can take the place of aces back to back."
Where can I hear it? A demo of the composer singing the song is available on the DRG recording An Evening With Frank Loesser; actors Gregg Edelman and Tim Flavin (as Sky and Nathan respectively) sing it as a bonus track on the complete recording released by Jay Records.
Correction: This section of this post devoted to A Little Night Music, which originally discussed a song that was added for the film but not cut from the original show, has been changed. Also, the plot points related to "Come Down From the Tree," from Once on This Island, have been clarified.