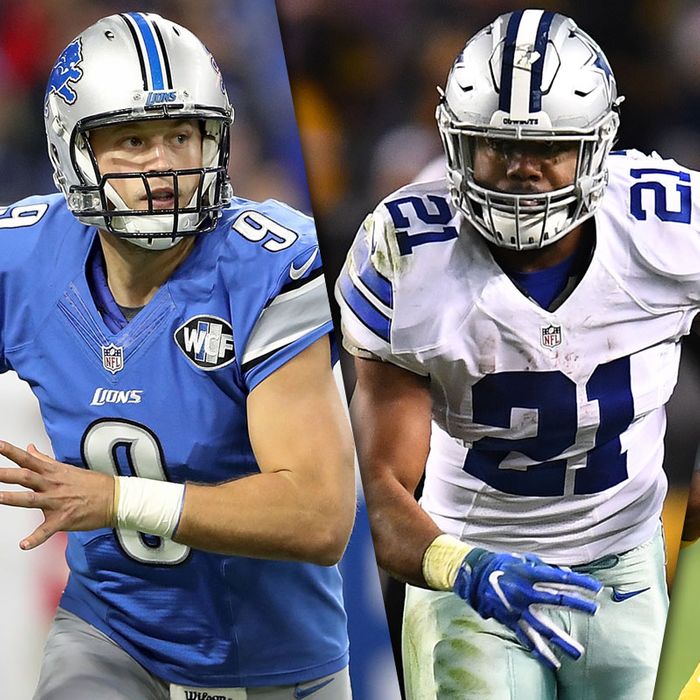 We all know the Thanksgiving drill: a nominally gratitude-themed day full of delicious food, clumsy mealtime conversation, and commitments — to family, preparations, travel — that mean your time isn't entirely your own. For football fans, the latter reality is especially alarming: Thanksgiving offers three NFL games, each featuring a pair of teams in the playoff hunt and an array of fantasy-consequential stars. In case your Turkey Day circumstances involve being on the road or otherwise away from a TV during peak gridiron times, here's a simple guide for watching football on your mobile devices.
SCHEDULE
Before you learn how to watch the games, you should determine whether you even want to bother.

12:30 p.m., CBS: Minnesota (6-4) @ Detroit (6-4)
It's been 60 years since CBS broadcasted its first Thanksgiving NFL game (the Packers beat the Lions 24-20), and this is the network's 57th game on the holiday. One notable game the network aired on Thanksgiving, which seemed rather innocuous at the time, was in 2000: Since the Lions were blowing out the Patriots 34-9, Tom Brady made his NFL debut, relieving Drew Bledsoe in garbage time. He completed one pass for six yards. A star in the making!
As for this year's matchup: Minnesota is a team without an offense and Detroit is a team without an identity, but in the absence of a functional Green Bay squad, either the Vikings or Lions will take the NFC North. Winning on Thanksgiving will go a long way toward determining who it is.
4:30 p.m., FOX: Washington (6-3-1) @ Dallas (9-1)
Just resign yourself right now to the idea of seeing so many reaction shots of either an elated Jerry Jones or Daniel Snyder, and it will maybe make it that much easier to bear.
8:30 p.m., NBC: Pittsburgh (5-5) @ Indianapolis (5-5)
This was going to be a much more interesting matchup before we learned that a concussion will keep star Colts quarterback Andrew Luck out of the game. Taking snaps in his place will be Indy backup Scott Tolzien, who has started all of two games in his five-year NFL career, producing one touchdown and five interceptions. So, actually, it may still be an interesting game, but not in any way that Scott Tolzien will be thankful for.
As a bonus, keep an eye on the budding bromance between Steelers receiver Antonio Brown and Colts punter Pat McAfee.
HOW TO WATCH
The usual how-to-stream-sports-online caveat applies: You can always wade into the Reddit muck and find, behind all the pop-ups, a pirated stream, but that's an awfully illegal way to spend your Thanksgiving. You could also jump the gun on Black Friday (or Cyber Monday?) and spring for a Slingbox to connect to your home cable box, which would enable you to legally stream the games to your device. But if you're going to do that, er, hurry. Otherwise, here are your options:
On Your Phone
While your initial inclination may be to utilize mobile streaming from CBS, FOX, NBC, or an app from your cable carrier, an NFL rep confirmed to Vulture that the only way to stream these games on your phone is with Verizon. In 2013, the mobile carrier signed an exclusive, four-year contract worth $1 billion with the NFL for smartphone streaming, so they're the only game in town. Verizon users can tune in using the NFL Mobile app or Verizon's go90 app, which is the carrier's all-purpose streaming platform. (Those customers thankfully need not worry about the streams gobbling up data, since NFL games on Verizon are exempt from data charges.) If you're not a Verizon subscriber, you may want to ask your family Thanksgiving morning to see if anyone else uses that carrier, and then finagle the seating chart accordingly.
On Your Tablet (or PC):
Verizon's deal encompasses phones, but not tablets. Subsequently, tablet users have more options. You can watch:
- Minnesota-Detroit at CBSSports.com
- Washington-Dallas using the FOX Sports GO app
- Pittsburgh-Indianapolis on NBCSports.com or using the NBC Sports app
These options also exist for laptops and desktops, though good luck explaining to relatives why your MacBook needs its own place setting at the table.