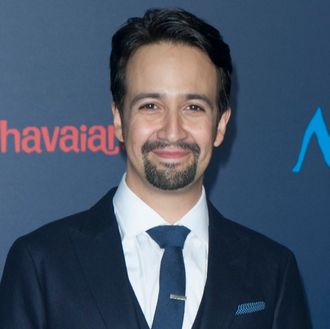 Lin-Manuel Miranda, Former Bullied Person
Photo: AFP/AFP/Getty Images
When he was on the WTF podcast this week, Lin-Manuel Miranda brought up his childhood bully, rapper Immortal Technique. Apparently, the rapper — who, like LMM, was a gifted kid of color who traveled from another neighborhood to attend their tony Upper East Side arts high school — used to "torture" people and throw them in garbage cans. These days, people rightly take bullying very seriously, so naturally the story quickly turned into "mean scary rapper bullies America's beaming light of hope, Lin-Manuel Miranda." This led to fans of Technique setting up a Change.org petition asking him to throw Miranda in the garbage again. Immortal Technique and Lin-Manuel, however, are friendly and proud pals, which Technique brought up both on Twitter (wherein he asked his fans to take the petition down) and in a long statement to Complex magazine. It said in part:
"We have always been very proud of each others' success, and we even joked about these articles with each other on Twitter over the weekend. To this day, I'm appreciative to say that we are friends, we are both staunch supporters of immigrant rights, and we will continue the fight against bigotry in our respective ways. I guess I could've taken the humorous route and said something like, 'And you thought it was hard for YOU to get tickets to Hamilton.'
Tech was also very careful to say, in the statement and over Twitter, that he takes bullying seriously, and that he was "a different person back then." For his part, the always ebullient LMM put it simply and well.