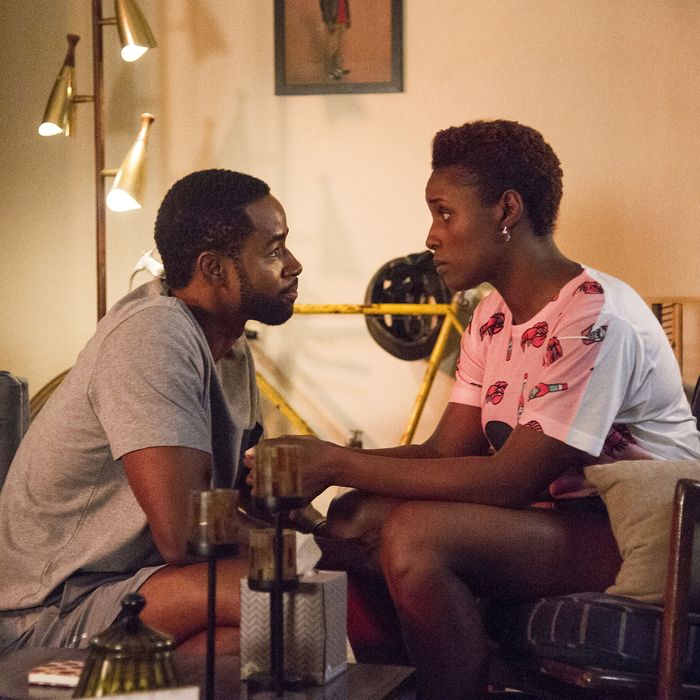 Jay Ellis as Lawrence, Issa Rae as Issa Dee.
Photo: HBO
Issa may be insecure, but she's still sexy. The first few episodes of Insecure have portrayed her as, well, an awkward black girl, so it's easy to forget that she's also a sexual being. I'd even begun to view her as a chaste younger sister, which made her moment of infidelity in "Shady As F**k" all the more shocking. And the only thing more shocking than that big twist? The revelation that Insecure is capable of twists.
"Shady As F**k" becomes more and more compelling as it chugs along. Initially, Issa's panic about the viral video seems slightly overblown, and the quest to track down the person who uploaded the clip seems like a terrible use of everyone's time. Lawrence's bemused response to the video seems pretty appropriate, even though it's totally understandable why Issa would think it's a much bigger deal. I can't imagine that We Got Y'all's office culture would have room for immediate termination based on an employee's private behavior made public through no fault of their own. Nevertheless, Issa is reasonably mortified by the video and first goes to Molly thinking there's some kind of legal wrangling that can be done to remove the video. (And I'm pretty sure there is, so it's anyone's guess why Molly wasn't willing and/or able to come up with it.) But after hitting a wall, Issa reaches out to Daniel in hopes that he can track down the culprit.
Insecure has consistently portrayed Issa as a loving, loyal girlfriend who would only consider infidelity during a moment of profound frustration or confusion, but that kind of thinking is exactly what leads Issa to sleep with Daniel despite her better judgment. Issa thinks of herself as an amazing girlfriend who would never cheat, and because she refuses to acknowledge her capacity for infidelity, she has no problem putting herself in the worst possible circumstances. Issa contacts Daniel out of sheer desperation, and she's so frazzled that the unresolved tension in their relationship appears to be the furthest thing from her mind. She pleads with him to help track down the uploader, even though she should probably cut her losses. At this point, the "Broken Pussy" amateur rap is the most cursed viral video that doesn't feature a terrifying Japanese girl climbing out of a well.
By the time Issa accepts an invitation to hang out in the studio with Daniel, the cake is already baked whether she knows it or not. But in fairness, she does make an honest attempt to avert disaster. The recording session ends in a mass exodus, and Issa immediately motions for the door before Daniel seduces her like, "Remember when we used to say you were the missing ingredient from Oaktown's 357? The 9, if you will? Well, here's your chance to prove it." All season Issa has been logging studio time in front of the bathroom mirror, so there's no way she's going to resist a chance to jump on the mic like a professional. The creative energy between Issa and Daniel leads to some reminiscing, and soon enough, they're going at it on the couch.
I haven't given enough credit to Rae's performance this season, and "Shady" demonstrates why I should have recognized it sooner. Issa goes through a violent cycle of emotions throughout the episode, and that's even before she stumbles into the restroom after sealing the deal with Daniel. She has a brief celebratory moment, the one anyone would have after finally bedding The One That Got Away, but the victory lap is short-lived. Issa notices a soap dispenser by the sink, not unlike the one she and Lawrence joked about when they went shopping for their new couch. As regret washes over her face, Rae plays the moment beautifully. Without knowing what the rest of the season holds, this episode seems like a no-brainer when it comes time to submit a performance for Emmy consideration.
"Shady" also provides Molly with a well-observed emotional moment. Being her typical thirsty self, Molly insists that Chris the Lawyer leave a garment bag at her house just in case he starts spending more time there. He's clearly put off by it, but she still needles him until he agrees to accompany her to a co-worker's engagement party. I was certain Molly was going to be left looking silly, and I was thrilled when he surprised her and introduced himself as her new boyfriend. I watched the subsequent scene several times, as it's been a while since I've seen an innocent misunderstanding written so observantly. As first I didn't get where Chris was coming from, but the more I thought about it, the more I understood. Molly does seem like a woman in desperate need of a win. Also, Chris didn't entirely introduce himself as her boyfriend — he just went with her co-worker's label, assuming perhaps that he had been given incorrect information by Molly.
Still, it's heartbreaking to see Molly humiliated this way. Oddly enough, my heart also went out to Tasha, who I've taken to calling Inglewood Issa on account of her awkwardness. I mean, she's being a little bit fast for sure, but I don't recall Lawrence mentioning his relationship status to her. She puts herself out there, showing even more cleavage than she does at Hooters Bank & Trust, and gets shot down. Lawrence may not have a sexy job or know how to formulate great birthday plans, but he's loyal. Unfortunately, he's just as insecure as Issa, and no more convinced than she is that he's found the person he'll spend the rest of his life with. Once the news of Issa's affair comes to light, those doubts are bound to get even worse.