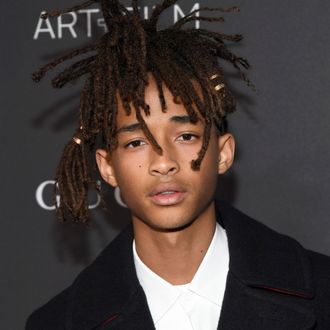 Make it happen.
Photo: Frazer Harrison/Getty Images for LACMA
Dear Marvel,
Vulture here. You know how fond you are of reboots and sequels? Well, we'd like to present you with an offer we sincerely hope you won't refuse: Cast Jaden Smith as the next Doctor Strange. Yes, we know your first iteration of this wizard neurosurgeon has only just hit the big screen, played by the marvelous Benedict Cumberbatch. Brilliant choice. However, it's never too soon to start thinking about his successor. Just look how quickly you've had to find your second and third Spider-Men! Now, we also are aware that Jaden is young, but hear us out. Never has there been a teenage brain so wise beyond its years, it's practically an ancient one. (Plus, it'll be a few years before Benny's off the job.) Who better to carry the torch of holistic healing and mind games than a man who already exudes prana energy? Just think of how well his street-style sensibilities would go with that cape! And look, he's already given the first Doctor Strange movie a five-star review.
For your consideration, we also ask that you please, please, please forgive his father's superhero sins (Hancock and Deadshot never happened as far as we're concerned). And remember, there's room for more than one black superhero in this universe!
Thank you for your time,
Vulture