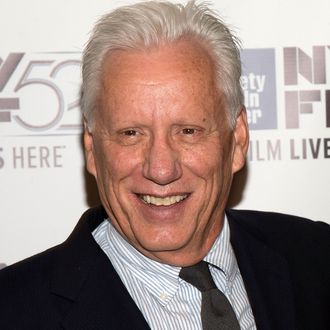 Photo: Slaven Vlasic/Getty Images
James Woods is in a Twitter feud, but it's not with another angry sexagenarian. It's with the actual company, Twitter. Earlier this week, the social network started enforcing its own rules and suspended the accounts of various figures connected to the "alt-right" branch of conservatism that skews heavily toward nationalist points of view. (For a sampling, one of the suspended users, Richard Spencer, has called Martin Luther King Jr. "a fraud and degenerate," and addressed his removal from Twitter by saying, "I am alive physically but digitally speaking there has been execution squads across the alt right.") And James Woods, for one, is pretty pissed about this infringement on his First Amendment rights.
Alongside a photo of the USA Today story that broke the news about accounts being purged, Woods wrote in his final tweet, "Since Twitter is now in the censorship business, I will no longer use its service for my constitutional right to free speech. #GoodbyeAll" The actor also changed his Twitter bio to say, "Twitter has now sadly abdicated its position as a sole beacon of free speech. Voltaire's famous dictum has been quietly buried by these left wing savages." Twitter has been taking criticism for not disclosing the reasoning behind the recent suspensions and for possibly stripping privileges on the basis of viewpoint instead of actionable threatening behavior. Until more information is made available, though, you can read their policy about online abuse and use your imagination.
"Hateful conduct: You may not promote violence against or directly attack or threaten other people on the basis of race, ethnicity, national origin, sexual orientation, gender, gender identity, religious affiliation, age, disability, or disease. We also do not allow accounts whose primary purpose is inciting harm towards others on the basis of these categories."