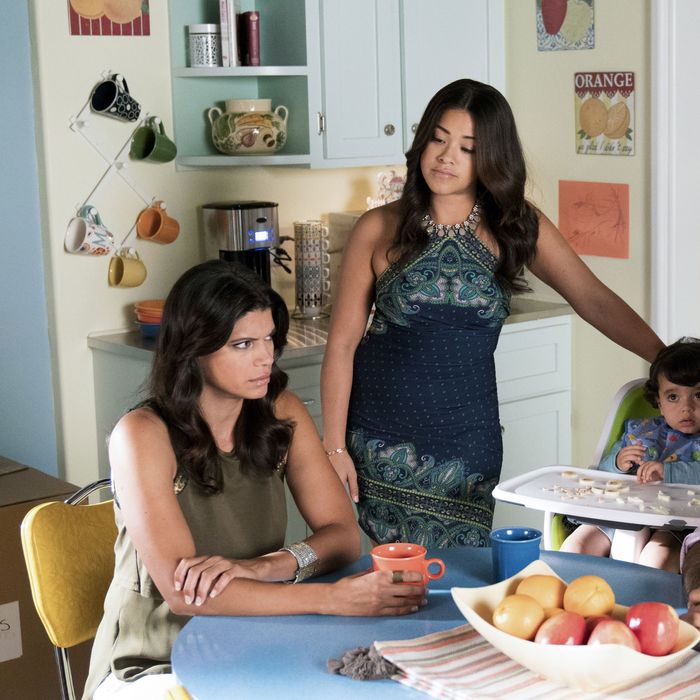 Andrea Navedo as Xo, Gina Rodriguez as Jane, Jaime Camil as Rogelio.
Photo: Michael Desmond/The CW
Let's talk about advertising. I understand that shows need to do integrated product placements, especially shows like Jane the Virgin that don't have huge audiences and need all the help they can get. It's a reality of network television in the age of Peak TV, and it's something Jane has done from the beginning.
It certainly helps that the show makes winking asides about itself. The self-awareness, the narrator interjections, Rogelio taking a meeting at the CW's offices — I love that stuff! And yet, the overt Honey Bunches of Oats ad in "Chapter Fifty" bummed me out. It's funny that they keep calling it HBO. The ad spot even gets some plot build-up from the previous episode, as the exchange for Rogelio's full-frontal indie film. And as a funny little Tiago joke, I was mostly okay with it. But at the end of the episode, when Jane and Rogelio and Xo sit down at the table and have a nice breakfast of HBO … yeesh. It's just never going to be something I'm happy to see.
Aside from that commercial for breakfast cereal, what else does Jane the Virgin have going on this week? Cousin Catalina! Much of the episode is devoted to the Venezuelan bombshell that was dropped at the end of "Chapter Forty-Nine," namely, the unexpected arrival of Jane's cousin, a.k.a. her grandmother's sister's granddaughter. Catalina's character works fairly well, bouncing off Jane's familiar rhythms and goading her into leaving her comfort zone. Catalina urges Jane to be overly confident at her interview for a publisher's assistant job, and she convinces Jane to stay late at work for drinks. She talks about her fabulous travels and adventures, while Jane admits she's only been on a plane four times in her life.
I'll admit, my response to Jane and Catalina wasn't far out of line with Michael's. I'm loathe to see Jane get pulled away from her usual self and drawn to a more exciting, unpredictable life. It's not out of character for her, of course. As the resolution with Michael works to demonstrate, she's still very young, she's lived in highly planned and relatively small circles for her whole life, and it wouldn't be surprising for her to want to strike out a little. But it's still hard to watch a character who's so remarkably good at knowing herself be influenced by someone else. It's hard in a good way. It speaks to how fully formed Jane is, and how attached I feel to the character she's become.
The show knows this. It plays with the idea of Catalina really interrupting Jane's life, but only briefly. From there, "Chapter Fifty" quickly ties Catalina up with Rafael, puts Michael up on a stage to remind Jane of why she loves the life she has, and then wallops Catalina with the villainess edit for good measure. Even though Alba questions her motives (and in the process, forces Jane to defend Catalina for longer than she otherwise might), there's no question about whose side Jane will take in the long run. Jane the Virgin is too true to its telenovela roots to ever let Jane be a conscious ally of a baddie. The result is a plus and a minus for the introduction of Catalina. On the one hand, she creates an interesting challenge to the Jane we know well. On the other … well, you heard those villainous guitar chords kick in at the end of the episode.
In other words, the possibility that Jane might run away from Michael and go become a sommelier or work at Milan Fashion Week or some similar adventure gets shut down quickly. Given the glint in Michael's eye and his (pretty excellent) willingness to leap onstage, I wouldn't be surprised if he ends up planning a fun travel adventure for Jane. Their honeymoon was cancelled, after all.
So anyhow, Catalina. To no one's surprise, she and Rafael really hit it off. (They even went to the same crazy party years ago, which seems to deserve another Narrator interjection about rich people.) They look quite cozy, and then we get that musical hint about Catalina's potentially suspect intentions. That Rafael really is a weak link, isn't he? He's susceptible to Petra, he got taken in by Derek, and now he looks like a mark for Catalina. He does have a sneaky arrangement with Scott, resulting in a surprise twist at the end of the episode where we learn that he was actually in cahoots with Scott to get his Marbella shares back from Petra, thereby mostly undoing all of the damage that was done during Anezka's months-long twin-swap extravaganza. But even then, Scott only agrees so Rafael will owe him a favor, once again leaving Raf open to manipulation. That guy really is a gender-swapped damsel in distress, isn't he? It's because he's so pretty.
Aside from the setup as a potential villain, Catalina also serves to uncover more information about Alba's past. Rather than the unmotivated, one-sided story Alba told Jane, Catalina confirms that her grandmother fell in love with Jane's grandfather before Alba did, and that jealousy drove her to ruin Alba's wedding. Although their reunion is quickly sidelined by Alba prepping the ground for "master-manipulator" Catalina, Jane the Virgin is always so good at the little moments when characters have reasonable discussions about their disagreements. The fact that Jane and Alba can disagree about things, and can still be committed to maintaining a relationship with one another, is one of the many things that makes this series so lovely.
Also lovely: Rogelio and Xo's dance-off, even though it ultimately ends in Rogelio catching Xo making out with her terrible ex. Poor Rogelio. He finally decided to ignore his desire for another child and admit his feelings to Xiomara, only to see her kissing this guy who's obviously terrible for her. At the very least, he gets to use that material for a stronger Tiago plot. It's a telenovela, and not everyone can be happy all the time, but it's so hard to watch Rogelio and Xiomara get driven apart yet again.
In any event, there's a ton of plot flying around. The cops are still working on Mutter's secret bank account. (How long could that possibly take?!) Rafael has his hotel shares back, and he's in league with Scott! Jane and Michael got a cat! Michael does a passable Bruno Mars! And Catalina is probably evil! To be continued!
From Our Narrator, With Love:
It took the rest of the episode a while to catch up with Catalina, but Our Narrator knew the deal from the beginning. "I love moving!" she chirped. "Who loves moving?" he asked, incredulously.
After letting Rafael and Scott blindside her with the sexual-harassment suit, Petra may not be fully on-the-ball yet, but I'm glad she's back. "Hell, I'm scared of her," Our Narrator says.
"Ahh, the kooky guest in the Speedo story" that Jane has heard so many times. How often does Rafael tell this story?
The best Narrator line of the episode, as Catalina arrives for dinner with her own arepas in tow: "Rival arepas and unsecured tatas!" This is going to be a disaster! "… Oh, look at that, I was totally wrong!"
#Rogelio:
Thank you, Jane the Virgin, for those two dance-off scenes. I needed them this week.
Not exactly sure how Rogelio got away with eating so much Honey Bunches of Oats while he's also on his diet. But I did appreciate the pile of veggies on the Tiago craft-services table, complete with a "Rogelio's Celery" sign.
I'm not a fan of the product placement, but okay, "Get me JFK! We have to talk about saving the world … over breakfast" is pretty good. As is Rogelio accosting the HBO rep about his desire to have kids: "I love the cereal! But I need eggs."