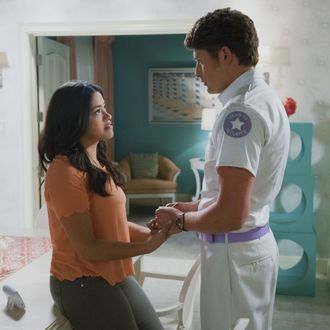 Jane a Michael.
Photo: Michael Desmond/The CW
After Trump's comments in which he bragged about groping women without their consent appeared on a leaked 2005 Access Hollywood tape, many have started to rethink what counts as an acceptable sexual advance, especially on film and television. In an article in Pacific Standard about how TV writers have started to rethink romantic tropes amid conversations about Trump and consent, Jane the Virgin creator and showrunner Jennie Snyder Urman outlined how she rewrote a scene in the show's third season premiere that originally had Michael, who is chasing after Jane in a flashback, kiss her out of the blue without giving her time to demonstrate consent. "I felt so uncomfortable with any gray area in terms of consent," Urman said, even though mid-argument kisses often appear on TV. "Those little symbols [of male aggression and lack of consent] are dangerous right now in terms of what we're talking about and what we're faced with."
Instead of a surprise kiss, the rewritten scene has Michael show up at Jane's door and ask, "Let me kiss you again, sober." She asks why he won't give up. He tells her he's a fighter. She then takes the initiative and goes in to kiss him. The rewrite, according to Urman, comes from a need to consider how the small moments on the show might perpetuate larger issues. "My responsibility is to make sure that we're not confusing things … or adding to the problem," she said.