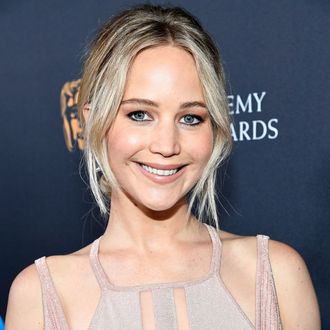 Listen to Katniss.
Photo: Frazer Harrison/BAFTA LA/Getty Images
Like many 20-somethings in New York who date men who love scarves, Jennifer Lawrence is writing for Vice. In an essay on the site's Broadly section, the Oscar winner discussed her thoughts on a Trump presidency, and encouraged young people like herself to take action however they can. "If you're worried about the health of our planet, find out everything you can about how to protect it," Lawrence writes. "If you're worried about racial violence love your neighbor more than you've ever tried to before — no matter what they believe or who they voted for. If you're afraid of a wall putting us all into another recession then organize and stand against it."
Lawrence helped get out the vote, via FaceTime, for Hillary Clinton, with the help of her boyfriend Darren Aronofsky, and she address her profound disappointment at witnessing Clinton's loss in the essay. "If you're a woman and you're worried that no matter how hard you work or how much you learn, there will always be a glass ceiling, then I don't really know what to say," Lawrence writes. "I don't know what I would tell my daughter if I were you. Except to have hope. To work for the future." Hey, maybe Lawrence could lend her Hunger Games talents to starting a revolution in real life — but, you know, with more practical policy changes and less ritualized teen murder.