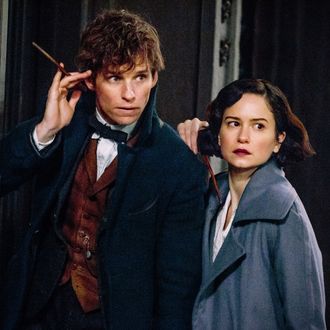 Like Inglorious Basterds, but with beasts.
Photo: Jaap Buitendijk/Warner Brothers
Spoilers ahead for those who have not seen Fantastic Beasts.
Get excited for Eddie Redmyane to oh-so charmingly defeat fascism. After the first installments of the five-part Fantastic Beasts series hit theaters this weekend, J.K. Rowling took to Twitter to answer some lingering fan questions. Among the answers Rowling provided: Newt's bird made it to Arizona okay, Alison Sudol's Queenie will come back for the second installment, and we should take everything in the movies as canon (because she's the one writing them!). Most importantly, Rowling revealed that the series will stretch from 1926 to 1945, which really seems to confirm everyone's theories that Gellert Grindelwald is a wizard Hitler. Brace yourselves to witness the rise of whatever the wizard equivalent of Nazi Germany is onscreen, as Newt and company travel to Paris and the U.K. in the next installment of the series, and then onto new and exciting locales throughout the '30s and '40s, when it really feels like the wizards should've stopped muggles from committing some of the most horrific violence in human history, but hey, maybe there were beasts to find. What might happen in 1945 to mark the end of the series? The fall of the Third Reich, the bombing of Hiroshima, or probably some super-epic duel between Dumbledore and Grindelwald.