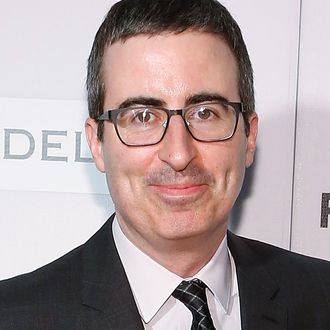 Photo: Taylor Hill/Getty Images,
While Canada's immigration website kept crashing during Election Night and in the immediate aftermath, at least one liberal comedian plans on staying in America. During his performance at the Natural Resources Defense Council's Night of Comedy, John Oliver told the crowd, "I'm not going to move to Canada because of this. I say that with misplaced confidence as someone with a green card. I've been talking shit about [Donald Trump] for two years, I might be getting moved to Canada against my will."

Since leaving The Daily Show, Oliver has made a name for himself as a comedic crusader of the left on his HBO show Last Week Tonight. Regardless of any future deportations of British comedians President-elect Trump might have up his sleeve, however, Oliver has solid plans for welcoming the United State's new commander-in-chief. "I'm going to stay here and I'll tell you why," Oliver said."Because I'm going to attend Trump's inauguration on the Mall in Washington like the string quartet on the Titanic. I'm going to turn to the person on my left and to my right and say, 'Gentlemen, it has been an honor playing with you.'" What a classy way to go down with this sinking ship of a country, John.