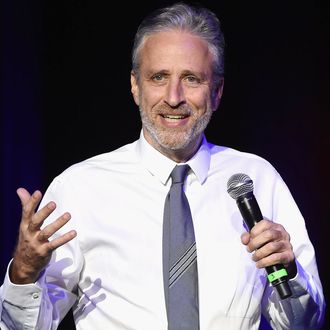 Jon Stewart on stage.
Photo: Gary Gershoff/WireImage/Getty Images
Remember those innocent times when Mitt Romney had binders full of women and Jon Stewart was in the chair at The Daily Show? Well, it's 2016 and a maniacal orange crayon has a real shot at the presidency. So while Jon Stewart may no longer be delivering satirical news to you on a daily basis, that doesn't mean he isn't still hanging around like a professor emeritus at college. Stewart performed a stand-up set at the Woodruff Foundation's 10th annual Stand Up for Heroes Benefit Tuesday night at the Theater in Madison Square Garden, and of course, much of it was devoted to Donald Trump. "I'm not as much of a political analyst," Stewart said. "But if I could ask you a question that I've been saying to my television, it's 'What the fuck? What the fuck is going on? What is happening?!'"
Stewart went to tackle Trump's claims that the system is somehow rigged against him: "Dude, you live in a tower with your name on it in gold. How well would you be doing if the man wasn't keeping you down?" But the set's real centerpiece involved Stewart recalling a memorable Twitter spat he had with Trump back during those simpler times in 2013, a story he calls "The Day I Woke Up to Find Out Somebody Was Tweeting Weird Shit About Me."

The Twitter fight began when Donald Trump tweeted, "I promise you, I'm much smarter than Jonathan Leibowitz, I mean Jon Stewart, who by the way is totally overrated." Stewart adds, "Now I'm going to say something to you: This is real. And I don't necessarily disagree with it."

The tweets go on like that, with Trump continuing to troll Stewart, calling him "overrated" and a "phony" who "should be proud of his heritage." Stewart says:

So I start to think to myself, Oh, I think this guy is trying to let people know I'm a Jew. And I think to myself, doesn't my face do that? Honestly, like, where have you seen this face other than a poster for Yentl? In what world are people like, Stewart, that's a Scottish name, but there's something about that fella that looks a little schmeary. It would be funny if it wasn't so toxically fucking crude and horrible, but. So I decide to tweet back at him, "Many people don't know this, but Donald Trump's real name is Fuckface Von Clownstick. I wish you would embrace the Von Clownstick heritage."

You remember, by the way, Lincoln used to get into this shit all the time. I swear to god this is true, the man that will more than likely, given the FBI's preference be our next president, then tweeted, "Amazing how the haters and losers keep tweeting the name Fuckface Von Clownstick like they are so original and like no one else is doing it." What happened is as it turned out, a lot of people on Twitter picked up on the name Fuckface von Clownstick and started tweeting at it. Then he tweets, "What's funny about the name Fuckface von Clownstick? It was not coined by Jon Lebowitz, he stole it from a moron on Twitter." So I tweet back, "We seem to have hit a Fuckface Von Nervestick." Silence. Radio silence. Four days later, I shit you not, perhaps the next president of the greatest country in the world, at 1:30 in the morning, tweeted, "Little Jon Stewart is a pussy, and would be hopeless in a debate with me." Vote wisely this November. 
Here's video of part of the set. We miss you, Jon Stewart!