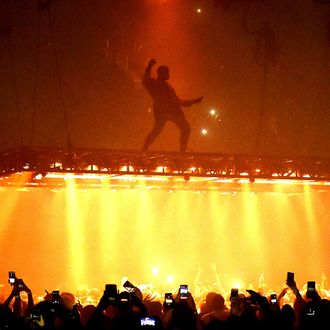 Photo: Kevin Winter/Getty Images
Well, it was a good run. Throughout the first half of Kanye West's Saint Pablo tour he had been comparatively restrained when it came to halting performances for extended periods of time in order to air out his feelings about every little thing. But that changed tonight at the SAP Center in San Jose where, according to reports, West went onstage late and then repeatedly stopped in the middle of songs and flat-out paused his show to, among other things, lecture the crowd about the "paradigm shift" that's happening in America, apologize to Nike for making factually inaccurate statements, assure the crowd that his concerts are a safe space for everyone regardless of political affiliation, sign a fan's shoes, scold people for dancing and clapping while he's talking, defend his choice to wear another artist's merchandise (apparently a Drake hat), remind everyone not to trust what they read on the internet, explain that we need to fix education and housing problems in the United States, and, oh, yeah, to voice his support for Donald Trump.
Apparently, the rapper has been a Trump supporter for a while, but Justin Bieber's manager Scooter Braun advised him not to make that public until after the election, because this whole situation is just a pop-culture Mad Lib now. All of that processing sounds like it came before West allegedly told the crowd that black people need to "get over racism." But he apparently ended the show by saying, "Neither candidate would fix racism in this country," suggesting that West, justifiably, isn't over racism either. He also re-declared his own run for the presidency in 2020. By the estimates of the heroic Twitter user who sent live dispatches throughout the show, West spent at least one hour just talking at the crowd, and cut himself off mid-song at least a dozen times. So, Kanye West is basically the uncle you really wish you could avoid at Thanksgiving dinner this year. Have fun, Kardashians!