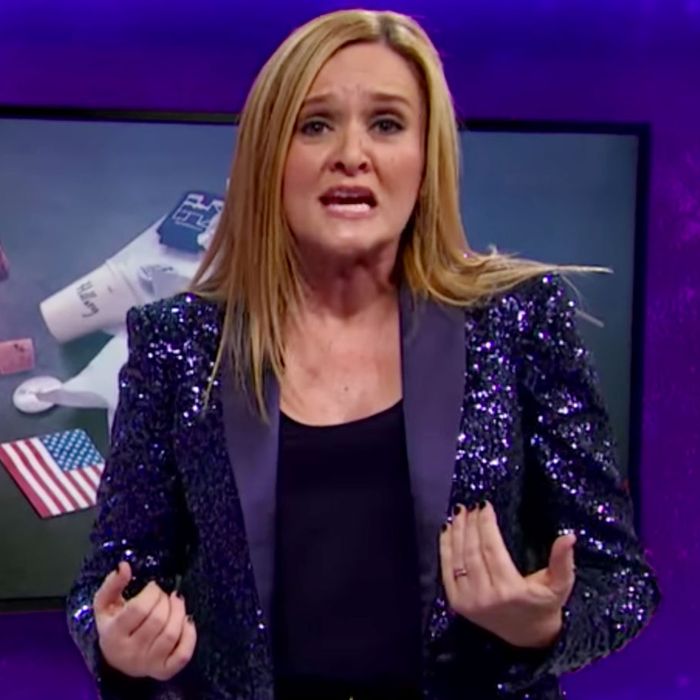 On election night, both Stephen Colbert and The Daily Show team had a harder time than usual telling jokes. On the day after the election, when the late-show enterprise officially reopened for business, shooting for levity was maybe a little easier.
Jimmy Fallon, in his usual "keep it light and unobjectionable" spirit, kicked off his Tonight Show monologue with a Steve Urkel joke. Jimmy Kimmel, among other things, did a bit on what's next for the "cast" of the 2016 election. James Corden encouraged people to put an arm around someone they disagree with politically and, also, to carpool karaoke with any friend or relative who voted third party. (Okay, he didn't say that last part.) Meanwhile, Stephen Colbert and Conan O'Brien, clearly aware that their audiences may be divided about the election results, emphasized the greatness of American democracy in their opening monologues. Of the two, Colbert was far more disgusted and outwardly anti-Trump, noting that he still can't describe Trump as our president without "throwing up in my mouth a little bit."
But some still couldn't and wouldn't mask their emotions about the election of Donald Trump, an event that once used to be a joke on The Simpsons and in Back to Future Part II and is now actually happening. These are the late-night shows that, on the day after a divisive election, reminded us that our joke-tellers can do more than make a well-timed reference to Family Matters. They can also be meaningful, sobering, and inspiring.
Late Night With Seth Meyers
Meyers has been bullish on Trump for a while, and he started out by going right for the anti-Donald jokes. ("Well, that was a real grab in the pussy," he said.) But then he turned his from-behind-the-desk monologue about the Trump victory and defeat of Hillary Clinton into something more personal. He talked about what was happening with his wife and child on election night, then he choked up when he spoke about how much his mother — named Hilary — wanted to see Clinton get elected. It was funny at times, moving at others, and another reminder that Meyers is the closest thing we have right now to a David Letterman.
Full Frontal With Samantha Bee
Meyers was a little weepy, but Bee was breathing fire. For those who weren't ready to be conciliatory — and judging from the protests around the country last night, there were a lot of them — her show was the best place to go on Wednesday night for a full-on rage fest. In addition to blaming white people for paving the way to a Trump administration, she also made sure to dispel the notion that late-night hosts like herself were secretly jazzed for a Trump presidency because "the jokes will write themselves." "No, no, no, shut up," she said. "Jokes don't write themselves. Jews write jokes — and they are scared shitless."
The Daily Show With Trevor Noah
The Daily Show has taken it on the chin a lot over the last year with Jon Stewart gone and Noah trying and only sometimes succeeding to fully fill his shoes. But they did something really wonderful last night by, like Meyers, making things more personal. Correspondents Michelle Wolf and Hasan Minhaj, who is Muslim-American, both discussed the election from their perspectives, keeping it funny but also telling stories that should sadden all of us. Minhaj spoke about his mother, who is visiting his grandmother outside of the U.S., and already worried she won't be able to get back into the country. And at the end of her segment, following a clip of Clinton's acceptance speech in which she reminded young girls that they are valuable and deserving of opportunity, Wolf clearly got choked up: "The saddest thing I heard all day is that we have to be reminded of that."
Chelsea
With her talk show episodes streaming sporadically, Wednesdays through Fridays, and on Netflix, a platform most don't associate with late night TV, Handler is rarely a part of the talk show conversation. But her interview with Senator Barbara Boxer, which will appear in an episode of Chelsea released later today, is worth watching. Boxer, who did not seek reelection, is not only one of the "Year of the Woman" Senators, she's also personally connected to Clinton; her daughter Nicole used to be married to Clinton's brother, Tony Rodham. To hear Boxer talk about her experiences handling defeat as a woman, in her own life and through what just happened, is sobering and inspiring all at once.
*An earlier version of this post stated that Chelsea airs Wednesdays and Thursdays. In fact, it airs every Wednesday, Thursday, and Friday.