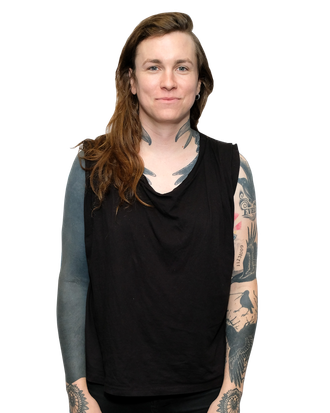 Punk rocker Laura Jane Grace, lead singer of Against Me!, is probably most famous, nationally at least, for having come out as transgender in 2012. But as anyone looped into punk music will tell you, Against Me!, which originated in South Florida, has been a hugely influential band for almost two decades. By touring relentlessly — originally in church and house basements as part of a passionate DIY anarcho-punk scene — the band built up a following, eventually signing to major labels and earning the inevitable sellout epithet.
In Grace's new memoir, Tranny: Confessions of Punk Rock's Most Infamous Anarchist Sellout, written with the journalist Dan Ozzie, Grace tells the obligatory rock-and-roll stories you'd expect from someone who had spent so much time on the road, and they're very entertaining: the time she got in a coffee-shop fight with someone who called her sellout, the nice letter she got from Bruce Springsteen after being released from jail for said fight, and Against Me!'s less-than-stellar relationship with touring partner the Alkaline Trio.
But the most potent parts of the memoir have to do with Grace's gender dysphoria, which she had since childhood and which repeatedly comes roaring back in a crippling manner — it eventually gets to the point where Grace, pre-transition, feels like the only way she can survive is by dressing up as a woman and walking around in semipublic, always running the risk of someone finding her out.
In a recent interview, which took place before the election, Grace talked about her musical influences, the ways masculine expectations grated on her before she transitioned, and her encounter with Miley Cyrus's pet pig.
Throughout the book, your gender dysphoria stalks you — whenever you think you've gotten rid of it, it pops up again in a fairly crippling way. Is there any part of you that feels relaxed and settled?  Or is it more like an ongoing process?
For sure there's an element of that. Even just like, on a simple level of like, hell, in a romantic sense. In the past, if I ever met anybody, that was always this deep dark thing in the back of my mind, this thing about myself that I knew that I never shared with anyone because I was worried of the way I would be judged for it. Now it's just, take it or leave it, this is the way I am and it's all out there, and there is no worry of that in the back of your head. Which is definitely living a less compartmentalized existence, which is liberating for sure. But it doesn't mean it solves all your problems.
To the extent you've dated since transitioning, what's surprised you about it?
It's hard to say. I'm still learning and living and figuring out what that means to be dating when still in transition. And that's another myth I fell for — that, like, announcing that you're transitioning to some people implies that you've announced this and you're done, you've transitioned. As opposed to it being an ongoing process or whatever. With dating, you then have that thought in the back of your head as you continue to change as a person or whatever, will someone still find you attractive? Why do they find you attractive? But in a really good way, it challenges you to think, and it challenges you to not take things for granted.
Do you think some of those complexities and nuances get papered over by the way trans issues are covered? I'm thinking of some of the media coverage of Caitlyn Jenner — that idea of like, Oh, she's a beautiful woman and she's on a magazine cover, that's it, she's transitioned. It's just presented more as a simplistic process.
Well, it's tough, 'cause I definitely felt like, I'm guessing, similar pressures of announcing you're transitioning to people and doing so in a really public way. I felt like there was this pressure, then, that the next time you're seen, or the next time you're out touring or whatever, you'd be this fully formed vision of yourself. And that you're kind of pressured: Okay, I'm gonna do this interview, and I need to know the answers. Because especially when it's early on and you're doing your first set of interviews, that's going to be the template for everyone else doing interviews, and you need to make sure you've really thought out your answers. When it comes down to it, it's hard to know any kinds of absolutes or anything like that. With Caitlyn Jenner, it's like, yes, on the one hand, it does kind of seem like she all of a sudden came out as fully formed. But I feel like there were years and years and years of private transition for her that just wasn't documented where it wasn't instantaneous or anything like that. And there's a paper trail of shitty tabloid magazines out there for years that were speculating about whether Caitlyn Jenner was trans or anything like that, up until she finally came out.
What were the aspects of masculinity that, before you transitioned, grated on you the most, where you really felt like you were performing something that isn't you?
I guess as the band got bigger and especially in the major-label world, there were expectations, or we were being pushed into, be this band that you're not. When it's doing magazine photo shoots and stuff like that or whatever, where there's specific archetypes of be the male front singer [laughs], be that person who — you're tough. And get up onstage and be like, "All right everybody, you ready to rock!?" or whatever shtick it is. But you definitely feel measured against other male singers when that's the mold you're being fit into, and I just couldn't exist in that world, and I didn't know how to function as that person and I didn't know who I was the more and more it became like that. It was different when it was in the punk ghetto in that way. For me, anger or aggression aren't specifically male emotions, but the more and more it became on a larger scale, I feel like that's the way it's skewed.
So in other words, that whole flip the bird to the camera, be the angry punk thing, that's what was expected of you?
Totally, yeah.
That sort of ties into a story you tell in the book, of when you went to a conservative Floridian psychiatrist to try and get on hormones. They wanted you to perform the flip side of that — to present this very particular version of effeminate womanhood before they were comfortable prescribing you hormones, right?
Right, yeah. And unfortunately, there just aren't a lot of resources, especially where I was at at the time, living in St. Augustine. And in Miami, there were more resources, but that was a four or five hour drive for me. So even the closest I could find was still like an hour-and-a-half drive from where I was at, and that's just the one option, you know?
And with the therapist you saw, it was this aesthetic thing where until the therapist saw you dressed as a woman, they were like, "Eh, I'm not sure that's who you really are." I mean, that must have felt sort of demeaning, to be forced to conform to a particular stereotype.
It just kind of felt like it was all bullshit. That being said, when I'm traveling around and meet other people who are going through similar things and they ask for advice, I still recommend they find someone to talk to, and oftentimes the best person to talk to is a trained professional like that. And often, it's not necessarily the advice that they're gonna give you, it's just really just being able to hear yourself actualized — to hear what you're thinking said out loud and to bounce that off somebody even if they can't give you anything helpful in return.
Do you get the sense that it's fairly common for young trans or gender-questioning people to feel like they have to lie to their therapist to fit a certain mold of a trans person to get the treatment they need?
For sure. And beyond that, what's even more alarming is the actual health care for trans people once you're on hormones, of finding someone who actually gives a shit in doing that right and helping you to manage something like that in a healthy way. The health-care industry is really discriminatory when it comes to that, and trans people are notoriously marginalized and not given good care. It's like a constant fear you live with, whether I'm going to a dentist or just like a doctor for whatever normal health checkup that anyone else would go to, that if they discover you're trans, you're gonna get biased, subpar health care.
In the book, you mention that your song "The Ocean," where you talk most explicitly about gender dysphoria, just sort of popped in your head fully formed. Are there any other Against Me! songs that sort of came together like that?
Yeah, and those are the moments you hope for, where it's easy like that. But definitely with each record there's thankfully been a couple moments like that where you don't have to fight it and the song comes easily. The record we just put out, Shape Shift With Me, was like that —  each song just came simply and came easy. Before that, on Gender Dysphoria Blues, the title track in particular came fairly easy. I originally wrote that song to a drum loop that I made out of the beginning of a Crass song, "Banned From the Roxy," and just wrote it to the loop of drums off that. The record before that, White Crosses, I think "I Was a Teenage Anarchist" was a song that came really easily. There were a couple of lyrics that I struggled with, but overall it was a pretty easy song.
Do you think that happens more or less as you get older?
It's something you have to fight for. I think it's like, is it a Picasso quote? — "Inspiration will find you but it has to find you working"? You have to write through those moments where you weren't feeling inspired and keep working and just not expect anything, and hopefully, those moments will find you.
Another big theme in Tranny is Against Me!'s evolution from these very anarcho-punk roots. Are there any particular musicians you see as examples of how to evolve without losing what makes you great?
For me, the Clash were always a huge influence in that way. If you look at the difference between the first Clash record and Combat Rock, what an evolution. And never stopping to like settle for, Okay, that's our sound, that's what we're gonna do all that time, but just continue to challenge things and continue to grow. And in that same way, I'm a lifelong Bob Dylan fan and I do really respect artists who are true to themselves in that way, even if their core fan base or whatever end up hating what they're doing and are angry even for changing in ways they've changed. But it keeps it relevant to them and it keeps them engaged and it's real then, it's not like a jukebox thing.
Throughout the book, you talk about going through these periods where you want to die. Have you reached a point where you've acknowledged to yourself, Once in awhile, I am going to feel suicidal. And it's happened before and it'll happen again but I can fight through it and I know it'll eventually go away?
I don't know. I guess my outlet for that is journaling and writing about it and that's kind of like the release valve for that pressure. That's where the book came from, from keeping tour journals for years as having that outlet to express yourself and what you're thinking when those aren't things that you can easily lay on somebody. But I also think that, in talking about that, I hope it's clear to people that those are two separate things. That while I've struggled with gender dysphoria for my whole life, I've also struggled with depression. Those aren't necessarily linked.
Other than journaling, are there other specific ways you manage your depression?
Well, I started a band! [Laughs.] I used music for that, I used songwriting for that. It's great to have the emotional outlet of writing down your feelings, but then you have the actual physical outlet of physically interpreting those feelings. Any doctor will tell you a great treatment for depression is exercise, physical exertion, that it really ups the dopamine in your brain, so that's what a show is. I play a show and that's a high for me; I can ride that. But it's still is what it is.
It was interesting in the book how you sort of seemed to ping-pong between drugs and CrossFit, or other types of workouts.
There's multiple levels to that, with the physical fitness. On the one hand, you have to be fit to play shows. At least it helps, especially when you're singing and touring 250-plus days out the year, you need to be in decent shape. Then the darker side is that there's that pressure in the industry, especially on a major-label level of like, look good for photos, look good for the videos, get in shape. That's not necessarily a good thing, but that was there, I definitely felt those pressures.
This is a total softball question, but I've gotta ask you. It always refills my faith in humanity when it turns out that famous people are also decent human beings. In your book you mentioned Dave Grohl, Joan Jett, and Bruce Springsteen as all being solid people. Are there any other famous people you've met who come to mind as standing out for their kindness?
David Johansen of the New York Dolls, who I mentioned in the book, he was really great. He couldn't have been more accommodating to me because I met him really young and I'm sure I seemed really green at the time, which I was. More recently even, hell, Miley Cyrus. I've been asked about going out and doing the Happy Hippy thing with her and going into that with no preconceived opinion about Miley or anything like that. I always tell people that she couldn't have been more of a gracious host. She opened up her house to me, got me stoned. We hung out, I pet her pig. It goes a long way and you can tell when people are actually engaged and care about what they're doing and are present.
You've been fairly well known for a while, but do you still sometimes get those out-of-body moments? As in, I'm petting Miley Cyrus's pig —  I live an interesting life?
[Laughs.] For sure. It was more so when I was standing in her bathroom in front of a wall of the Teen Choice Awards. It was like, Whoa, this is fucking weird. I haven't lost that appreciation at all, the surreal moments in life always dawn on me.
This interview has been edited and condensed.