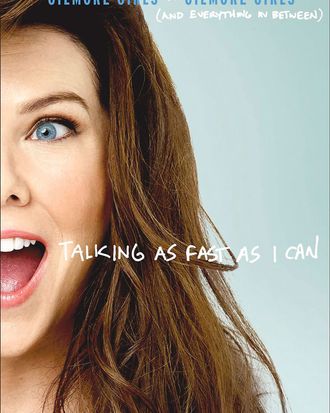 Lauren Graham has had a successful career as an actress, novelist, and even TV writer. Her memoir, Talking As Fast As I Can, covers all of it, but as you might imagine from the timeline, it mostly focuses on her experience playing Lorelai Gilmore on Gilmore Girls. We learn about how the show came together, both in its first run on the WB and in its later revival at Netflix. We hear tales from her friendships with fellow cast members, and we also get her thoughts on how the series ended, and whether there might be more coming in the future. Die-hard Gilmore fans will likely peruse the memoir at their leisure, but for those who are impatient, here are a few key takeaways.
Graham didn't see Gilmore Girls's famous final four words coming, and she doesn't think they feel so final.
Despite the hullabaloo around Amy Sherman-Palladino's plans to end the series just so, Graham didn't pay much attention to Lorelai and Rory's final exchange until she started shooting the revival. When she heard the final exchange, which reveals — spoiler alert — that Rory is pregnant, Graham, like many viewers, assumed that it could hint at more Gilmore to come:
The words are wonderful, of course, and have a simple symmetry, which makes perfect sense within the origin of the story of Gilmore Girls. They are not, however, what I was expecting, because they are not what I would call the exact definition of a conclusion. As in they do not end the story we are telling as much as they introduce something that was not previously known. Which, to me, is not precisely an ending. To me, they are really more of a …

"Isn't it more of a cliffhanger?" I ask Amy.
But Amy doesn't answer me.
She just smiles.
Hmmmm.
Graham forgot what happened with Lorelai and Christopher in the seventh season of Gilmore Girls.
When Gilmore Girls transferred to the CW, Sherman-Palladino and her husband both left the show amid contract negotiations. The resulting season has its defenders, but it's generally derided for missing the tone of the rest of the series, and also for that whole episode where Lorelai and Christopher go off to Paris for no good reason. It was pretty messy, and luckily for Lauren Graham, she managed to forget all of it:
For example, apparently during this season Christopher and Lorelai get married in Paris. Okay, I have to admit, this seemed odd to me back then (especially after all that time apart; I just didn't think Lorelai would get married without Rory present), that I somehow managed to completely forget it ever happened. While we were filming the reboot, Dan Palladino had to call one of the superfan assistants in the office to have her explain the whole episode to me in detail. Even then, I wasn't sure she was telling me the truth: "No. Really? Are you sure? No. Paris?" I kept saying to her.
Amy Sherman-Palladino was planning out the Gilmore revival as early as 2014.
Fans may have pestered Graham and her other cast members about the possibility of a Gilmore reunion ever since the show went off the air in 2007, but it seems that things didn't start to take shape until late 2014, when Sherman-Palladino got lunch with Graham and started discussing what became the beginnings of the revival. Then, Sherman-Palladino mentioned her idea of doing "four mini-movies that would run 90 minutes each," and also asked about whether Graham was familiar with Marie Kondo's The Life-Changing Magic of Tidying Up and Wild, which both figure in the plot of A Year in the Life. In December of that year, Sherman-Palladino and her husband Dan emailed Graham about taking the pitch out to streaming services. In early spring of 2015, they were "inching closer" to a deal at Netflix as the cast gathered for a reunion at the ATX festival in Austin, Texas. After months of negotiations, news of the revival leaked in October, and then was confirmed in January the next year.
Kelly Bishop wanted Graham to get together with Peter Krause far before the two started dating.
Kelly Bishop, who just seems like a real hero in person, apparently took a method approach to playing Graham's mother and kept offering her dating advice as early as the first season of Gilmore Girls. "In a maternal, protective way," Graham writes, "she found most of my boyfriends at the time lacking, and once told me I needed someone who was more my equal, like 'that wonderful actor on Six Feet Under.'" Graham and Krause finally started dating on the set of Parenthood, where he initially made a habit of referring to her as his sister, even while they were out of character. "I think he was actually trying to talk himself out of starting anything," Graham says, which is certainly the best possible way to interpret those comments.
Graham once tried being vegan because she wanted to befriend Ellen DeGeneres.
DeGeneres helped Graham turn her novel Someday, Someday, Maybe into a pilot script, and also commissioned another pilot from Graham. So, naturally, Graham decided she wanted to impress Ellen. "She gave me opportunities I'd never had before, and it's like I wanted to repay her by being more like her," Graham writes. "It's great to look up to people you admire, but you can't make life decisions motivated by the hope that you'll be invited to Ellen and Portia's to eat lentils and watch Scandal." To be fair, we also share that life goal.
Graham has a soft spot for Matthew Perry.
Graham's pretty mum about her personal life before the time she met Krause, but she does briefly mention Matthew Perry, whom she dated in 2003, according to the tabloids. She contests this story, but remains pretty vague about their relationship. "The only bright spot, dude-wise, was at an event where I met Matthew Perry" Graham says of a long dating dry spell during the filming of Gilmore Girls. "He became my Friend Who I Almost But Never Exactly Dated, or FWIABNED. We probably all have at least once FWIABNED in our lives. My FWIABNED is very special to me." Gee, could you be any more nonspecific?