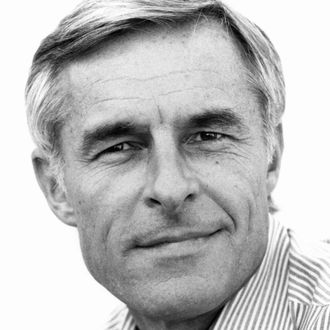 Grant Tinker.
Photo: Michael Ochs Archives/Getty Images
The TV industry has lost one of its behind-the-scenes icons: Grant Tinker, a successful independent producer who would later run NBC during a pivotal moment of transition for the network, has died. Tinker passed away Monday at the age of 90, according to NBC News. During the 1970s, Tinker joined with wife Mary Tyler Moore to form MTM Enterprises, which along with Norman Lear and Bud Yorkin's Tandem Productions helped usher in a revolution in small-screen quality during the decade. Starting with Moore's eponymous CBS comedy in 1970, the company would go on to fund a slew of high-quality comedies and dramas over a nearly three-decade run, including Lou Grant, Rhoda, The Bob Newhart Show, WKRP in Cincinnati, Hill Street Blues and St. Elsewhere.
Tinker ran MTM during its first decade, but left the company in 1981 to take over a struggling NBC. In a sharp departure from predecessor Fred Silverman's populist philosophy, Tinker set out to turn things around at NBC with a focus on quality: "First be best, then be first" would become his mantra. Along with his entertainment division president, the equally legendary Brandon Tartikoff, Tinker made the Peacock the home for groundbreaking series such as Hill Street, Fame, St. Elsewhere and Cheers, along with more obviously crowd-pleasing shows (Family Ties, The Cosby Show, The A-Team, The Golden Girls). By the time Tinker ended his five-year run at NBC in 1986, the network had gone from nearly-dead to No. 1 in the Nielsens— the first time the network had ever finished alone atop the ratings in its history.