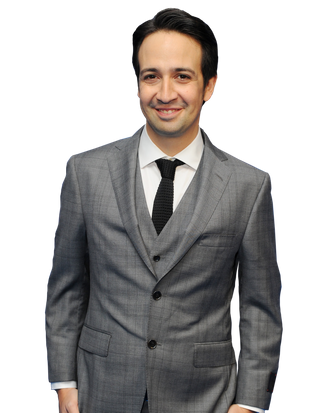 Disney has kept Lin-Manuel Miranda awfully busy since he left Hamilton this past summer. In addition to working on a live-action version of The Little Mermaid and plotting a secret film with Zootopia director Byron Howard, Miranda will star in the sequel Mary Poppins Returns alongside Emily Blunt, which shoots in London next year. But first, Miranda's inaugural Disney collaboration arrives this week: He wrote several of the songs for Moana, an animated musical about a Polynesian princess who links up with the demigod Maui (voiced by Dwayne Johnson) and sails the seas in search of adventure. Last week, Vulture met up with Miranda in Los Angeles to discuss the film's unusual production, his love of classic Disney animation, and how he's feeling after his Broadway day job.
Do you remember the first time you wrote a song that someone else performed?
What a great question. It was probably high school. I wrote a couple of one-act musicals in high school, and that's probably the first time people were really performing my work. Before that, I made a short movie — I was a film buff, I wrote and directed it — and wrote a song for it that my friends performed. It was called "Naughty Bird Curtsy." [Laughs.]

That's a great title.
It is a great title. It was about a battle of the bands, and I wrote a song for one band that had a bad pun in it about the girl I liked. I had a crush on this girl named Amanda, and the hook of the song was "A-man-does everything wrong …" kinda making it sound like "A-man-da." It was my very subtle attempt to get this girl to notice me.

As a songwriter, it must be galvanizing to hear a thing you wrote brought to life for the first time.
Oh, it's beyond gratifying, and it makes you a better songwriter. You learn your craft from hearing other people perform your work — there's an evolution your music takes. You learn how to make a guy and a girl sing together so that the song works in both your keys. I remember struggling with that in my first show, In the Heights. Realizing, "Oh, they can't sing the same melody in the same key. We have different registers." And then there are the people who really take your work to the next level. I think I gravitate toward singers who unlock my work — Chris Jackson is someone who I met in 2002 who has been in Heights and Hamilton and he's the singing voice of Moana's dad, and that came about because he was doing all my demos. I was writing these songs while I was in Hamilton, so Pippa [Soo] did demos, Chris and Renée [Elise Goldsberry] sang my demos for me, and I just learned an enormous amount from just hearing skillful singers do it.

I know you sang on the demo for "We Know the Way," one of Moana's key songs, but did you know that your voice would stay on the song until the final cut?
No! Not even close. That came about literally through the process of writing the song. Opetaia Foa'i wrote the Samoan lyrics and music and melody, and then I came up with the English lyrics. I wrote a counter line to Opetaia's melody — "we are explorers" — and put it down in the studio. Then it kept surviving through every screening!
And you crossed your fingers that they wouldn't hire someone else to rerecord it?
Well, I just assumed they would get someone later. I don't staff the musicals, that's not quite my department. But I remember the day [Disney Animation chief] John Lasseter told me that my voice would be in the movie was the first day I was working with Dwayne Johnson. He was like, "Come in here, I wanna tell you something." It was a really significant, beautiful day, and when you think about your kids and your family getting to hear your voice in a Disney movie … it's such "dream come true" territory.

It takes years to make these movies, and you see it come together through so many iterations. Still, once it's done and you see your songs performed in an animated Disney movie, does it still pop as a major moment for you?
Absolutely, because you are working with the very best visual storytellers in the world. I'm in awe of that. The fun and surprise of working on this film is how much collaboration there is. It seems so big and daunting, and it is, and yet our music team got to weigh in on the story. We'd see how our lyrics would reverberate with the screenwriter or on choices made down the line, because one lyrics can do the work that a scene can do. The thing music is capable of is to telescope storytelling and crystallize feelings in the same sort of way that a beautiful visual montage can do.

Did it give you a new appreciation for the songwriting done during Disney's golden age?
Absolutely. I'm a huge Howard Ashman fan, particularly in his work for Disney, because he imbued Disney characters with a realism in his lyric writing that I don't think has always been there. Think about Ariel in The Little Mermaid singing, "Look at this stuff, isn't it neat," and she's struggling to come up with the words for the stuff. "Walking around on those … what do you call them? Feet." That feels like a real person struggling to find the right words, and that's a huge leap from "When You Wish Upon a Star," here's the lesson of the movie. Suddenly, the characters feel like people we know, and that's enormous. I aspire to that in my writing as well.

Animation can be pretty ruthless. Were there moments when entire songs and major work that you'd done would be cut because the story was revised?
Totally, but you're in on all of that. You work toward a screening, which is a rough storyboard of the whole thing, and then you get all the notes and feedback from off-site. That isn't just executives weighing in — the notes you're getting are from animators or directors from other movies in the pipeline. I remember Jen Lee, the co-director of Frozen, sitting in on meetings and kicking the tires on our story. That's exhilarating, you know? It's just like Broadway previews: For every go-round, you go, "This is working better," or "This isn't working but I think it's an Act One problem and not an Act Three problem," that sort of thing. You go back to the drawing board over and over again with an eye toward clarifying the journey. Our priority with this was making Moana as three-dimensional and kick-ass possible. She's got big characters around her.

Literally, in the case of the enormous Maui.
Literally. And it's easy for characters like that to steal the movie or upstage the action. You want those characters to be as big and vivid as possible, but we always wanted Moana to be the engine of the story. We worked on that for a long time, and I think we were successful in making it a hero's journey.

As a songwriter, what's the difference for you when you've got all the time in the world to write something, as opposed to no time at all?
I am definitely a deadline writer. If I had months, I would still pick up my pen two weeks before. Unfortunately, there are two types of people: The people who do their homework Friday night and the people who do it Monday morning, and I was always a Monday-morning guy. That being said, Disney was great about taking care of the things they could take care of. "Need any research? Here's your research." There's no extra work in that regard. "Here are the tenets of way finding and navigation for you to plumb for lyrics." "Here are all of the creation myths on Maui, so you can pull from what we need." This is not the kind of thing where you can make up any old ditty. It has to be rooted in this part of the world, the Pacific Islands.

When did you get brought on Moana?
Two-and-a-half years ago. It was about seven months before Hamilton started rehearsals.

They kept it quiet for so long! Hamilton had been a huge hit for ages before Disney finally announced you were writing songs for Moana.
I know! And I have a reputation as a bit of an oversharer on Twitter, so to be sitting on this news for so long …

They told you to keep it secret?
Yeah. I signed a nondisclosure agreement and I started writing these songs. Only my family and a couple of friends knew. And then pretty quickly, the cast of Hamilton knew, because I was writing these songs and singing them to myself in my dressing room. I'm sharing a room with Leslie [Odom Jr.], I'm next door to the Schuyler sisters, so it wasn't much of a secret within Hamilton. But what was also interesting is that Disney doesn't always sell their upcoming movies as musicals. Remember, Frozen wasn't advertised as a musical. There were never ads with songs in them, because I think there was a fear that scares people away. I hope that the conventional wisdom has shifted in a way, because of the success of Frozen.

A bit, maybe, but a lot of live-action musicals are cagey about their songs, too. When Into the Woods was coming out, those trailers leaned a lot more heavily on spoken dialogue than singing.
I know, I was like, "Is this still a musical?"

That could be the case with Mary Poppins Returns. When Disney puts out a first teaser trailer for it, there may be none of your singing in it.
And then hopefully they'll show the rest of the hand with the next trailer. You know, for us, the fact that Disney listed Mark Mancina and Opetaia Foa'i and me in the ad for Moana was like a huge win for songwriters. I remember during the Disney golden age, the trailers would say, "Featuring eight new songs from Howard Ashman and Alan Menken," or "New songs from Stephen Schwartz," and that was a selling point for a theater nerd like me.

What is your life like after Hamilton?
It's funny, because my work on Moana ended around the same time as I left the show, which was really strange.

So your daily debt to these two major projects was done. How did you feel afterward? Relieved? Rootless?
Not rootless. I'm proud that I survived it. Happy that they both go on. When I finished my writing for Moana, the fun part was going, "Oh, now Mark Mancina is going to build a score around these songs and he's gonna quote it in lots of unexpected ways in the soundscape of the movie!" The excitement about that was just beginning, and then with Hamilton, it feels like sending your kid off to college. Hamilton has all the things it needs to keep going strong, and I feel really lucky to have been in it for a year.

What do you miss?
I miss the oasis that performing in Hamilton provided. When you've written Hamilton, the calmest place to be is just inside the show for two hours and 45 minutes. You're not supposed to be answering emails or fielding calls — the only thing you're supposed to do is be Alexander Hamilton, and there's something Zen about only having one job. Moana was an oasis, too. When the Founders were too much for me, I'd go sail across the sea in my mind. So I missed those oases, but at the same time, you get to celebrate them in a new way. I feel like the grandparent of Hamilton now. I wrote it and there's nothing for me to do now, really, besides show up, say, "Oh my God, you're all so beautiful," and cheer.

Is it rewarding that now Hollywood comes to you not just as a songwriter but as an actor?
Enormously rewarding. One of the reasons I started writing musicals is because I didn't see a way forward for myself as an actor. You get Bernardo, you get Paul in A Chorus Line, you get Zoot Suit, but Zoot Suit isn't produced a lot. In the Heights was me writing Latino characters into the canon. I didn't know I'd get to the canon, but I knew I was writing a part I could play in this world. Hamilton is no different in that respect: It's a ton of really meaty roles for actors of color. So to then have that turn into people asking me just to be an actor is a joy. It's like I did it. It's a dream come true.

How did Rob Marshall, who's directing Mary Poppins Returns, approach you for it?
Rob is the sweetest, and all he wanted to talk about when we met was Merrily We Roll Along and Tick, Tick… Boom!, which were two shows I had not written but had acted in. The joy of it was that he said, "We want to bring your energy to the screen, and we want to start with you and Emily Blunt, and we'll build around that."

That's a privilege.
That's an enormous thing. I'll never forget the meeting, because it was in between shows on a Wednesday. That's a pretty heavy thing for someone to say to you.

Is this a different sort of dream for you, now that your Broadway dreams have been realized?
It absolutely is a different dream. I also feel like I've had just enough movie or TV experience to know that when you're near the top of the call sheet, the best people wear that lightly. They hang out with the crew and they're wonderful leaders, and Emily Blunt is definitely in that category of "beloved by anyone who works with her." So you aspire to be the kind of actor you admire.
This interview has been edited and condensed.