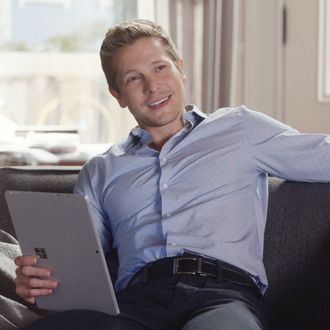 Photo: Courtesy of Netflix
Spoilers for the very end of Gilmore Girls: A Year in the Life ahead.
Every possible theory about the ending of Gilmore Girls: A Year in the Life has been hotly debated since Netflix premiered the four-part revived series last week, with fans up in arms about who the father of Rory's surprise child could possibly be. (Logan? Jess? Paris's fertility services?!) If you're looking for some conclusive answers from the show's actors, though, better tread elsewhere, because they're just as in the dark as you are. Logan Huntzberger himself, Matt Czuchry, has no assumptions about what those final four words could mean. "I think the intention is to keep that open," Czuchry told The Hollywood Reporter. "I think that's Amy [Sherman-Palladino] and Dan [Palladino]'s intention, otherwise they would have done something differently or made it more specific. Their intention was to leave that open and put that out in the universe for fans to talk about and debate and so I'll kind of leave that to Amy and Dan to say if they want to put anymore clarity to that. That's not for me to say."
As to whether Czuchry would be interested in ever reprising his role as Logan again, he says, like Sherman-Palladino, that only time will tell. "At this particular point, I haven't heard about anything more or not. And at this particular point, it's really just finished so I'm not sure that anybody's in that mind frame. Certainly, coming into this, this was the last four chapters," he said. "This was really a perfect storm and it felt that way. So we'd have to see what the timing was and the story was to see if it felt like it was the perfect storm again." Spoken like a true Yale grad.