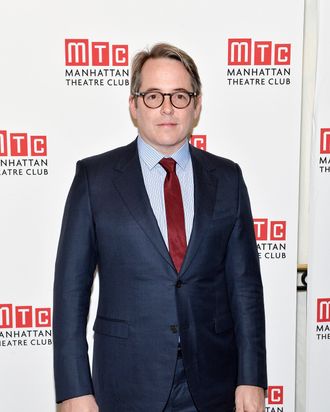 Photo: D Dipasupil/FilmMagic/Getty Images
The theater became a hotbed of political controversy over the weekend when the cast of Hamilton delivered a message to one of their audience members, Vice President-elect Mike Pence, asking him to work on behalf of everyone — especially minority groups — when he moves to Washington. And while Pence said he didn't mind the incident, his running mate Donald Trump took offense on his behalf, tweeting up a storm and saying that the "theater must always be a safe and special place." As you can expect, a number of Broadway stars had some thoughts. In a speech at the Manhattan Theater Club, Broadway stalwart Nathan Lane gave his opinion on the incident. "The theater should also be a dangerous and daring place, an angry and unforgiving place," he said.
Vulture spoke to a number of other actors and directors who have made their names in theater including Bernadette Peters, Matthew Broderick, Peter Scolari, and Andrea Martin about their thoughts on the theater as a "safe place."
MATTHEW BRODERICK
No, I don't see any harm. You know, it didn't bother Pence from what I read. What I honestly think is rather than talk about the settlement for Trump University, or what's happening with what kind of cabinet, we're now talking about yet another nonissue. It doesn't really matter. They have every right to say what they said, but he tweets and then that's all we seem to … It's like he flashes a little shiny paper in front of everybody and any bit of bad news gets forgotten.
ANDREA MARTIN
Not particularly. But I don't know what that means, "a safe place." Honestly, fighting with Broadway musical actors feels really childlike and petty. "A safe place." Not if Patti LuPone's onstage! She gets really angry and tells you to shut the phones off. Good for her. I love that.
MARK LINN-BAKER
The theater is a place where we have ideas that confront ourselves, that confront each other. That's the purpose of theater. That's the purpose of art. It's to hold up a mirror to ourselves and call into question what we value and what we don't value. And I think Mr. Trump confuses entertainment and art. Hamilton is one of the great pieces of art of this century. It's a game-changer, incredible work and he should see it … [but] he won't.
JENNI BARBER
For me the theater has always been a safe space. It's always been a very special and very safe space. In some ways, it's been safer than other places. It's always been a sanctuary. But I think that safe doesn't necessarily mean unchallenged or in some ways difficult. I think it's important that it engages you. I mean that's why you go to live theater. That's why you don't watch television. I agree it should be a safe space, but I believe that it is. The theater is the thing that saved me as a kid.
JACK O'BRIEN

The only time you win in the theater is when you risk everything. And that's like life, it's like love, it's like all the other good things. You've got to risk. You can't play it safe. And anybody who plays it safe basically isn't playing the game. And the game is so much better if you don't try to control it. Just go with it. We're all worried — and hopeful.
SUSAN STROMAN
For somebody like me who's done The Scottsboro Boys, it's a space to start a conversation. It's wonderful when you get a show that gets people to laugh, and wonderful when you get a show that gets people to cry, but when you get a show that you get the people to have a conversation — to really start a conversation — then you feel that you've really done something in your art that's very special. So something like Hamilton where people leave and they talk about how immigrants get it done. That's the subtext of that show. So I thought it was a fabulous thing that happened and I don't understand the sort of chat after because certainly Brandon [Victor Dixon, who addressed Pence on Hamilton's behalf] told the audience there's no booing here. There's no booing. It's all about love and then the message that the cast sent was just, Look at us and take us in and don't dismiss us. And everything was kind and loving. And that's what it should have been.
BERNADETTE PETERS
When you have people, crowds of people, everyone has their own opinions and they're going to speak out. So it was the audience basically making comments. [Hamilton] is a diverse cast and I think they were just saying as the leaders of the country, we hope you that as the leaders of our country, you will think of all the people.
PETER SCOLARI
I disagree and I try to do so respectfully because I think it's a valid opinion, it's just not one that I hold to. There's a history going back to Shakespeare who did it in a cloaked, in a veiled fashion. Molière was a little bit more upfront. He wrote characters in his plays that were clear lampoons, political figures, military figures, figures in society, powerful movers and shakers and he went after them. Sometimes he paid a price but certainly the tradition is there.

And Hamilton is a very special case and I think they recognized that in a keen and insightful way and took it upon themselves in this curtain speech that was well-crafted. Jeffrey Sellers, Tommy Kail, and Lin-Manuel [wanted] to be as respectful to Mr. Pence as they could be. And I think they succeeded in that, and I think Mr. Pence's comments were gracious in the face of this era of — it's some kind of inverted political correctness that I don't really understand. That now, it seems, it's okay to say dreadful, disrespectful things if your feelings are hurt or if you don't like what somebody else says. I think we [on] the left should not fall into that, and so I would defend strongly Mr. Trump's right to say what he said and make sure to mention that I disagree with it.