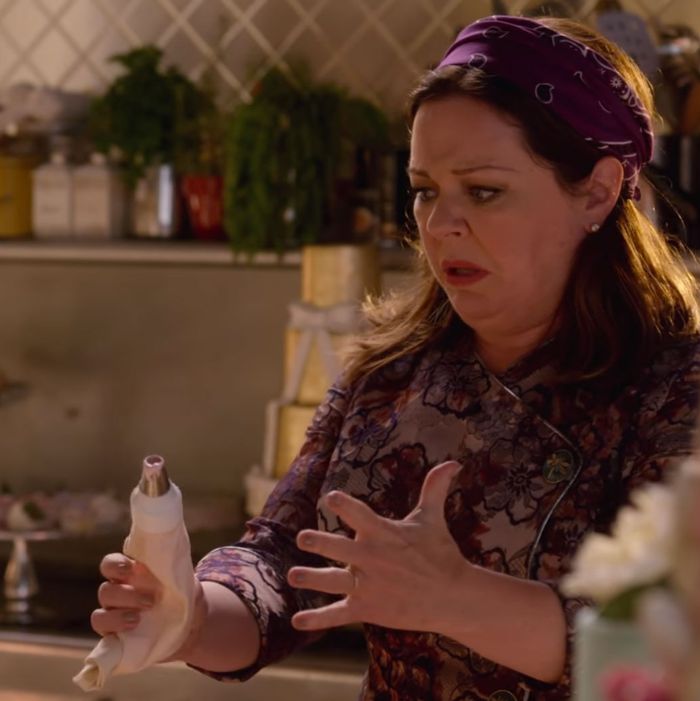 All the feels.
Photo: Netflix
Major spoilers for Gilmore Girls: A Year in the Life ahead.
It was hard to say for a while there if we'd ever see Melissa McCarthy's face in Stars Hollow again. Since her turn as Lolerai Gilmore's best friend and beloved culinary wizard, Sookie St. James, on Gilmore Girls, McCarthy's star has risen the highest of all her former co-stars. A string of hit comedies has placed her in hot demand, which put the chances of her finding time for the show's revival in question. But as Jeffrey is to Ina Garten, so is Lorelai to Sookie (sorry, Jackson), and neither can be apart for too long. McCarthy's back in town, baby! You'll just have to power through nearly all of A Year in the Life to see her.
Sookie remains mostly absent from the revival — at one point, her husband Jackson says she got so distracted investigating if a sprout in their backyard was edible that she missed the town's international food festival — and creator Amy Sherman-Palladino doesn't take long to explain why. The sad Stars Hollow truth is that Sookie left Lorelai, Michel, and the Dragonfly Inn that she and Lorelai started together so she could take a six-month turned two-year sabbatical in the woods at Dan Barber's Blue Hill Farms cultivating the evolution of fruits and veggies. Or, as Michel explains it, "trying to grow a pineapple out of a coat rack."
We learn in the first episode, "Winter," that Lorelai's unsurprisingly been experiencing some serious separation anxiety and going through a revolving door of celebrity pop-up chefs — Roy Choi, David Chang, Anthony Bourdain, Ina Garten, April Bloomfield, Alice Waters, and eventually Rachael Ray — to no avail.
It isn't until — spoiler alert! — the day before Lorelai's wedding to Luke in the final episode, "Fall," that Sookie makes her long overdue return home and straight into Lorelai's arms. In a callback to an earlier season that'll leave you misty-eyed, we see Sookie right back in her element at the Dragonfly's kitchen, where's she already baked no less than ten options for Lorelai's wedding cake. Sookie, ever the sentimentalist, even decorates a cake with all of Lorelai's major life milestones (like the time she and Sookie met, natch). They embrace, re-declare their best friendship, finish each other's sentences … until Sookie sniffs out that someone's been cooking abalone in her kitchen and gets territorial, and she and Michel start bickering over granola. Nothing's changed! Least of all the part where we all end up in tears, even if McCarthy's big Gilmore Girls reunion is over before you can process it.