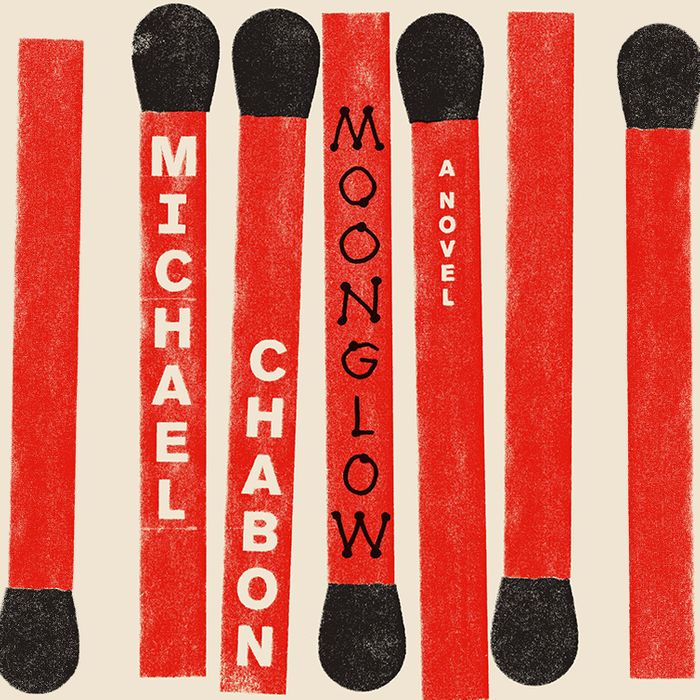 The frame of Michael Chabon's new novel Moonglow is a deathbed confession. The narrator, a young writer named Mike Chabon, has come to Oakland to help his mother care for her father, who's dying of untreated bone cancer. The old man has never liked to talk about himself, but a regimen of opiates has loosened his tongue. Many stories flow from his mouth, dutifully recorded, reconstructed, and embellished by his grandson. Three historical figures play small but decisive roles in his life story: Wild Bill Donovan, founder of the OSS (precursor to the CIA); the Nazi and NASA rocket scientist Wernher von Braun; and the accused spy and convicted perjurer Alger Hiss. In the parts of the grandfather's tale that intersect with these men, he emerges as a tortured hero, a hard man animated by a spark of boyish wonder preserved from his hardscrabble Philadelphia youth.
Chabon began his career as a straight realist. With the slim and charming coming-of-age debut The Mysteries of Pittsburgh (1988) he was also a best seller with a loyal audience. During the 2000s, he led a charge of literary writers into the colorful trenches of genre fiction in books like The Amazing Adventures of Kavalier and Clay (2000) and in editorial collaborations with McSweeney's. The debate about lit-genre hybrids launched a thousand tedious essays, but the trend produced some good writing, much of it by Chabon himself. With Telegraph Avenue, a social novel set in the Bush-era Bay Area, he came back down to realist Earth but left himself the option of comic-book touches (a superhero named Barack Obama makes a cameo).
Moonglow is a further stage in Chabon's project of mixing realism, history, and genre elements. Science fiction and the Gothic inflect the plot, but the novel's faux-memoir style is so thoroughly executed that it often lacks the shape of realism as Chabon goes for the shapelessness of the real. Throughout, Mike refers to his hero as "my grandfather." I'll call him Rico, the nickname a war buddy gave him after Edward G. Robinson's character in Little Caesar. After the attack on Pearl Harbor, Rico, having put himself through Drexel Tech with his earnings as a piano mover (Chabon likes to give even his characters' menial jobs a taste of romance), enlists in the Army Corps of Engineers. A misbegotten prank he pulls with a friend during officer training — placing explosives on a bridge on the Potomac with the aim of exposing the capital's vulnerability — lands them in trouble. Donovan, an old pal of Rico's friend's father, bails them out and recruits Rico for the nascent intelligence service. After D-Day, Rico's task is to enter Germany and apprehend its military scientists before they fall into Soviet hands.
Wernher von Braun is at the top of Rico's perp list. He's the evil genius behind the Nazi V-2 rocket, the phallic weapon central to Chabon's idol Thomas Pynchon's masterpiece Gravity's Rainbow. Chabon is one of those writers for whom the fight against the Nazis never ends. In Germany, after a lively archery shoot-out with a village holdout, he comes upon a German priest who shares his passion for astronomy as well as his dream of rocketing to the moon and guides him to an unused V-2 hidden in the woods, a "spectacular" score for an American intelligence officer. Rico is tipped off to von Braun's whereabouts, and pulls a Nazi corpse off a motorcycle to hasten the chase.
These tales of Rico's wartime derring-do are the novel's strongest material. After the war, Rico moves to Baltimore, where his brother Ray is a rabbi. At a casino-themed congregation gathering — Ray the rabbi would evolve into Ray the dissolute pool shark over the years — Rico meets his future wife, a French Holocaust survivor and mother of the 4-year-old girl who will grow up to be Mike's mother.
The survivor— always "my grandmother" in Mike's telling — is beautiful and for years works as a local television personality in Baltimore, appearing on Friday nights as Nevermore, the Night Witch, emerging from the "Usher family crypt" to evoke the spirit of Edgar Allan Poe over the airwaves by reading ghost stories. She's also traumatized by the war in ways she can't share with Rico when she marries him, haunted by visions of a "skinless horse" with a menacing penis. One night these hallucinations drive her to set fire to a tree in front of the farmhouse she and Rico are renting in Bergen County, New Jersey. The next day Rico is fired from his job as a salesman at a company in Manhattan that makes fancy barrettes from piano wire to make room for Alger Hiss, who has a friend inside the company and has just been released from prison. Rico's firing sends him into a rage, and he tries to strangle the owner of the firm with a telephone cord before the man's secretary brings him to his senses. He's sentenced to a low-security, rather comfortable prison (his wife is institutionalized), where his talents for making model rockets are recognized by a toy merchant named Chabon, and after his release they go into business together, completing the narrator's origin story.
In summary all of this sounds obviously fictional. The story as a whole is too fanciful and the connections are too neat for it to be otherwise. Yet for much of the time I was reading Moonglow, Chabon had me convinced I was reading a lightly embellished memoir. The rigor of his mimicking memoir is impressive but the metafiction is misbegotten. Part of the trouble has to do with the stiflingly nostalgic tone Chabon strikes by referring to his two main characters as "my grandfather" and "my grandmother." It also stems from his heaping on of realistic and no doubt largely real quotidian detail in his scene setting. The cataloguing of smells, clothing, food, furniture, and obsolete brand names makes one suspect Chabon has fallen under the spell of Knausgaard. But in place of the Norwegian's signature acid, the American has substituted schmaltz, a pot of which at one point meaningfully appears on a table.
Chabon has some fun winking about the book's reality quotient. In an Author's Note he writes: "In preparing this memoir, I have stuck to the facts except when facts refused to conform with memory, narrative purpose, or the truth as I prefer to understand it. Wherever liberties have been taken with names, dates, places, events, and conversations, or with the identities, motivations, and interrelationships of family members and historical personages, the reader is assured that they have been taken with due abandon." That's cute, as is the convincing but perhaps fake circa 1960s Chabon Scientific Co. model rocket ad that appears below it. In the Acknowledgments Chabon jokes about thanking characters who help Mike learn the truth about his grandparents "if they existed." He also cites "my mother's maternal uncle, Stanley Webrow," a professor of medieval German and a wartime intelligence officer who recorded his memories of growing up in Philadelphia and Washington in the 1920s and '30s before he died in 2005.
The paradoxical result of all this is an intermittently brilliant work of fiction buried under what reads like a bloated and often turgidly written memoir. (The worst passages are gratuitous sex scenes from Rico's last days at a retirement community in Florida.) Moonglow has pushed Chabon's project of fusion to a breaking point. He invented a rocket of a story, but the book he put it in never achieves escape velocity.
*A version of this article appears in the November 28, 2016, issue of New York Magazine.