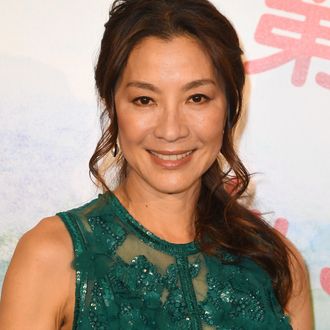 Michelle Yeoh.
Photo: Pascal Le Segretain/Getty Images
Get ready for news that will make you want to run along the tops of bamboo stalks: International treasure Michelle Yeoh is reportedly the first cast member to join Star Trek: Discovery. Word of her casting first surfaced when consulting producer and Wrath of Khan director Nicholas Meyer told Comingsoon.net, "I know Michelle Yeoh is in it." Now, Deadline is expanding upon her involvement, reporting that she'll play Han Bo, a Starfleet Captain of the ship Shenzhou. That means that Yeoh is not the show's promised female lead, though Shenzhou is said to play a big part in Star Trek: Discovery's first season. Discovery is set to air on CBS All Access sometime in 2017, which is enough time for Yeoh to whip this production into shape.
This post has been updated throughout.