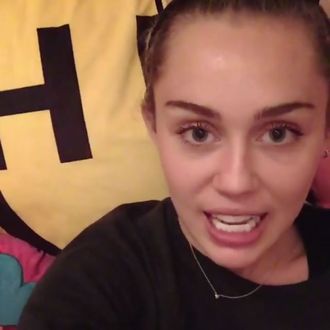 Dry those tears, friends, because it's time to get to work. After sharing her emotional reaction to Hillary Clinton's presidential-election loss, Miley Cyrus has promised "no more crying coming from me," and she launched a new campaign. In an Instagram video, Cyrus says, having had some time to adjust to the shocking election, she is now "accepting and hopeful, inspired and smiling," as well as ready to fight the good fight. Partnering with the Happy Hippie Foundation, she's launching the #HopefulHippie campaign to do so. In the caption to her video, Cyrus wrote:
Many of us aren't sure what to do after the election, but now more than ever it's important for us to come together and take action to work for the America we want. That's why we're launching #HopefulHippies, and I'm asking you to get involved in your own community and make a commitment to the issues you care about, whether it's donating, volunteering or showing your support! I'm starting off by pledging to education, and I'm excited Happy Hippie will now be supporting classroom projects and schools with DonorsChoose!!
The push for education is, according to Cyrus, "in honor of Hillary Clinton." Cyrus wears cat ears in the video, so it seems Stephen Colbert's buck-up speech is doing its part, too.