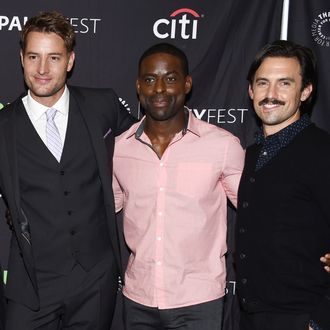 Bros!
Photo: Amanda Edwards/WireImage/Getty Images
Of the many themes of NBC's This Is Us — family dynamics, crying, watching football with your father's ashes, Milo Ventimiglia's facial-hair journey — there is one key thing that holds the show together: Every male actor in the cast is too buff. We have already written about this problem in relation to Milo's character, who is supposed to be an alcoholic dad from the 1980s, but we had no idea that it extended this far. In a series of Twitter exchanges last night, the This Is Us bros shared their love of push-ups and of each other for all to see.
This is all in reference to a scene in last night's episode where Milo's character Jack does push-ups with Randall, played by Sterling K. Brown when he's an adult, on his back. But mostly its an excuse to show off improbable feats of strength.
Seriously, nobody should be this buff!
It's intimidating!
This Is Us will end tragically when all the male characters die of overexercise.