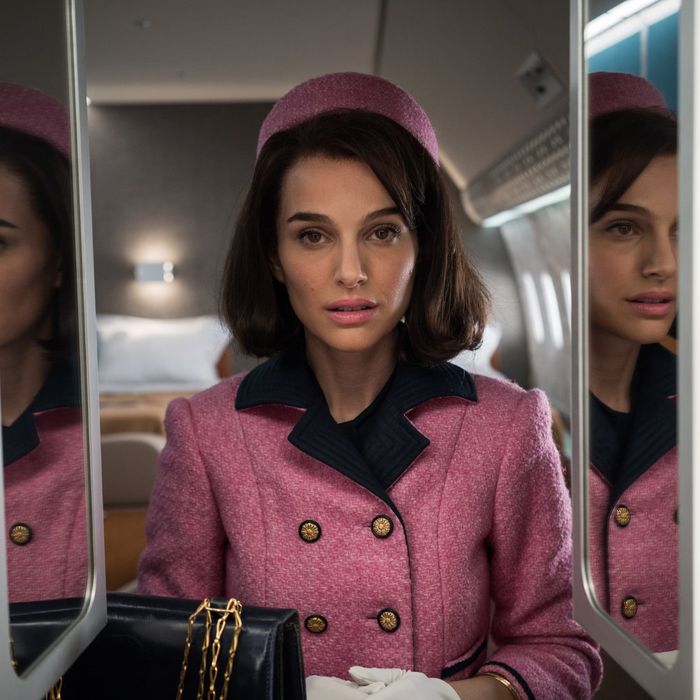 Natalie Portman in Jackie.
Jackie is an unusually harsh, funereal biopic of Jacqueline Kennedy, as befits a film that covers the assassination of John F. Kennedy and its immediate aftermath. It's also unusually intimate — all Jackie. It opens in a wintry Hyannis Port not long after JFK's burial, where Kennedy (Natalie Portman) broods and chain-smokes and submits to an oddly testy interview with an unnamed reporter played by Billy Crudup. (The reporter who actually did the story was Theodore White, for the magazine Life.) As Jackie relays her version of events — often adding, bluntly, that the reporter can't print what she just said — the film moves back and forth in time. Now she's conducting the famous 1962 White House tour watched by millions. Now she's back from Dallas, still wearing the pink Chanel dress splashed with her husband's blood. Now she's planning the funeral — and standing up to members of Lyndon Johnson's staff who think the proposed procession is too dangerous. The theme of Noah Oppenheim's script is summed up rather tidily in Jackie's line "I lost track somewhere what was real, what was performance." But the movie itself, directed by Pablo Larraín (No, the upcoming Neruda), doesn't feel so pointed. It's hard to discern the differences between Jackie the Performer and Jackie the Person when Portman is doing such an obvious impersonation throughout.
It's the voice. It sounded wrong to me until I realized that I actually had no idea what Jackie sounded like: Kennedy lives in photos, but there are few extant recordings. It turns out that Portman has perfectly reproduced Jackie's high-pitched, overdeliberate finishing-school diction in the televised White House tour, which made the First Lady seem at once charming and disturbingly robotic. (How odd to hear a touch of Marilyn Monroe's breathiness in the real Jackie's voice.) But when she's talking to Crudup's reporter or Robert Kennedy (Peter Sarsgaard), Portman still sounds studied, unnatural.
Apart from that voice, Portman is so damn smart. She nails Jackie's irreducible mix of shyness and slyness, each quality reinforcing the other. She also understands what the White House refurbishment meant for Jackie's sense of self. In the great literary tradition of Americans abroad, Jackie felt a need to prove to European elites that America did too have a history and a serious culture, so there. Her defiant insistence on that funeral procession has the same end: to show the world our dignity.
Jackie is a hard movie to love, but its brittleness might be its most admirable quality. Mica Levi's score is nearly as creepy as the one she did for the avant-garde space-cannibal movie Under the Skin. The film's other piece of music is double-edged. Jackie tells the reporter that JFK loved the musical Camelot and listened to Richard Burton half-sing the title song every night. She says the administration should be remembered in the same way as King Arthur's court. A little while later, though, she admits (off the record) that the Camelot comparison is just marketing — but adds that the symbolism is important. The movie ends on a note of tearful, ringing ambivalence.
*This article appears in the November 28, 2016, issue of New York Magazine.