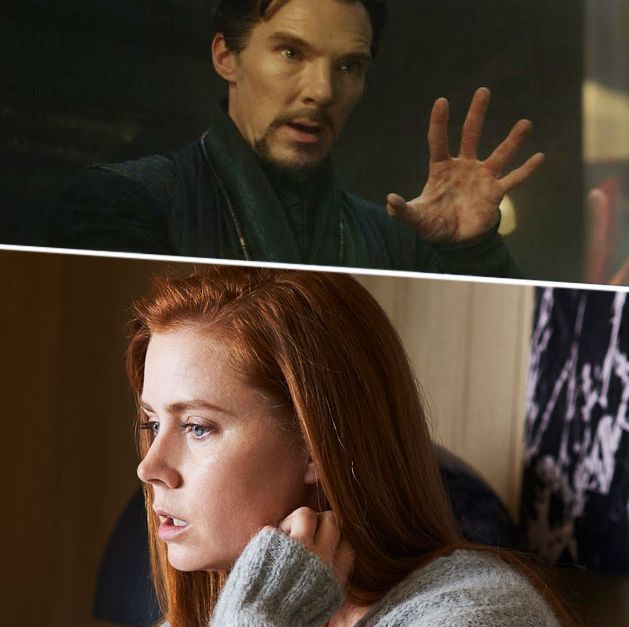 Photo: Marvel, Paramount Pictures, Focus Features, A24
Thanksgiving week isn't just a time for eating lots of stuffing and binge-watching lots of television. Once the cabin fever of Friday and Saturday rolls around, it's also time for families across the nation to warily scan Fandango, looking for a film that could possibly get everyone out of the house. Is there a film out there that can satisfy every generation's particular taste? Well, it depends on your family. Below, we've got a few suggestions, based on what kind of household you'll be spending Thanksgiving in.
If You Want to Talk About Trump Without Talking About Trump: See Arrival
Is humanity doomed to a never-ending cycle of tribalism? Can world politics ever be anything but a zero-sum game? Must we deal from strength or be crushed every time? In its own quiet way, Arrival makes the case for traditional liberal values, so you don't have to. And if the political metaphors hit a little too close to home, you can always talk about the ending.
—Nate Jones (@kn8)
If Your Family Is Addicted to Turner Classic Movies: See Allied
Robert Zemeckis's new WWII spy thriller has so many homages to classic Hollywood — specifically Casablanca and Notorious — you'd swear it came to theaters with a Robert Osbourne intro. Allied might not be on the same level of classic Thanksgiving throwbacks Lincoln and Brooklyn, but it'll still get the job done. Dad can dream of outsmarting the Nazis, while mom can nurse her not-so-secret crush on Brad Pitt.
—N.J. 
If You Come From a Family of Cryers: See Moonlight
By the time your father's done giving thanks, has he sobbed all over the yams, moved by the beauty of his wonderful family and the thought of all those less-fortunate souls out there who will never get to taste your grandmother's peach cobbler? Well, take that big heart to Moonlight, where he can lose himself in the sensual richness and emotional heft of Barry Jenkins's coming-of-age story about a young, gay black man growing up in Miami. Just remember to bring a spare box of tissues for the car ride home: The film's pitch-perfect wallop of an ending may have you all crying for hours after.
—Kevin Lincoln (@KTLincoln)
If Your Parents Were Huge Hippies: See Doctor Strange
You don't have to have been a graduate of the Electric Kool-Aid Acid Test to enjoy Doctor Strange, but it certainly helps. As Benedict Cumberbatch explores the mind-bending wonders of the multi-verse, blockbuster CGI has rarely been put to better use: The rules of physics cease to exist, skyscrapers turn into perpendicular playgrounds, and people's fingers grow tiny little fingers. Your folks may feel like they're in college all over again.
—N.J. 
If the Whole Family Is in Town: See Moana
Your sister's kids love Disney. Your brother loves the Rock. You love Lin-Manuel Miranda. There's only one movie in theaters this weekend that can square this particular circle, and it's an animated movie about a Polynesian princess.
—N.J.
If Your Dad Loves the History Channel: See Sully
Sully has all the things dads love: modes of transportation, a metropolis in peril, acts of heroism, and Tom Hanks. (Fathers of a certain stripe may also enjoy the film's critique of Big Government taking aim at an American Hero.) Think of it as an investment in his happiness: Your dad will get very excited when Oscars season rolls around and he can identify at least one of the films. The film might be a few months old, but as of last weekend, Sully was still playing in around 200 theaters nationwide. Look for a reasonably priced matinee, and take your pop.
— Tara Abell (@Tara_Abell) 
If Your Parents Showed You Taxi Driver When You Were 8 Years Old: See Nocturnal Animals
Do you have vague, half-formed memories of a blood-splattered Robert De Niro in a Mohawk mixed in among your cartoon characters and Disney singalongs? Did your parents get strange looks from the guys who worked at Blockbuster when they rented Straw Dogs? Then take them to Nocturnal Animals, Tom Ford's lurid, razor-sharp noir, which features top-notch performances from Amy Adams, Jake Gyllenhaal, and Michael Shannon as well as plenty of ultra-grimy, 1970s-style violence. Sure, most people wouldn't bring their parents to this movie, but most people didn't see Full Metal Jacket in fifth grade.
— K.L.
If You're Bringing a Significant Other Home for the First Time and You Think Your Parents Might Hate Them: See Loving
Things could be worse!
—N.J.