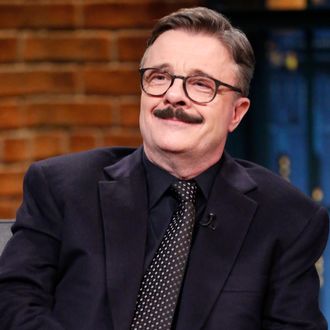 Donald Trump demanded the cast of Hamilton apologize for their speech directed at Vice-President-elect Mike Pence, tweeting, "The Theater must always be a safe and special place." Trump's Twitter outburst sparked controversy, even though Pence told Fox News that he didn't have a problem with the speech. But if you ask Broadway legend Nathan Lane, the respectful tone of the statement by Brandon Victor Dixon, who plays Aaron Burr in the show, proved just how vital the theater can be in expressing the diverse viewpoints that, to borrow from Trump, make America great, but also represents how divided we are as a country right now.
"A 'safe and special place?' Trump was probably thinking more Guantánamo Bay than Neverland. But you know [the theater] should be a place to explore everything that's going on in the world. People are expressing themselves. The audience was expressing itself," Lane told Vulture at the Manhattan Theatre Club's Fall Benefit, which feted him on Tuesday night for his brilliant career. "And there were people who cheered and people who booed. And I think that about sums up where we are in this country."
Added the 60-year-old actor: "Obviously the writers and the actors wanted to express something about what was happening. And I thought it was eloquently put together by [Hamilton creator] Lin-Manuel [Miranda] and the others. And I thought it was respectful and fair. I guess you could make an argument: You know, really, is it fair to [Pence]? He put himself out there by going to see it. Look, I'm not a fan. But you know I don't know. I get it, but I think it's healthy. I think it's good. They expressed their opinion so that's what it's all about."
Lane was not shy about expressing his own opinion on Trump's incoming administration and whether it'll be good for entertainers such as himself. "Well, it's good for comedy, but I don't know if it's worth it," he joked. "I have no idea. One wants to give him a chance, although it's not looking good so far. But we'll see what happens."
Later, upon accepting an award from the Manhattan Theatre Club for his decades in show business, Lane couldn't resist a bit of gallows humor about the former Celebrity Apprentice boss turned leader of the free world. "Let's all try to enjoy ourselves right now because once President Trump takes control, we could all wind up in internment camps for the highly theatrical, living on nothing but cosmopolitans and cast albums," he quipped to wild applause. All joking aside, Lane did take a moment to share with his audience how special the theater has been to him through countless productions — and one thing it's not is safe:
The theater should also be a dangerous and daring place, an angry and unforgiving place. The nights where anything can happen and be brought to life by talented artists. We're all in this together helping each other to do our best. We are figuring it out in sweaty rehearsal rooms with florescent lights — rooms that reek of failure and success and hoping we can possibly reach people with the stories we have to tell. And then you die and it's somebody else's turn.