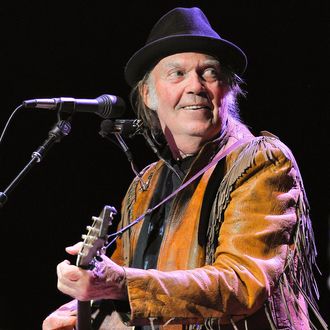 Photo: Steve Jennings/WireImage/Getty Images
As law-enforcement interference in the Standing Rock protests grows increasingly violent, Neil Young is reaffirming his pledge of  support for the protesters. Having previously released the protest song "Indian Givers," Young decided on a more verbose, if less catchy, medium for his new message: the lengthy Facebook post. In it, Young describes his admiration for the protesters and calls on President Obama to intercede on their behalf in order to stop the "outrageous, unnecessary and violent aggression, on the part of militarized local and state law enforcement agencies and National Guard." "We are calling upon you, President Barack Obama, to step in and end the violence against the peaceful water protectors at Standing Rock immediately," he wrote.
Young goes on to criticize President-elect Donald Trump, advising activists that their work must continue under his rule: "Do not be intimidated by the surprise presidents' cabinet appointees as they descend the golden escalator. Those who behave in racist ways are not your leaders. The golden tower is not yours. The White House is your house." Of the obstacles that environmental causes are expected to face under Trump's presidency, Young adds, "Nor is the surprise president the leader of the free world. Two hundred of the world's nations believe in science, above the profits of the oil, gas and coal industries, and are committed to working together to protect the future from an unchecked climate crisis." He ends on a note of encouragement, urging people to "stand, speak up and show up. Be counted. Be like our brothers and sisters at Standing Rock. Be there if you can. The progress we have made over two hundred and forty years as a nation, has always come first from the people." Read Young's post in full below.