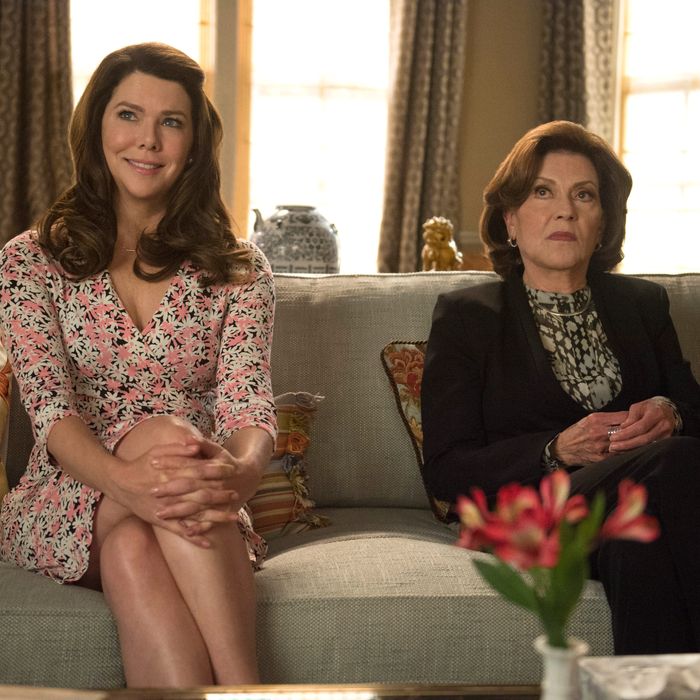 Your faves are back.
Photo: Neil Jacobs/Netflix
Netflix's seasons-spanning Gilmore Girls revival, A Year in the Life, couldn't be arriving at a better time. Right now, throughout the country, there's an insatiable craving for a feel-good binge — one quick getaway to a small hamlet like Stars Hollow, seemingly untouched by the political dystopia crippling its surroundings. That may not have been the revival's intention, but it's the lens through which it'll now be viewed in the coming weeks and months. But as Vulture's own Jen Chaney notes in her review, reboots, like any past revisited, are "a warm, inviting, but tricky and slippery thing." Is it too much to ask of (probable Hillary voters) Lorelai and Rory Gilmore to give weary fans a respite in their world? Was it equally too much to hope for Netflix and Gilmore Girls creator Amy Sherman-Palladino to preserve the original show's charm?
The reviews are in and, for as imperfect as the show has turned out to be — tedious subplots, awkward pacing, and the Netflix binge model are especially called into question — the consensus seems to be: Hey, things are plenty worse outside. Consider A Year in the Life your nourishing Thanksgiving meal, if a bit undercooked and tough to chew. Here's what the critics are saying:
"There's a song about Stars Hollow in A Year in the Life that runs through a list of all the terrible things in the world, from "anything by Jeff Koons" to Vladimir Putin. Its lyrics then proceed to conclude that this Connecticut town is one of the globe's few saving graces. 'What's there not to love about the town of Stars Hollow?' the song asks, in what is both a sincere question and, perhaps, a swipe at the place's provincialism. While watching Gilmore Girls: A Year in the Life, you may find yourself asking the same thing, and you may conclude that there is still plenty to love. But you also may find yourself looking more critically at this Main Street, U.S.A., and more easily spotting some of the flaws that co-exist alongside its charms." — Jen Chaney, Vulture
"The early sections of the first episode dwell heavily on cameos from returning characters and spend a lot of time recapturing the vibe in the small Connecticut town of Stars Hollow, where grumpy diner owner Luke (Scott Patterson) sighs at freeloaders who want his wifi password, and where the sweetly wayward Kirk (Sean Gunn) is excited about yet another preposterous money-making scheme. But for those who want a retreat from reality in order to spend time in this beautiful little Brigadoon of a town, where a scheme to install a new sewer system is one of the most pressing issues on the local agenda, these Gilmore Girls episodes will feel like a warm blanket on a cold winter night." — Maureen Ryan, Variety
"Listening to the rhythm, lilt, and inspired language of their dialogue is music to the ears — and in one hilarious passage, expresses in the form of an actual musical. It provides a welcome dose of hilarious and humane escapism that satisfies like a nostalgia trip even while subverting it. It tells a story about grief and change, rootlessness and restlessness. The show is basically a reboot about the struggle of rebooting." — Jeff Jensen, Entertainment Weekly
"Although it's plagued with structural problems and a questionable relationship to the passage of time, Gilmore Girls: A Year in the Life is better than the season that fans were previously stuck with and Netflix was wise to send all four installments to critics, because the fourth episode is easily the strongest as Sherman-Palladino is able to dispense with wheel-spinning and steer the series to the emotional landing she always intended." — Daniel Fienberg, The Hollywood Reporter
"Creators Amy Sherman-Palladino and Daniel Palladino lamented having too much story for the four-part series—well, there are moments that went on for far too long and felt completely unnecessary, like the Stars Hollow musical and reappearance of a few characters. Not everything is perfect. However, Gilmore Girls: A Year in the Life has come along at just the right time. It's comforting and familiar, with enough resolution to satisfy and enough open-ended questions to make revisiting Stars Hollow absolutely necessary, sooner rather than later." — Chris Harnick, E!

"If it's a mess, it's a periodically glorious one, and every time things have ground to too much of a halt so we can find out whatever happened to one of Lorelai's neighbors, or catch up with Rory's many terrible ex-boyfriends, the show will suddenly roar to life with a delightful piece of banter, or a tableau that warmly evokes a classic moment from the series, or entire story threads that are so assured and quintessentially Gilmore Girls that they create the illusion that the series has been secretly in production for all these years, and this is simply the first footage in a long while that the Palladinos have allowed us to see." — Alan Sepinwall, Uproxx
"As always, Gilmore is not without its frustrations, which means that those who always found the constant babble and the flights of fancy unbearably twee will continue to do so. There are plots that just peter out, abruptly change course, or get lost in some eye-roll-inducing diversion. Even the combined gifts of Christian Borle and Sutton Foster can't quite excuse a musical sequence that defies belief and owes far too much to Christopher Guest's parody Waiting for Guffman and Borle's own Something Rotten. Yet for every misstep, there's a moment from Graham or Bledel that makes you laugh or breaks your heart, or that cuts through the cuteness to ring absolutely true. And even at its most exasperating (as with those infamous "final four words"), there is so much talent and charm on display, you're likely to be in a forgiving mood." — Robert Blanco, USA Today
"This revival isn't afraid to go dark and get real when it needs to, and that emotional honesty underlines why we love Gilmore Girls in the first place. That said, GG: A Year in the Life is a hell of a lot of fun, too. Nearly every fan-favorite character from the original series reappears to give us an update on their lives. (I'm happy to report that we see plenty of Paris Geller.) And they're joined by an array of delightful guest stars, who I wouldn't dream of revealing here. We get to see Stars Hollow again in all its eccentric glory, and even learn things we never knew about the town. (Like, that it has… a secret bar?!) And the tone throughout is patient and laid-back; this revival truly feels like a continuation of the original series, rather than a rehash." — Dave Nemetz, TV Line
"The bad news: It's not perfect. It's actually far from perfect. The revival has four 90-minute chapters, and it turns out that 42-minute episodes were the perfect amount of time before the famously sparkling dialogue and wacky plotlines start to drag — and characters' flaws go from endearing to irritating. The best news: Fans won't care. Because 'Gilmore Girls' is back." — Emily Yahr, The Washington Post