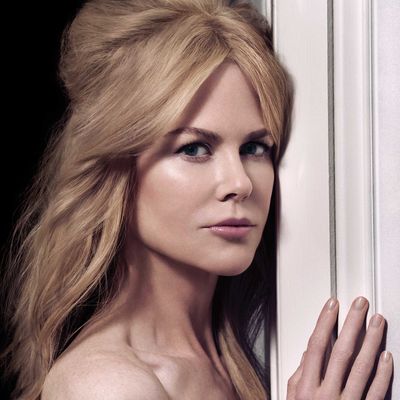 Nicole Kidman.
Photo: Rene and Radka
Nicole Kidman's young children recently watched Paddington, in which she stars as a murderous taxidermist bent on stuffing the titular bear, and they had some notes. "They were like, 'Why were you playing the baddie?' " she says, laughing. Curled up in a West Hollywood hotel room, Kidman has slipped her feet out of their expensive heels and tucked them under her legs on the couch. "They wanted me to play the bear's mother. I was like, 'I didn't get offered the bear's mother.' "
What she means is: because the bear's mother is a good adoptive mother. The 49-year-old Kidman, who won an Oscar for playing the childless writer Virginia Woolf, will readily admit that she's not the first pick for most loving-mom roles. The archetype she has seemingly settled into in mid-career is quite the opposite: a woman either terrorizing or grieving for children, which is an especially striking (and poignant) development for a woman who went through a painful separation from the children she adopted with Tom Cruise (she has since reunited with them, and raises her two younger children with husband Keith Urban). The pattern, which began perhaps with The Others, shows up even in films primarily for children, like Paddington and The Golden Compass, in which Kidman's alabaster hauteur is used to terrify. The rest of her filmography is studded with screen children who don't survive or, in Margot at the Wedding and Stoker, must bear the brunt of her vituperative monologues if they do make it.
So when Kidman calls the new movie Lion "something I've never really done onscreen," she means it. Based on a true story, the film follows 5-year-old Saroo, who is separated from his family on a train and forced to live on the streets of Calcutta. Unable to find his way home, the orphaned Saroo is eventually sent to Australia to live with an adoptive mother, Sue Brierley — played by Kidman, hidden beneath a humble-homemaker hairdo. This time there is no hidden agenda at play: Sue truly does love Saroo, raising him as her own and supporting him even later when, as an adult (and then played by Slumdog Millionaire's Dev Patel), he shuns her to search for his birth mother. All she wants is what's best for her son.
"If I had not ended up in America, I am that woman," says Kidman, who lobbied director Garth Davis for the role and had a special ace in the hole, given that the real Sue Brierley reportedly wanted the Sydney-raised Kidman to play her.
Indeed, Kidman's reverie on motherhood is nearly as ecstatic as the one she delivers as Sue in the movie's most memorable monologue. "The love for a child is the most intense, profound, deeply felt thing that will ever transpire through your body to another human being," she says to me. "It's cataclysmic. It changes you. The sensations and the power of it." Her eyes widen. "I mean, you see cars are lifted."
An elegant ice princess with a Commonwealth accent, Kidman probably seems like a prestige-film ringer to most moviegoers, but over the last decade or so she's starred in a lot of art-house movies that stayed relatively small. And in terms of awards, the evil- or damaged-woman thing might turn out to have been a handicap there, too — it's not so easy to sympathize with those characters. This time, producer Harvey Weinstein, a longtime Kidman collaborator, is counting on a set of Oscar nominations for Lion, with Kidman as the movie's highest-profile contender. But the best supporting actress category she'll compete in will likely be filled with other anguished mothers this year (Michelle Williams in Manchester by the Sea, Naomie Harris in Moonlight, Viola Davis as a long-suffering matriarch in Fences, reprising the role that won her a Tony). Still, even if Kidman is a long shot in her race, her presence on the awards-season gauntlet presages a 2017 that promises to put her sometimes wobbly career back on track: She has high-profile roles for Sofia Coppola, John Cameron Mitchell, and The Lobster director Yorgos Lanthimos all coming next year, in addition to a small-screen reunion with Jane Campion, in Top of the Lake, and a limited HBO series, Big Little Lies, that she produced and stars in with Reese Witherspoon.
As we speak, a few of the child actors from that series are back at Kidman's home playing with her own daughters, she says, returning to the theme of motherhood. "I still have a very strong relationship with them," says Kidman. "I feel maternal to most people. In my family, I'm very much the caretaker. My husband always says, 'You can't save the world, Nicole,' but I think it's just an inherent part of me. The love is abundant, and it doesn't just evaporate or disappear — it's just there, and it is a bottomless well." She leans forward. "It will always be there, which is a beautiful thing to say to a child: 'You'll never be abandoned. The love will always be there for you.' " She pauses. "It's an important thing to hear that as a child." And as an adult? "Oh, I beyond need it," Kidman says. "Yes, I still need the acknowledgment."
*This article appears in the November 28, 2016, issue of New York Magazine.