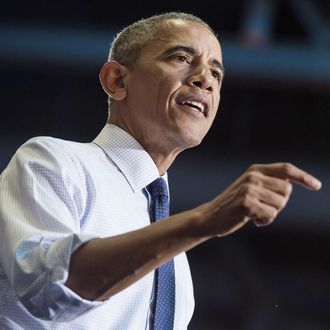 And the ratings are through the roof.
Photo: NICHOLAS KAMM/AFP/Getty Images
Just a day after warning America that the presidential campaign season has reached such new levels of low that it's comparable to the reality-show antics of The Bachelorette or Survivor, President Obama now has a correction. In fact, this election is so bad, it's "some Love & Hip Hop stuff," he told a crowd today in North Carolina. (You get that black vote!) Take it in, folks. That's the first and last time you'll ever hear a sitting American president reference VH1's hit show. Now, we get his point — this election has been appointment-TV drama we hope never gets renewed. But honestly, Trump wishes he could give Joseline Hernandez–level side eye. And as we've previously told you, this current season of the show has done more for representation of queer sexuality than either Hillary Clinton or Donald Trump likely ever will. So the real question is, if both Love & Hip Hop and the election are so deplorable, then can't we all just elect Cardi B for president?