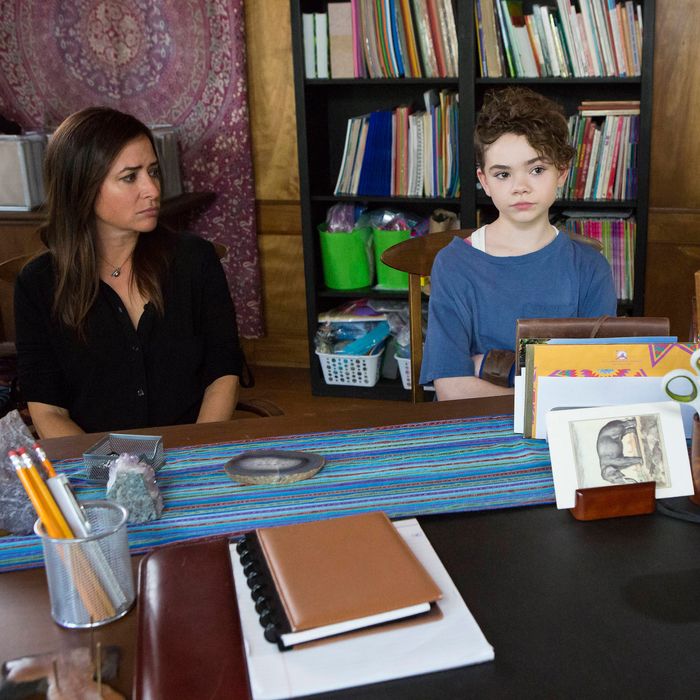 BETTER THINGS "Only Women Bleed" Episode 10 (Airs Thursday, November 10, 10:00 pm/ep) – Pictured: (l-r) Pamela Adlon as Sam Fox, Hannah Alligood as Frankie. CR: Jessica Brooks/FX
Photo: Jessica Brooks/Copyright 2016, FX Networks. All rights reserved.
Spoilers ahead for the season-one finale of Better Things.
The season-one finale of Better Things saves its gut-punch for the final moments, when Sam's oldest daughter, Max, tells her something that, for once, leaves her speechless: Her daughter, Frankie, is a boy. Adlon stopped by the Vulture TV Podcast this week, where she spoke about the narrative choice and how she prepared actress Hannah Alligood for it.
Sam is such a savvy mom. Everybody can be anything that they want to be, and so the fact Sam's daughter looks at her and says, "Mom, Frankie's a boy." And I'm like, "No, she said everybody was going to say that." And Max is just looking at me like, "You're a douche. You don't even know." The fact that I went to sit down to think about it and then I'm like, Shit. I'm the savviest mom in the world and I didn't even catch this. How am I going to address that in season two? I don't know. I don't feel the need to flesh out every single story that happens.

Hannah Alligood, who plays Frankie, is from the Bible Belt. And I got this kid who, you know, the one thing … I mean, she read the material — she and her parents — and the one thing was I said: "Are you cool with cutting your hair?" I said, "I really don't want to be the bad man that you come to and I'm like, 'Now snip snip.'" And she's like, "No, it's totally fine." And so she came to L.A., and I was shooting downtown and I sent her to my … the girl who's been doing my hair for like 15 years. So I knew she'd be taken care of. And we were all on FaceTime and we were all crying. And I'm like, "Oh my god," and she's like, "I'm fine. I'm fine." But then, I mean, she looks stunning. I'm like, "Dude, I wanted to make you into a nothing, and now you're a model." But, you know, it was important to me. I said to her, "You gotta think about not being 'a girl' or 'a boy.' I just want you to be this person. Think about your body, think about the way you walk, think about the way you speak, and try to take any kind of feminine mannerisms and speech things out of it and make yourself straight down the middle." And she does such a wonderful job. She had to work so hard. You know? [Her family] had to come to terms with some of the language and situations because they're from an entirely different place and a different kind of community. I said, "These are L.A. kids, and this kind of stuff just rolls off their tongues, and we don't think twice about it." It was a learning and a growing thing for that family, and certainly Hannah. She worked hard, and if something wasn't there, I would just say to her, and all the girls on the show, "I'm not going to stop until we get it. You're going to trust me. This is all going to work."
To hear our full interview with Adlon, listen to the Vulture TV Podcast here:
Tune in to the Vulture TV Podcast, produced by the Slate Group's Panoply, every Tuesday, on iTunes, or wherever you get your podcasts. And please send us your burning TV questions! Tweet us @Vulture, email tvquestions@vulture.com, or leave us a voice-mail at 646-504-7673.