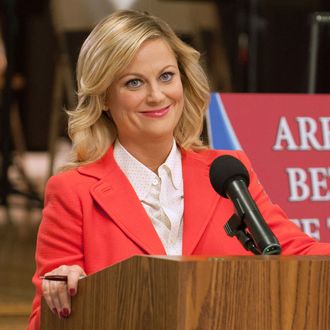 Photo: NBC/Photo Bank via Getty Images
A day after Hillary Clinton's gut-wrenching concession speech, her most ardent fictional supporter, Parks and Recreation's Leslie Knope, has some wisdom on where the heck we go from here. The indomitable optimist has penned a letter (well, a Parks and Recreation writer did) in the wake of Donald Trump's win, and for those of you finding the acceptance phase of the grief cycle uninhabitable, well, Leslie's with you.
I acknowledge that Donald Trump is the president. I understand, intellectually, that he won the election. But I do not accept that our country has descended into the hatred-swirled slop pile that he lives in. I reject out of hand the notion that we have thrown up our hands and succumbed to racism, xenophobia, misogyny, and crypto-fascism. I do not accept that. I reject that. I fight that. Today, and tomorrow, and every day until the next election, I reject and fight that story.
As with Hillary's own speech, however, the section of Leslie's letter that'll most incite fire in your heart is when she apologizes to all of the women and girls for that glass ceiling, still unshattered.
On behalf of the grown-ups of America who care about you and your futures, I am awfully sorry about how miserably we screwed this up. We elected a giant farting T. rex who does not like you, or care about you, or think about you, unless he is scanning your bodies with his creepy T. rex eyes, or trying to physically grab you like a toy his daddy got him (or would have, if his daddy had loved him). (Sorry, that was a low blow.) (Actually, not sorry, I'm pissed, and I'm on a roll, so zip it, super-ego!)
The letter goes on to remind those being pressured to respect our new president-elect that our new president-elect does not respect them. "Our president-elect is everything you should abhor and fear in a male role model. He has spent his life telling you, and girls and women like you, that your lives are valueless except as sexual objects," Knope writes, adding that while Donald Trump may be the world order for now, he won't be forever. Or, in Leslie's words, "When the time comes, you will effortlessly flick away his miserable, petty, misogynistic worldview like a fly on your picnic potato salad."
With an eye toward the future, the letter ends on an energizing note: "We will acknowledge this result, but we will not accept it. We will overcome it, and we will defeat it. Now find your team, and get to work." You can read the message in full over at Vox, and when you're done, well, you heard the lady: Time to get to it.