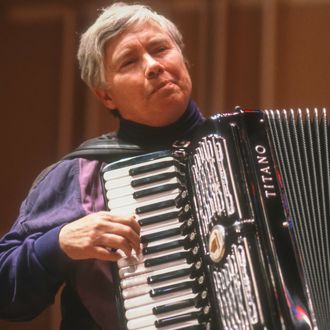 Photo: Jack Vartoogian/Getty Images
Pauline Oliveros, an award-winning composer who championed a more complex sensory understanding of sound, died on Thursday, reports the New York Times. She was 84. Though Oliveros's primary instrument was the accordion, she could play the violin, tuba, french horn, and piano, and did not limit her compositions there. According to the Times, she began using unusual instruments and technology to create electronic music that defied the Western canon as early as the mid-1960s, when she created work with magnetic tape and prototype synthesizers.
As an educator, Oliveros taught with the University of California, San Diego, from 1967 through 1981. Her Deep Listening Institute grew out of Oliveros's project with two colleagues in which she recorded an album called Deep Listening underground in a particularly resonant cistern in Washington State. The album served as a catalyst for a band and, later, a series of lectures, workshops, and classes that all called for listeners to use their senses to discern not only the sounds of the instruments, but also the space surrounding the performers.
Oliveros received the Foundation of Contemporary Arts' John Cage award. She died in Kingston, New York. She is survived by her spouse, Carole Ione Lewis, and stepchildren.